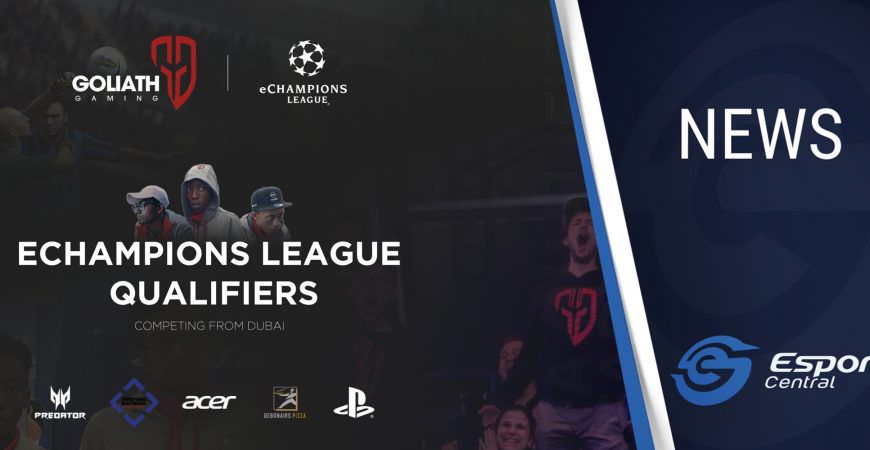 Goliath Gaming FIFA players heading to Dubai
Goliath Gaming is sending their CS:GO team and FIFA players to Dubai in March. The CS:GO team's trip was announced previously, but the organisation has now revealed that their FIFA players will also be heading overseas.
The CS:GO team has been getting their air miles up recently. This continues from 1 to 16 March for the ESL Middle East Closed Qualifier for the Asia Minor. Winning the qualifier will see the team then heading to Brazil in April for ESL One Rio.
FIFA eChampions League
Three Goliath Gaming FIFA players are joining the Dubai expedition, and will be participating in the FIFA eChampions League qualifiers:
Julio 'BEAST' Bianchi
Thabo 'Yvng Savage' Moloi
Shiaan 'Shiaan1201' Rugbeer
Bianchi and Rugbeer have both had previous international experience, while 18-year-old Moloi will be travelling overseas for the first time. Bianchi and Rugbeer both participated in the FIFA eWorld Cup Global Series Playoffs played in Amsterdam in 2018. In 2019, Rugbeer represented South Africa at the FIFA eNations Cup in London as well as at the PGL Masters in Bucharest.
At 16-years-old, Moloi won the 2018 VS Gaming FIFA Festival. He secured R400,000 for his success, and an opportunity to represent South Africa at the FIFA eWorld Cup Global Series Playoffs in Amsterdam. The trip was not to be due to unforeseen delays in obtaining his passport. Moloi is currently ranked first in South Africa in the FIFA Global Rankings, while Bianchi and Rugbeer join him in the top ten.
On the opportunity to compete in the eChampions League qualifiers in Dubai, Moloi said: "It's really so incredible to have this opportunity to see another part of the world – which may not have presented itself if not for gaming! I'm really excited to represent myself and my team, and I will do my best to make everyone – especially my mom who has been my biggest supporter and is the most incredible woman I know – proud during the qualifiers."
We wish the players all the best in the travels and success in their respective qualifiers. You can keep updated on the team via their social media accounts.
[Via Press Release]