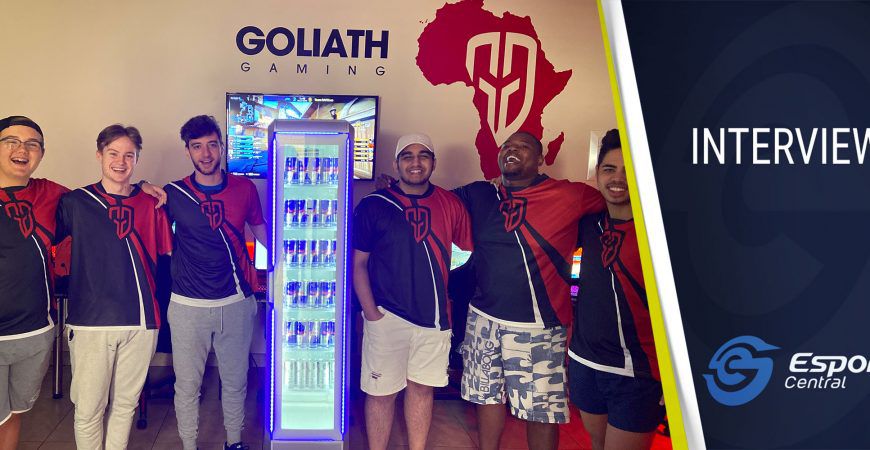 Interview with Goliath Gaming's Golz ahead of the trip to Dubai
In case you haven't heard the news yet, South African MGO Goliath Gaming is sending their CS:GO squad to compete in the Middle East Closed Qualifier for ESL One Rio 2020. The qualifiers will take place in Dubai from 5 to 7 March 2020 and we will all be cheering for the local players from Goliath Gaming and ATK Arena competing at the tournament.
The Goliath Gaming CS:GO Squad
We had the awesome opportunity to chat with Ashton 'Golz' Muller, the team manager of Goliath Gaming. Before we get to the Q&A, take a look at the squad that will be making their way to Dubai to compete on the international stage. Unfortunately Wiljahne "mango" Smith won't be participating in the tournament as he is not 16 years old yet.
Tyler "adaro" Oliver
Rikus "ZIPZIP" Klue
Adam "adM" Mansoor (In-game leader / captain)
Dean "massacRe" Davids
Robby "BlackpoisoN" da Loca (stand-in)
Coach: Thulani "LighteRTZ" Sishi
Adam "
adM
" Mansoor recently joined the team. You might know
adM
from his time with Energy Esports (who
recently revealed their new roster
), and in our interview below, we asked
Golz
about the new addition to the team.
Golz
also explains why
Mango
can't make it to Dubai to compete with the team.
Interview with Ashton 'Golz' Muller
ESC: How is the team preparing for the closed qualifiers and how is preparation going?
Golz: "Once the team received the invite, we immediately finalized our lineup with the addition of adM and started practicing online, and have had the boys bootcamping for almost two weeks now. Every day we have schedules that result in loads of individual practice and begin our team sessions as soon as mango becomes available after school where we are then able to drill teamwork and play scrims for as long as possible.
He has also been joining us at the bootcamp over the weekends to have the full team together as much as possible. Up until this point, it has felt like we have been preparing as well as we possibly can and are taking this qualifier pretty seriously from a preparation point of view, and seeing  – However not everything always goes to plan as we have been dealing with an issue that has been a bit disruptive to that.
In a nut shell, The ESL One Rio 2020 major rules indicate that all players must be 16 years of age by the time of the event to be eligible to compete. When the open qualifiers began we realized that the event page for the open qualifier also displayed a rule with regards an age restriction of 16. Obviously everybody knows how seriously ESL take their rule sets, specifically regarding player eligibility for these huge events and are even more serious since its a Major, a valve-backed event. We immediately reached out regarding the matter as Mango would have turned 16 years of age, a few days prior to the main event.
ESC note: For reference, see the rules for the ESL One Rio Major and the rules for the qualifier. Golz told us that they have since then received the following feedback: "Hello Ashton, Unfortunately the rules for all of our events are that players are required to be 16. You could enlist your player on your roster should you qualify for the minor, however this player would not be able to play in the Closed Qualifiers due to age restrictions. Please let me know if you have any other questions at all."
Lastly, Golz explains that: "This was/IS obviously still devastating for us and even more so for Mango but the reality was that with such little time left, we obviously needed to find a player to stand-in as soon as possible. Ultimately we needed to find the best player possible that would be able to fill the gap in an established structure, and so the team decided to reach out to BlackpoisoN, who was available and willing to stand-in for this Closed Qualifier."
ESC: How is the team preparing for the closed qualifiers and how is preparation going?
Golz: "We had always had the goal of winning the closed qualifier at the front of our mind and We as a team have set the goal of qualifying for the minor in Brazil, and despite the changes, the goal very clearly has still remained the same. Originally, We didn't plan to focus too much on the teams that would be attending, and rather focus on giving our own game as much depth as possible and of course now we don't really have a choice – but obviously with the open qualifiers having concluded – The obvious one would be against ATK but the reality is that all of the teams attending will be strong and every single one of them is extremely hungry to qualify for this tournament."
ESC: Tell us about adM joining your squad and BlackpoisoN as a stand-in
Golz: "adM is one of the hardest-working players that I've had the pleasure of working with. He pulled some insane numbers throughout the competitive season last year and he really fits perfectly in the role that we have been missing. With the addition of adM, I do believe now that this is the strongest roster Goliath Gaming CS:GO has had this far. As for BlackpoisoN – Obviously, everybody knows that he is a top tier and decorated CS player who has plenty skill at his disposal. He also brings a colossal amount of experience to the roster in addition to having had successful partnerships with previously with adM and would always be a powerful addition to any squad, and now contributes further to the list of premier players such as Detrony & ELUSIVE that have spent time and developed the roster."
ESC: What is the team's local aspirations for the year?
Golz: "Our goal locally will be to be the best team in SA – obviously If you want to have any success in overseas opportunities – you need to be the best in your local circuit so that will always be the goal for us but for now – All the focus is on the upcoming minor."
ESC: Anything else you would like to add?
Golz: "Firstly, shoutout to Mango for taking this on the chin like an absolute champ! Despite not being eligible to play, he will still be joining the team in Dubai and will still be there for the experience and his teammates. Another shoutout to Robby for jumping in to assist us on such short notice and approaching this as seriously as you can to make it happen. Most importantly, I have to thank and specifically mention our partners over at Tshepang electrical, Debonairs Pizza and Afribiz invest – without them, none of this project would be possible without your support for the team & Mango. Mad love and appreciation <3 Best of luck to all of the competing teams and may the best team win to represent at the Asia Minor! Thank you for the interview"
The Goliath Gaming CS:GO squad will be departing for Dubai on 28 February 2020. We wish them safe travels and all the best of luck in the qualifier.
Header image courtesy of Goliath Gaming.