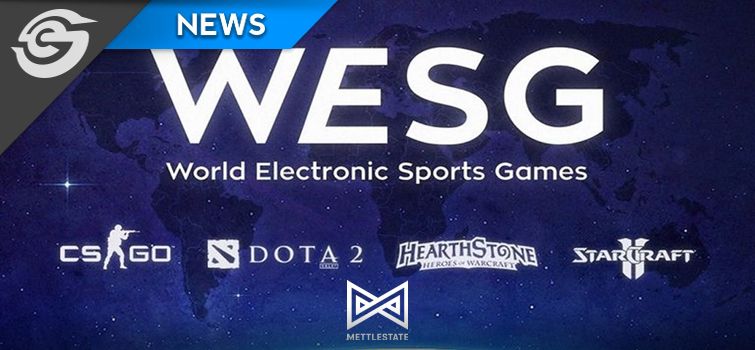 WESG South African Qualifiers final weekend details
Clint 'Zombie Dredd' O'Shea
This weekend sees the culmination of the WESG South African qualifiers. On the line for the remaining players and teams is a trip to China and the main event, where $5.5 million will be up for grabs.
The finals action kicks off with Hearthstone tonight at 19h00. It continues tomorrow with the Dota 2 at 10h00 and CS:GO from 17h00, with StarCraft 2 making its appearance on Sunday. Many of South Africa's top teams and players will be on display over the weekend's action, making it worth setting aside some time to catch all (or at least some of) the action live on Twitch.
Hearthstone
The four players remaining face off in the semi-finals tonight. Fibo takes on ViViD at 19h00, with Menlyn and Dib going head-to-head at 20h30. The finals will be played at 15h00 on Sunday.
Casting will be handled by Jana 'SaltyMonkey' Du Toit and Dale 'Pand3m0nia' Pon.
Dota 2
Dota 2 leads Saturday's viewing with Leetpro taking on Aperture Gaming at 10h00. The action continues with the second semifinal featuring Goliath Gaming and Sinister 5. The winning teams return Sunday at 12h00 to determine who will carry the hopes of South Africa against the Northern African winners. That will determine the team heading to China from Africa.
The broadcast team for the Dota 2 includes: Kaameel 'Kaameel' Chicktay and Jeanot 'Skaapie' Beetge on casting duty. Panelists Sean 'Snare' Rihlamvu and Damian 'RockLee' Dangubic hosted by Shaun 'Profeci' Murrell, and observer Richard 'DeMoNiK' Sjoberg.
CS:GO
The CS:GO sees recent international competitors Bravado Gaming back to face the Energy Esports Academy team in the first semifinal on Saturday. The match is followed by the second semifinal at 20h00 on the same day. The second match will feature UAE and India-bound Energy Esports and Goliath Gaming. The victors of each match will return on Sunday at 17h00 to determine the China-bound CS:GO team.
Observer for the CS:GO broadcast is Thomas 'Steigerz' Reid. The panel host is Sean 'Snare' Rihlamvu with panelists Shaun 'Profeci' Murrell and Dillon 'Unreal' Jost. Casters will be Barry 'Anthrax' Louzada and George 'GeeMax' Smith.
StarCraft 2
Sunday sees the finals of the StarCraft 2 qualifier. Drager takes on StatiC at 10h00 to kick off a full day's live esports action.
Stefan 'PhoenixTears' Morris and Devin 'TerranLord' Morris will handle commentary with Richard 'DeMoNiK' Sjoberg dealing with camera.
Stream Schedule
All matches will be streamed via Mettlestate's Twitch channel.
Friday 7 December
19h00: Hearthstone Semifinal One
20h30: Hearthstone Semifinal Two
Saturday 8 December
10h00: Dota 2 Semifinal One
13h30: Dota 2 Semifinal Two
17h00: CS:GO Semifinal One
20h00: CS:GO Semifinal Two
Sunday 9 December
10h00: StarCraft 2 Final
12h00: Dota 2 Final
15h00: Hearthstone Final
17h00: CS:GO Final
While the main battle will be for the trip to China – with flights and accommodation covered – there is also some decent cash up for grabs for the top placers per title:
Dota 2 First Place: $2,000
CS:GO First Place: $2,000
Hearthstone First Place: $500
StarCraft 2 First Place: $500