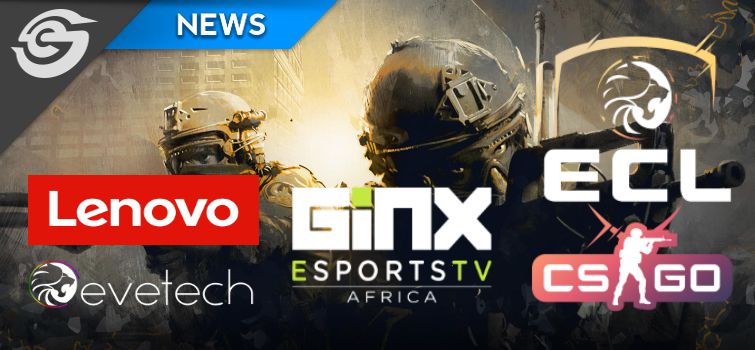 Evetech Champions League sees local CS:GO teams compete live on GINX TV
Chris 'Sargon' House
The Evetech Champions League (ECL) Season 3 round robin group stage is set to kick off at 14h00 today. Six of the top South African Counter-Strike: Global Offensive (CS:GO) teams will compete against each other for a share of the R50,000 prize pool. Big 5 Esports, Sinister5, Energy Esports, Gravity Gaming, Ex Astris, and Goliath Gaming progressed to the round robin stage from online qualifiers (held between the 20th and 21st of July 2019).
The round robin stage runs from the 10th of August to the 8th of September 2019, ending in online finals that take place between the 14th and 15th of September 2019.  All of the round robin matches are played in the Bo2 (best of two) format; teams earn two points for a win, one for a draw, and zero for a loss.
Catch all the action live on GINX Esports TV (Channel 127 on DSTV), the GinxTV Twitch channel, Evetech's YouTube channel, Evetech's Twitch channel or on Evetech's Facebook page. You can join the ECL conversation on social media with #JoinTheLegion thanks to title sponsor Lenovo.
Breaking down Season 3 of the Evetech Champions League
Goliath Gaming are riding high after their recent Syntech Masters LAN victory last weekend, where they came back from the lower bracket to eventually win the tournament. In their run they put Big 5 Esports, White Rabbit Gaming, and Sinister5 to the sword with some impressive plays. The addition of Detrony (who is on loan from Bravado Gaming) has added a lot more quality to their lineup. However, a notable absentee from that LAN final was Energy Esports.
Energy Esports failed to qualify due to forfeiting one of their games (putting them outside the top 4). Energy Esports are a major contender in the local scene, having recently participated in the Starladder Asia Minor after defeating Goliath Gaming in the qualifiers. They also recently earned berth to the upcoming World Electronic Sports Games (WESG) in China, again after beating Goliath Gaming.
Big 5 Esports have appeared to struggle in major competitions this year, while Sinister5 has gone from strength to strength in recent months. Either team could cause some fireworks in the run up to the ECL online finals. Gravity Gaming and Ex Astris are both relatively unknown names to me, but have players that many will recognize.
The prize distribution is as follows:
1st – R25,000
2nd – R12,500
3rd – R7,500
4th – R5,000
ECL Season 3 Full Broadcast Schedule
10 August 2019 – 14h00 Energy Esports vs Big 5 Esports | 16h00 Gravity Gaming vs Sinister5
11 August 2019 – 14h00 Ex Astris vs Goliath Gaming | 16h00 Energy Esports vs Sinister5
17 August 2019 – 14h00 Gravity Gaming vs Goliath Gaming | 16h00 Ex Astris vs Big 5 Esports
18 August 2019 – 14h00 Energy Esports vs Goliath Gaming | 16h00 Gravity Gaming vs Ex Astris
24 August 2019 – 16h00 Sinister5 vs Big 5 Esports | 18h00 Energy Esports vs Ex Astris
25 August 2019 – 16h00 Gravity Gaming vs Big 5 Esports | 18h00 Goliath Gaming vs Sinister5
07 September 2019 – 14h00 Energy Esports vs Gravity Gaming | 16h00 Ex Astris vs Sinister5
08 September 2019 – 14h00 Goliath Gaming vs Big 5 Esports
14 September 2019 – 12h00 Semi Final 1 | 15h00 Semi Final 2
15 September 2019 – 12h00 3rd Place Playoff |15h00 Grand Final