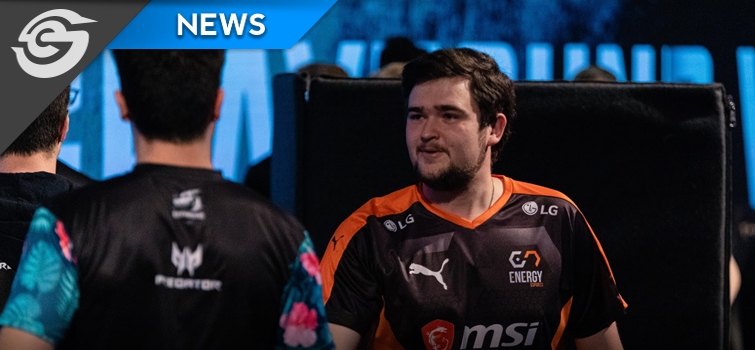 Energy Esports run at the StarLadder Asia Minor
Matthew 'HAzE' Stott
Four new South Africans were added to the tally of player's to have tasted the sweet nectar of competing internationally. The Energy Esports CS:GO squad have returned from Berlin after partaking in the StarLadder Asia Minor.
They earned a spot at the event by winning the local qualifier in May. The boys found themselves in a group alongside one of the Minor's favourites, Grayhound, who also happened to be their opening matchup. The match was a best of one, meaning Energy would have harboured hope of causing an upset against the Australians. 
Aussie, Aussie, Aussie
Kicking off proceedings on Dust_2, Energy won the pistol round courtesy of a neat 1 vs 2 clutch by Nico "Dweezil" Devonport. They weren't able to immediately build on that though as they lost the following round. From there the half was dominated by the Aussies who bossed the aim duels. It was clear after about six or seven rounds that Grayhound had decided they were just going to try out-muscle Energy. Energy struggled to go toe-to-toe with them and Grayhound exploited that. 
One of the main themes of that half was the lack of AWPs that Energy had at their disposal. The double AWP setup in particular is one of Energy's core strengths, especially with the likes of adM, MisteM and Dweezil in the side. Unfortunately they weren't able to consistently employ them because of their lack of economy. I think they could have opted for an extra save in some situations to afford the double AWP. Instead, they tried to deny Grayhound building on their lead with more regular buys, which was also a plausible option. 
With a 4-11 half Energy absolutely needed the pistol win to stay in contention, which unfortunately wasn't the case. Gareth "MisteM" Ries nearly pulled off an insane 1 vs 4 clutch but a 1hp erkaSt was his undoing. Energy went on to lose the map 16-7 dropping them down to the lower bracket. 
The Elimination Match
Chinese team 5POWER were their opponents in the next match, a best of three, do-or-die affair for both teams. The first map of the series was Energy's pick, Train. Inevitably, Energy started on the T-side because 5POWER had the choice of side. Train is a heavy CT sided map meaning Energy were fighting an uphill battle from the first round.
The match began with 5POWER outclassing Energy in the first half, shutting down pretty much everything that was thrown at them. The Chinese side were sporadically aggressive across the map mixing their timings up well. This made Energy's life super difficult as their setups were constantly disrupted. Once the CTs gain control of the economy and your basic strats have been exhausted there needs to be fallbacks, protocols. It seemed Energy lacked these backup plans and were practically blown out of the water on Train. 5POWER closed out the half 13-2, and soon after the map 16-3. 
Next up was Inferno, where Energy had the luxury of starting on the CT side. The luxury didn't quite workout though as they only mustered 4 rounds through the half. 5POWER were aggressive across the board once again which Energy found difficult to sustain. Energy's Major dreams were on the brink of collapse, and up until that point we'd only really seen glimpses of Energy's true potential, however the second half was different.
Energy got off to a positive start, winning the pistol round after which they began finding some momentum. Picking up six consecutive rounds it seemed like Energy had finally settled down and were able to play their game. We saw a vintage adM 1 vs 3 clutch and a sick bLazE quad kill in the pistol. It was a passage of play that Energy can look back on and draw positives from. Almost a small confirmation that they have what it takes to compete when everything comes together. Sadly once 5POWER won a round it broke Energy's momentum and they lost the game soon after 16-10. 
The Aftermath
One of the biggest takeaways from this exposure is the immense experience that was gained. Energy's average age as a team is 19-years-old, including 16-year-old Max "rAid" Lithgow. It has certainly boosted their career's in a way that only a few things can, playing on an international stage and rubbing shoulders with some of the world's best. This experience alone will develop this youthful team by enhancing their maturity towards an understanding of the game. 
I have no doubt their hunger for the game has only increased. Keep in mind this wasn't the team's only guaranteed opportunity at competing abroad, they'll be jetting off to China to take part in WESG 2019. I think we can expect Energy to be more competitive at WESG considering they'll have a better idea of what to expect and how to prepare. There's only one true way of being prepared for what the international stage holds, and that is experience.