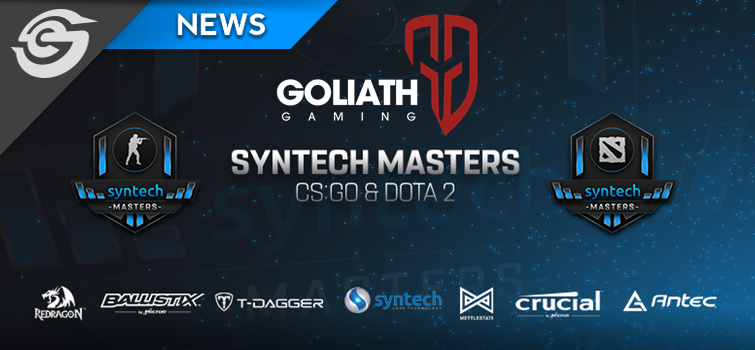 Goliath Gaming sweep Syntech Masters
Clint 'Zombie Dredd' O'Shea
Goliath Gaming took the top spot in both titles on offer in this past weekend's Syntech Masters. In the case of both the CS:GO and Dota 2 series, Goliath Gaming battled from the loser's bracket to secure the championship.
The victories saw the South African MGO walk off with a cool R60,000 for their efforts.
Dota 2
The Dota 2 finals saw Goliath Gaming facing White Rabbit Gaming in the best of five series. White Rabbit Gaming entered the final with a round advantage, thanks to the flawless victory run up until then. It took Goliath Gaming the next – and only – three rounds to secure the top spot in the Dota 2 Syntech Masters Pro Series.
The final standings after the weekend saw the teams place as follows:
1st Place: Goliath Gaming [R30,000 cash]
2nd Place: White Rabbit Gaming [R10,000 cash]
3rd Place: Sinister5 [R5,000 cash]
4th Place: TKC Carry Pls

CS:GO
In a sequence similar to the Dota 2 finals, Goliath Gaming took the CS:GO series 3-1 coming back from a map disadvantage. However, this time it was Sinister5 on the receiving end of a loss, going home with the second place spot and R10,000 cash.
The final standings in the CS:GO Syntech Masters Pro Series:
1st Place: Goliath Gaming [R30,000 cash]
2nd Place: Sinister5 [R10,000 cash]
3rd Place: White Rabbit Gaming [R5,000 cash]
4th Place: Big 5 Esports