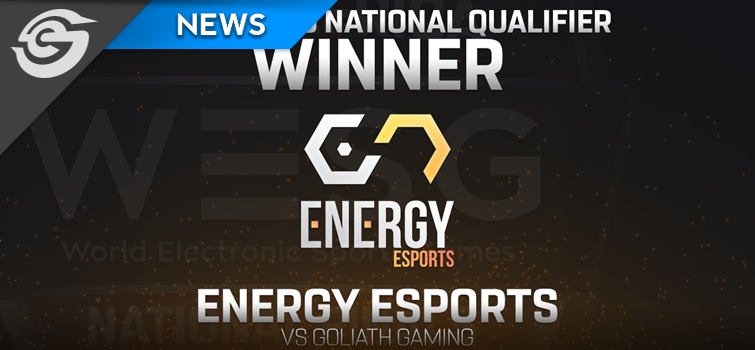 Rush CS:GO WESG Qualifier Wrap-up
The third edition of Rush took place this past weekend hosting the 2019/20 edition of the WESG South African qualifier run by Mettlestate. The online portion run over the past few weeks had led to the semi finals between Sinister 5 (Sin5) and Energy Esports, with local rivals Big 5 taking on Goliath Gaming on the other side of the bracket.
Sinister 5 vs Energy Esports
Energy – raid, adm, mistem, Dweezil, Blaze
Sin5 – zerOch4Nce, zeo, dyvo, fleks, hackem
The first port of call was Sin5's pick of Train, with Energy beginning on the more difficult T-side. Winning the pistol set them on a streak of five rounds before Sin5 could win a round of their own with an aggressive push on a save. Five rounds then went the way of zerOch4Nce and his team including a stellar 1v2 by zeo after running through a molotov. That close win severely depleted the coffers of Sin5 however and their underpowered buy was overrun by energy in the next round. 
Energy then finished off all the remaining rounds to take a powerful 10-5 lead going into the more favoured ct side. Sin5 posted seven in a row before a Dweezil multikill brought Energy back into the game at 11-12 in Sin5's favour. He then clutched again in the next round to bury the Sin5 economy and Energy were able to close out the map, 16-13.
With Mirage being Energy's pick they would have felt confident going in with a 1-0 advantage. Energy once more began on the Terrorist side and put up the first five rounds. A Hackem deagle accounted for three kills, finally winning Sin5 their first round. Sin5's next few round wins were never comfortable and a mindblowing 4k by ADM on 1hp to win his team's sixth round shattered the Sin5 bank. Energy eventually ended the round with a 10-5 lead. 
Train deja vu continued with Sin5 winning the pistol and eight of the first 10 rounds in the second half. zerOch4Nce hammered three kills to prevent a certain defuse to keep their hopes alive, but eventually Energy was able to wrest control from Sin5 and win the last four rounds needed to book their finals spot. While map one had been a team effort from energy, map two was the ADM show with the youngster posting a monster 33 kills by the end. 
Goliath Gaming vs Big5 Esports
Goliath – deviant, zipzipza, massacre, adaro, elusive
Big5 – slowye, kustom, konvict, takbok, tiaantjie
Goliath's pick of Inferno started proceedings with Big5 on the favoured CT side. A pistol round win led to Big5 winning the first four before a critical 1v3 win by Adaro got Goliath on the board. Round 8 somehow ended with a ludicrously ballsy ninja defuse in smoke by Slowye for a 5-3 lead. The remaining rounds of the half were a back and forth affair with Big 5 winning out 9-6.
Goliath continued the theme of terrorist pistol wins winning the first two rounds before an important call to hit A site won Big5 their first T round. 
Elusive's smart decision making in a 1v1 the next round led to another win for Goliath and a Big5 economy in deep trouble. Konvict arrived to save the day with entries and three kills on the round and forced a double save out of Goliath. With their economy in tatters and requiring a gamble, Goliath could do nothing more and Big5 won 16-9.
Home field advantage
Heading into Big5's home map of Mirage should have been a comfort, but Goliath are themselves strong on the map and Big5 have struggled to consistently beat them there.
Big5 won the opening pistol and the second round but ended up giving away 4k while hunting Goliath players. This bit them in the next round when a stronger than expected Goliath was able to do heavy damage to Big5, allowing young gun Massacre to win a 1v2 with a stolen SMG.
Goliath proceeded to lay down the pain as they racked up nine straight before an entry and distraction play by Takbok allowed Big5 to grab their third. 
Round 13 featured a stunning 2v4 from Big5 as they continued to struggle, eventually ending with five rounds in the half. The second half was all Goliath, with only a Kustom 3k on B-site buying Big5 a short lifeline. Goliath ending 16-8 winners and heading to map 3.
Goliath were now fully powered up and it never looked like Big5 were in the running on Overpass. Despite starting on the weaker T side, Goliath, powered by Adaro and Elusive, crushed the defence to the tune of a 10-5 half in their favour. They eventually cruised to a 16-6 win. Goliath was looking strong after a weak start with Adaro, Massacre and new addition Elusive looking powerful. 
Goliath Gaming vs Energy Esports – Final
The stage was now set for a second meeting in two months between Energy and Goliath for a spot at an overseas competition. Energy had upset Goliath in stunning fashion for a spot at the minor in Berlin but could they do it again and book a spot to Shanghai? 
Map one began on Mirage, Energy's pick. Energy began like a house on fire, winning the first eight rounds before a ZipZipZa 3k and a Massacre clutch got Goliath on the board. With Goliath steadying the ship, they picked up the next couple of rounds, but chaos on the execute led to Adaro finding himself in an unwinnable 1vs3 situation on the B site. After trading rounds Goliath, while on a save, somehow engineered a win with a saved awp and deagles. 
The half ending 10-5 held promise for Goliath as they now shifted to the favoured defense. They started well winning the first 2 rounds before Energy replied. Heroics from Adaro knocked Energy down. Four kills, two of them with the USP suddenly brought Goliath back into the game. At 12-13 in Goliath's favour and Energy severely strapped for cash, they decided on an all or nothing B rush, somehow it worked despite all 10 players dying. Now 14-13 in Energy's favour but Massacre had another say. 
A clutch by the youngster in a 1vs3 evened things up. Raid and ADM magicked up a 2 vs 3 win and bankrupted Goliath. The final round was an easy win for Energy 16-14. ADM had come alive with 29 kills and looked fearsome heading into the second map.
A shot at redemption
Goliath's Inferno has at times seemed oddly brittle for a team so strong. Needing a strong start on T side they racked up the first 3. Energy eventually won round 4 off the back of a double kill from both Mistem and ADM and suddenly Goliath hit a brick wall. Mistem especially gave no quarter and picked up an ace in round 9. At 8-3 and Energy in what seemed complete control Goliath dug deep and stole the 12th and 13th rounds with a pair of wonderful A site attacks. 
Somehow Goliath had forced their way back to an 8-7 half and Energy would need no small amount of luck and skill to win from the unfavoured terrorist side. Despite losing the pistol Goliath pulled ahead off the back of a force buy win and a ridiculous Elusive quad kill, most of it while blind. At 11-9 in Goliath's favour the map was slipping from Energy's grasp. The luck and skill duly arrived, with a brilliant decision mid-execute by Energy to swap their attack from the B to A site. Three kills from Mistem to top it off and now the pressure was on Goliath. They endured to take it to 12-10. With an anaemic economy Energy went all in and Raid produced a moment of magic, picking up two kills and forcing the remaining Goliath players to save their weaponry. 
ADM would deliver the next hammer blow. Two kills – the first through smoke – destroyed Goliath's chances in the round. The subsequent hunt ensured they could save nothing. Forced to double save at 12-12, they could no longer contest and a final ADM double at 14-12 drove the dagger into the heart of Goliath. Running out 16-12 winners, Energy was powered by a frankly crazy 31 frags by ADM and 20+ from both Mistem and Raid. 

Energy are heading to WESG in China
So Energy have beaten Goliath for the second time and booked another spot in international competition. Powered by the potent AWPing of ADM, rifling from the rest of the squad as well as some daring decision making in critical moments, they look to be South Africa's premier CSGO team for the moment. If 2019 has taught us anything, it's that no team has stamped their authority on the throne as yet and there are many more battles to come.
[Photos: Mettlestate Facebook | Energy Facebook | Videos: NAG]