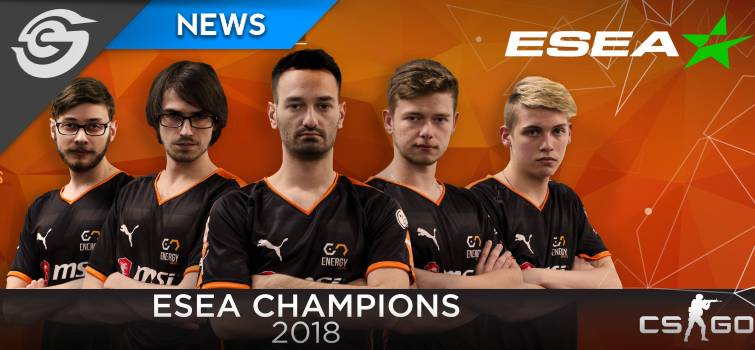 Energy win ESEA S28 without dropping a map
Michael 'axtremes' Harmse
On Thursday 16 August, the Energy eSports CS:GO squad became back to back champions of ESEA South Africa Open. We can talk about how it was expected and how they were favourites for the championship even before the season got under way. Which is all entirely true. That being said, with the significant changes made to the team after Season 27, it was far from a guaranteed prospect heading into Season 28.
Early signs
The first hints we got of their potential was at the Mettlestate's Vodacom 4U CS:GO Cup, where they won the final in a fairly convincing 3 – 0 over Goliath Gaming. The rest of the event was not exactly in the same sort of style, with some shakiness on display at various points, including dropping a map to LeetPro. Clearly the acquisition of Gareth "MisteM" Ries required some changes in their approach and in their setups.
While at the same time, the possibly even more significant switch of in game leader from Robby "blackpoisoN" Da Loca to Trevor "Kani" Morley would have played a role. A team takes time to settle after ringing the changes. In Energy's case they were still able to win a tournament right after doing so, but showed that they were in fact mortal. That would be assuming anyone was strong enough to exploit the opportunity.
ESEA Season 28
It just never happened in ESEA. Energy very quickly started to hit their stride and started to look untouchable, with blackpoisoN in particular benefiting massively as a fragger without the responsibility of calling. They dominated ESEA Season 28. Not a single map was lost. They would have had a perfect record had they not forfeit a match to Pixel Hunters. You'd not have bet against them with the playoffs looming. Unless you're an absolute crazed loon.
The Playoffs
Energy swept through the playoffs with a ruthlessness I've not seen before. First up was Bravado Finesse, who while putting up a valiant effort, were ultimately no match for the defending champions. Their absolute drubbing of Goliath Gaming in the Semi-Final, where GG got one round in two maps, showed a side that are a tier or two above their local competition. Putting that into perspective, it was 32 rounds in Energy's favour across two maps with only a single round against them in reply. Mind boggling stuff.
The Grand Final: Energy eSports vs Big 5 Esports
Right before the titular Grand Final, they came up against Sinister5 in the Evetech Champions League and actually appeared fallible. Sinister 5 went into the half with a rather big lead. Energy were somehow able to come back and narrowly win. As the broadcast talent watching the scoreboard in the Mettlestate studio, we were all wondering whether Energy might actually have been rattled by this close call. It looked like they might even lose for the longest time. Sinister5 did a commendable job, at the time still playing without the leadership and tactical nous of their experienced in game leader James "zerOch4Nce" Wijnberg. Sinister5 pushed them hard, but Energy made it through with only minor discomfort in the end.
Train: 16 – 13
Might they actually be beatable by Big 5 in the ESEA Final after this scare? I never thought so, but Big 5 were certainly a better matchup for Energy than they had faced in the rest of the playoffs. Train was a close-run affair, 16 – 14 to Energy by the time the action came to a close. Entry duo of Josh "Blaze" Saunders and Alexander "Spartan" Lazarides had a fine outing on the map for Big 5, contributing to eight Terrorist half round wins. Big 5 were actually leading 0 – 5 one point.
It fell to the now classic big game duo for Energy in Kani and blackpoisoN to get them back into the game. They delivered 23 and 26 kills respectively for only 16 deaths apiece to wrestle away the game when things were looking dire. Big 5 were leading 7 – 12 before the T side comeback from Energy swept them away. Close, but not quite enough by the challengers. Energy always seem to have the trump card of massive individual performances to save them when things aren't looking good.
Inferno: 16 – 4
Inferno was business as usual, ending 16 – 4. Rieghardt 'flexi' Romatzki went ballistic on the map, locking the A site down from balcony and pit and helping limit Big 5 to only two T side rounds. How ballistic? Try a 1.82 HLTV rating courtesy of 25 kills and 12 deaths. Overall MVP of the final has to go to the picture of consistency, blackpoisoN. He just seems to be getting better and better. I'll go so far as to name him my MVP of ESEA Season 28 as well. The man has just hit another level since relinquishing IGL duties and is now the star player of the team. As if he wasn't already the most influential member of the lineup already.
What next?
Energy are the deserved champions. They didn't drop a single map whether in the regular season or the playoffs. They're not unbeatable as Sinister5 and Big 5 nearly proved, but they are looking a lot more like they did a year ago when they were the best team in Africa. Right now, I'd say they are again the best team on the continent and by some way. The question is, where to from here? What challenges are left for them locally? We'll have to wait and see.
Header image courtesy of Energy eSports.