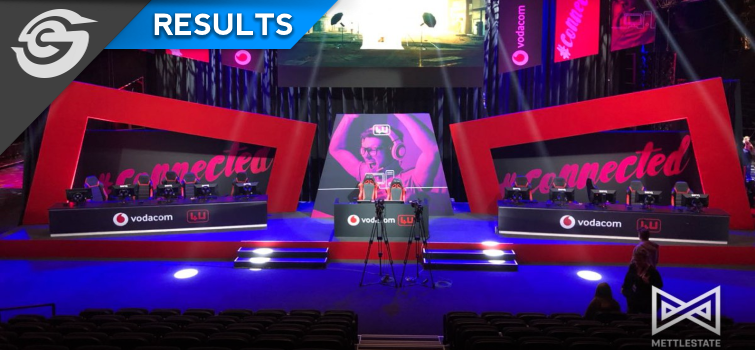 Results: Mettlestate's Vodacom 4U CS:GO Cup at Rush
Shaun 'Profeci' Murrell
Going into Rush 2018 there was a lot of excitement in the air. As the first big LAN of the year, and the first to showcase all of South Africa's top counter-strike teams in nearly a year, the Mettlestate-run event would give us a good look at who the kings of South Africa were. There was a high level of expectation for teams like Energy Esports, Goliath Gaming, Big 5 Esports, and Leetpro especially.
The first round of games went largely to expectation with the favourites winning 2-0 in all the games baring White Rabbit Gaming, who were forced into a 4 hour full Best-of-Three series against Online Kingdom.
Quarter-Finals
The quarter finals had thrown up an odd mix of very interesting matchups, Sin5 vs Goliath Gaming, XtC vs Big 5, eN.Academy vs Leetpro and a potential blowout, Energy vs WRG. Instead, only some of the plots were followed.
Sin5 vs Goliath Gaming turned out to be an absolute cracker, with Sin5 winning the first map and Goliath Gaming taking the second. All eyes were on map 3 where we expected similar fireworks, alas Goliath Gaming had kicked into a higher gear and ran away convincing winners on map 3 to take a 2-1 victory. 
Big 5 vs XtC was unfortunately something of a damp squib, with Big 5 in their LAN debut in no mood for a dangerous-seeming XtC squad. Blowing them out of the water on both maps, Big 5 never looked remotely troubled on their journey to a semi-final date with Goliath Gaming.
Pre-tournament favourites Energy had looked comfortable in their first series win on Friday but it was not as clean as they would have liked. After winning the first map in close fashion over WRG, they dominated Inferno to close it out 2-0.
The last quarter-final between Leetpro and eN.Academy was another stormer of a game. After wrapping up the first map in solid fashion Leetpro met a different eN.Academy squad on Overpass. Falling behind massively in the first half, they were forced to mount a comeback in the second which went into triple overtime. Leetpro closed it out though to take a 2-0.
Semi-Finals
Despite having met many times online, this would be the first meeting between Goliath Gaming and Big 5 on LAN. That was not the script Ashton "Golz" Muller had received, however. The Goliath Gaming captain came out swinging in map 1 and never let up. Determined to make a statement, he pulled out a vintage performance, completely dominating Big 5. The rest of Goliath Gaming followed in his wake and Big 5 wilted under the heat as they went down in a convincing 2-0 to Goliath Gaming.
Leetpro opened their semi-final by thumping Energy on Dust 2 to start the series. Energy had lost a map on LAN for the first time in year and now needed to dig deep to right the ship. Heading into Mirage, Energy was on home territory and expectations were that they would be better.  The 16-6 score indicated that they were with Energy cantering home. The final map in contrast, appeared close at 16-11 for Energy, in reality it was largely the Robbie "Blackpoison" Da Loca show. Energy ran out 2-1 victors for the series.
Finals: Map 1
The grand final now had its 2 combatants. Goliath Gaming had made it to the final in domineering fashion. All of their players had showcased moments of brilliance and their form was scary. With Golz leading the charge, Richard "Deviant" Groves, Tyler "Adaro" Oliver and Dean "Massacre" Davids in support they seemingly had everything in place to challenge for their first championship.
Energy had struggled by their standards, requiring magic moments and individual brilliance to dig them out of holes. All the players seemed to have taken games off at times and while Blackpoison had been godlike in the 3rd map against Leetpro, he had started slowly in all their games thus far. With Goliath Gaming sure to challenge early there were questions as to whether Energy would be ready to face the onslaught.
Energy put them through the ringer from the off in the first map with Blackpoison flying out of the gates on the scoreboard. A brutal 13-2 terrorist side half on mirage was a statement of authority from the Rush 2017 champions. Despite eventually bringing it back to a 10-16 final score Goliath Gaming were never in the game with the whole team team struggling to deal with the eN aggression. Blackpoison, unchallenged on the AWP, ran riot to post 32 frags on the first map.
Finals: Map 2
Mirage was the Energy home map however, so it was expected that Goliath Gaming's home map of Inferno would be closer. Again Energy started off well but this time Goliath Gaming countered. Despite losing the first half 9-6 they had reason to be satisfied with their efforts as they switched to the counter-terrorist side on a map favoured to the CTs. Energy made a mockery of those ideas however blowing the game out with yet another great terrorist side. Ending 16-8, the second map showed Energy in furious form.
Finals: Map 3
Train would be the 3rd map of the final and was somewhat an inversion of Inferno. Goliath Gaming, on the defense, started even better this time. Invariably Energy ground them down on the attack to take a 9-6 lead, before swapping over to the counter terrorists. Energy then lost only 1 round en route to a 16-7 final score, a 3-0 series score, and the championship.
Final Thoughts
As the first LAN in a very long time and first for a number of teams it was helpful in sorting out the pecking order in South African Counter-Strike. Energy remains the top team although it is not as clear cut as last year. Goliath Gaming will be bitterly disappointed in the grand final performance but they will be happy with the overall result. Big 5 who came 3rd will also not be satisfied with their semi-final but playing three best of three series in a day probably contributed slightly to the defeat as they looked far better against Leetpro in the bronze final.
In terms of individuals, it was good to see Golz and Lighterz back in form for Goliath and Big5. Aaron "Slowye" Van der Walt also deserves a shout out for his great performances on the AWP for Leetpro. For Energy, almost certainly the MVP is Blackpoison, despite taking some time to wake up when he did there was no one to match him. Lastly, Gareth "Mistem" Ries performed admirably in his LAN debut. While he didn't dominate as he routinely does online, he never let the team down or failed to carry his own weight.
Header image courtesy of Mettlestate.