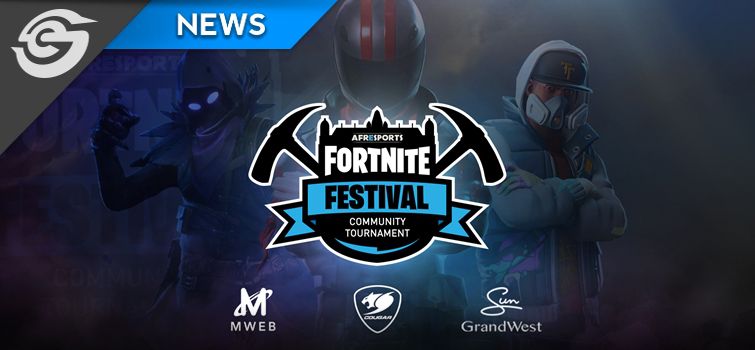 Fortnite Festival at Afresports announced
African Cyber Gaming League (ACGL) has announced the Fortnite Festival for their Afresports event on 1 and 2 September at GrandWest in Cape Town.
The event marks the first time a custom lobby community tournament will be hosted in Africa, meaning the competition will see all participants in the same lobby, rather than using the more familiar 'kill race' model. On the line is R20,000 in cash and will be played across PC and PlayStation 4, as well as in 1v1 and 2v2 formats.
The Fortnite Festival is being brought to life by ACGL, MWEB, Internet Solutions, GrandWest, and Cougar Gaming.
Full details can be found in the press release below:
THE FORTNITE FESTIVAL AT AFRESPORTS ANNOUNCED 

Africa's first custom lobby Fortnite event

South Africa, 17th August 2018 – African Cyber Gaming League (ACGL) is pleased to announce that the AfrEsports event in Cape Town on 1 and 2 September 2018 will feature the Fortnite Festival. The event will see the first use of a Fortnite custom lobby system in Africa, allowing up to 80 players per platform to compete at once.

The Fortnite Festival is possible thanks to MWEB and Internet Solutions supplying the internet connection needed to ensure all players in attendance can enjoy their Fortnite experience. Other partners bringing the event to life are Cougar Gaming South Africa and GrandWest Casino and Entertainment World in Cape Town.

Over the two days of AfrEsports, Fortnite players can compete in both 1v1 and 2v2 tournaments on PlayStation 4 and PC. The events will be bring-your-own and will feature a cash prize pool of R20,000. There is an entry fee being charged. Competitors can register for their spot at the event here:

1v1 PC (Saturday): R4,000 cash (1st – R2,000 | 2nd – R1,250 | 3rd – R750)

1v1 PS4 (Saturday): R4,000 cash (1st – R2,000 | 2nd – R1,250 | 3rd – R750)

2v2 PC (Sunday): R6,000 cash (1st – R3,000 | 2nd – R2,000 | 3rd – R1,000)

2v2 PS4 (Sunday): R6,000 cash (1st – R3,000 | 2nd – R2,000 | 3rd – R1,000)

Fortnite is not the only tournament event and activity happening over the weekend. Call of Duty, FIFA 18 and more will be featured with a variety of tournament types welcoming both seasoned campaigners and new players. Cash prizes and products are on the line across a variety of titles.

Spectators and those keen to shop at the vendors can access the event for free. There will also be opportunities to try out Fortnite and other titles, as well as compete in a fastest lap competition.

Full details and registration links can be found on the event landing page: https://acgl.co.za/fortnite-festival

AFRESPORTS DETAILS

Date: Saturday 1 September and Sunday 2 September 2018

Time: Saturday: 10:00am to 6:00pm | Sunday: 10:00am to 5:00pm

Where: Sun Exhibits, GrandWest, 1 Jakes Gerwel Dr, Goodwood, Cape Town, Western Cape

What: Esports, gaming, vendors and more

Cost: Spectator Pass – Free | Play Pass – R50 | FIFA, Fortnite and Call of Duty Player Pass – R100 (pre-booked) or R130 (door)

Prizes: Cash and products