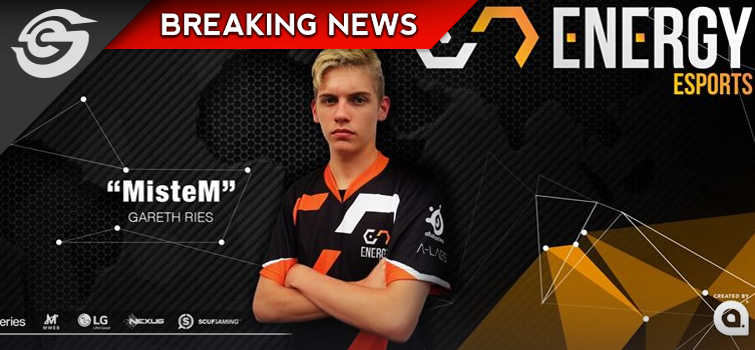 Unpacking MisteM joining Energy eSports CS:GO
Michael 'axtremes' Harmse
In what is probably the most noteworthy lineup change for a South African CS:GO team in recent memory, Gareth "MisteM" Ries officially became a part of Energy eSports yesterday. He replaced Jan "takbok" Theron. What made it noteworthy? Who is MisteM? How will this affect the best team in the country? Stick around and I'll get into it all.
Getting all misty-eyed
To my mind, MisteM is one of the most promising young players I've had the privilege of watching or casting this year. He was the first name I thought of when I started planning an article in which I would name a group of young players to watch in 2018. That piece is still coming. It's just that this roster change came up before I could get it published. The kid is good. Really good. Have a look at this clip from the ESEA Semi-Final to give you an idea of his capabilities in a high-pressure situation:
Why takbok?
On balance, I'd say that takbok was the most likely player to be cut by Energy. Throughout the last 9 months, he has been the worst performing player on the team. It's tough to shine in a team of stars. Takbok had some great moments and remained particular fearsome on forcebuys and in clutch situations. It's just that he never quite hit the level of his teammates. One could argue a player not contributing that much in terms of frags is a more supportive element. While takbok is a fairly passive player, I don't really feel that he was setting up other players or being the man throwing the nades for his teammates. He played his role more than adequately.
Energy as a team have higher ambitions than just being the best in this country. In order to do that, they've looked to bolster their player stocks which has meant their weakest link was removed. He would make a magnificent pickup for any team below Energy looking for an experienced campaigner to round out their roster.
MisteM the miscreant
He certainly has a rather checkered past that he has had to overcome. Sadly, it was all of his own making. MisteM was slapped with a three year ban from all VS Gaming events for hacking back in 2015. It can't be disputed. It happened and he was guilty. However it has to be said that his age at the time is a major mitigating factor in this case. I can't think of anyone that made good, far-reaching life decisions at 13 years old. With age comes experience and an appreciation for just how uncomfortable the consequences for one's actions can be. I highly doubt he put much thought in Counter-Strike as a future career option when he decided to cheat at 13.
The ban was justified. He served his time. It does though seem like some members of the community have the attitude that a former cheater should never be allowed to play competitively again. I'm just really glad that those same people don't make decisions in real life legal cases involving minors. The legal system in most countries doesn't mark you for the rest of your life as a criminal for committing a crime as an underage offender. Why should a young CS:GO hacker be treated like a hardened career criminal in comparison?
If lifetime bans were handed out for being stupid kids in a video game, none of us would be allowed near a computer. I'm not seeking to minimize what he did. Rather, I'm trying to be a more moderate voice. There has to always be the possibility of rehabilitation for cheaters, unless they are remorseless repeat offenders. For more on this contentious subject, read Crime and Punishment: Cheaters in CS:GO.
A star of the future. Now.
At only 16 years old, he is already a formidable force on the server. The young rifler was the star performer for his team Sinister5 throughout the past ESEA season. Looking at the numbers, while his teammates were successful in their own rights, his performance was a huge contributing factor in the their run to the grand final against Energy. MisteM was the top fragger of the entire competition with 511 kills across the regular season and playoff. The next closest player was Energy's in game leader, Robby "blackpoisoN" Da Loca with 406.
Interestingly they had an identical kill to death ratio across the season, probably owing to the fact that Energy trounced Sinister5 in the Grand Final. Even in a losing effort in the final, he was still the top performer for his team and remained a threat to his opposition. Always a threat with a rifle or pistol, he possess great first bullet accuracy and has consistently shown exemplary calm and poise in clutch situations. He not only looks like a star of the future. This kid looks like a star player already.
Betting on the future
Energy have picked him up with an eye to the future. In other words, if he's this good now, how much more dominant might he eventually be? BlackpoisoN will be looking to invest a lot of time into MisteM to attempt to make him into a more complete player. MisteM of course lacks experience on LAN, which is part of the gamble by the team. They are banking on him only getting better with experience and tutelage from blackpoisoN. They're also betting on him being able to deliver similar performances offline to online. Looking at his skill set though, it's hard to see why he wouldn't be able to do that with the kind of support he'll have at Energy. BlackpoisoN is one of the best in game leaders locally at putting his players in the right positions and situations to get the most out of them.
Integration
Getting him functioning within the team will be the challenge for blackpoisoN. MisteM would have been used to being the star of his previous team. In Energy, he is just another highly skilled player amongst many, which will be an adjustment in mindset he'll need to make. They will perhaps need to change a role or a site hold or two for some of the other players to make it work. The normal stuff with a roster change.
If they can integrate him into the team successfully, Energy might very well be unstoppable locally. Not that they weren't that already. Energy have gotten a bump in firepower that should make them an even scarier prospect. Longer-term, his young age means he could get even better. That's what the team are hoping for. If the plan is to go overseas as has been mentioned, an even better version of Energy can only be a good thing for SA CS:GO. I'll be keeping a keen eye on his and the team's progress.
Header image courtesy of Energy eSports.