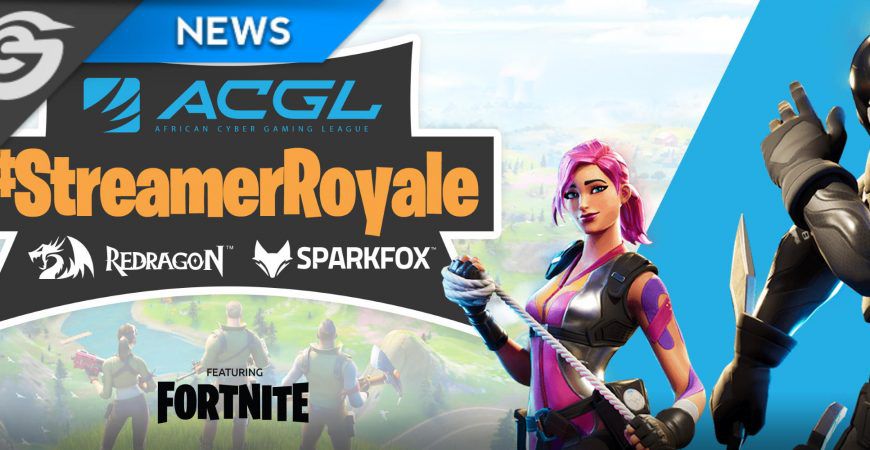 Results from the Fortnite Streamer Royale
This past weekend saw eight streamer-led teams do battle in the Streamer Royale tournament series for Fortnite. On the line in the ACGL operated event was the ability to claim bragging rights over friends and acquaintances. And a cash prize pool of R15,000 sponsored by Redragon and Sparkfox.
Much of the action over the five custom lobby rounds saw two teams trading blows at the top. Team Hutchie and Team Clouds may have been the second and third crowd favourites after fan-votes, but they were clearly there for the Fortnite wins. None of the other six teams securing a first place in any of the rounds. This ongoing form meant the overall battle for the top was between the two teams.
And things could not have ended any closer than they did. During the fifth and final round, Team Hutchie fell quickly and only secured a fifth spot with three eliminations. This gave Team Clouds an opportunity to secure both a round and overall top spot. 16 eliminations and a Victory Royale later, Team Clouds secured the top spot for the round with 106 overall points.
However, Team Hutchie shared the same number of points at the top of the overall leaderboard. This meant it all came down to the tie-breaker. In the case of the Fortnite Streamer Royale, this was the number of Victory Royales each team claimed over the competition. By the narrowest of margins, Team Hutchie took the overall standing with a total of three Victory Royales to Team Clouds' two.
AS IT ENDED
It all went down to the wire in the end, but the teams in the money placed as follows:
1st Place: Team Hutchie [R8,000]
2nd Place: Team Clouds [R4,000]
3rd Place: Team Suspekt Zero [R2,000]
4th place: Team DonsPlays [R1,000]