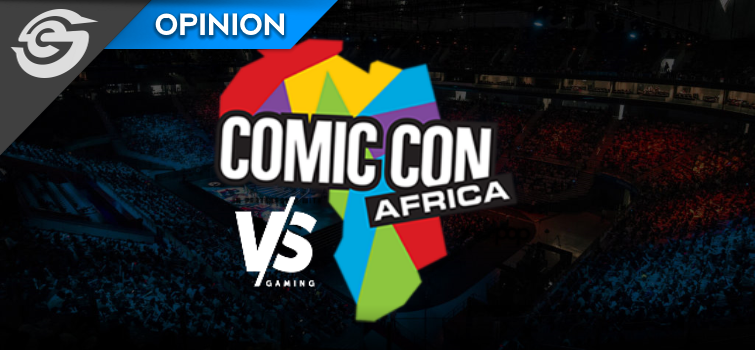 VS Masters at Comic Con Africa: Chatting to Ridditz
Comic Con Africa is just days away and with that comes the most anticpated cluster of tournaments of the year for esports fans. VS Gaming will of course be holding their annual VS Masters CS:GO and Dota 2 finals tournaments at Comic Con Africa at Kyalami Convention Centre instead of their by now traditional home at rAge Expo. Still present this time around is the VS Gaming Championship (formerly DGC) with players competing in nine different esports titles. You can read about the prize pools for Masters here and the prize pools for the VSGC here.
Asking the hard questions
At Esports Central, we had a few concerns that we raised with VS Gaming about certain aspects of the Masters tournament. We reached out to VS directly and were promised answers to our questions, but have not heard anything since with the promised date having long passed. In the meantime, we were contacted by one of the team owners that had listened to the Esports Central Podcast after we mentioned some of our concerns on the podcast.
XD stands for full disclosure
That team owner was DeWet Lombard-Bovey of Exdee Gaming. He graciously agreed to answer our questions.
ax: In Masters, the teams need to bring their own PCs for the off stage matches, while on stage matches have PCs provided. Correct?
DeWet: Yes that is the case. With the format, there is a chance of only playing one game on your own PC. So bringing up a PC just so that you can play one game on it doesn't make all that much sense. I understand that CS:GO and Dota 2 are running at the same time, but it did catch us off guard. Especially since we only heard this a week or so ago. This also made us have to change transport arrangements (we'll get to that later) which cost us unnecessary money.
We got this information less than a month before the actual event. So it makes it nearly impossible to arrange or plan for anything else. We could have arranged PC's for the players so that they wouldn't have to fly or drive up with their computers (which puts them at risk), had we known in time. Having arranged and planned the event already, we now have to change that and pay cancellation penalties for the previous travel arrangements.
Have you heard whether the admins are inspecting all the PCs for illicit software such as wall-hacks? Are VS employing a third party anti-cheat client of some kind?
I know in VS Rules and Regulations they state that they reserve the right to inspect computers for third party software. But that is as much as I am aware of. I don't think there is any third party anti cheat client. Looking at the Bracket, I think the maximum amount of games that you can play on your own computer is two. And that is only for one team. The rest of the teams will play one game maximum on their own computer. Hopefully VS monitors these backstage games well. It seems there is only one backstage game on at a time, assuming there are no delays.
Will the PCs be freely available for practice or will they be secured between matches?
The teams can set up their PCs on Thursday and practice on them at their leisure during the event.
We have heard rumors that the Masters teams will have to pay for their own accommodation and travel this year. If it's true, how does this affect you as an MGO?
Yes, it's true. This completely blindsided everyone, I think. We initially heard about this when we asked VS if we could possibly move our flights to an earlier date to accommodate our boot camps. We were then told that VS would not be paying for flights and accommodation this year. This was about five or six weeks before Comic Con. I was caught off guard here, as our budget for the year was set and we did not plan for this at all. Thinking that maybe we missed some or other communication from VS, we reached out to a few other MGOs. However, it seemed that no one was aware of this and everyone we spoke to was shocked to hear this. No one had this budgeted for. Maybe boot camps, sure. But not to fly down their Masters teams.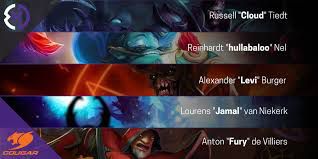 As an MGO we try map out what we will be doing for the entire year and work that into out budget. We are lucky that we have a main sponsor that helps financially as well. There is a fixed sponsorship amount for the year, and this doesn't cover everything on its own. We plan the year with our sponsor, and tell them what will be needed during each quarter. So we plan for which events we can and can't attend and determine what is worth it for us and for our sponsors. If we knew this, we could have spoken to our sponsors, and they would have attempted to increase the sponsorship to cover it. Shout out to Cougar Gaming for being an amazing sponsor, and helping us throughout this year. You guys have been awesome.
Finding out about this so close before biggest event of the year, left us in a position where we were scrambling. It didn't give our main sponsor enough time to see if they could assist us. It didn't give us as an MGO enough time to save up the funds either. And with two Masters teams and a Rocket League team, the costs are significant. It put most of the MGOs on the back foot and certainly hurts us. We made a commitment to our players and our sponsors. So we cant pull out of the event. Just like the players have contracts with us, we have contracts with our sponsors.
This must have thrown a spanner in the works?
The costs involved to fly, accommodate and feed 15 people as well as a lot of other small things (shirts, media, videos etc) is more than we budgeted and got from our sponsors for the entire year. And now all of a sudden we have to find this money within a few weeks. If we were told this at the beginning of the year, it would be a completely different story as we could have budgeted and planned for it accordingly.To be told five or six weeks beforehand is ridiculous. All we want from tournament organizers is communication. This hurts everyone, especially for teams with smaller sponsors.
Either we tell our players to get here themselves and we don't live up to our end of the agreement. Or, as in my case, we take out a personal loan to ensure players can actually get here. People who might say that if the teams win the MGOs will make their money back, need to understand that the majority of the MGOs in SA take around 10% of the prize money. Even if your teams win both the Dota 2 and CS:GO, that 10% doesn't cover the costs.
On a final point though, VS has come through with a lot of extra nice to haves. Like having someone assist with the PC's being dropped off, giving us parking and a lot of other extras. It sounds much better planned and more professional than usual.
In conclusion
We hope that the Masters teams haven't been too badly affected by this. All indications seem to be that the teams will still all make it to the tournament. It's just worrying that VS would not cover transport and accommodation this year after that being part of the deal of inclusion into Masters in previous years. For a tournament with this much cash on the line, it is also worrying that the approach to curbing any possible cheating relies entirely on admins manually checking player's own PCs backstage.
That's not optimal and could cause controversy if a player that has been suspected or convicted of cheating in the past performs much better on his own PC than on stage. It's never good for the competitive integrity of a tournament to be under threat. We hope everything runs smoothly and for a great tournament. Hopefully none of these things will come into play and affect the integrity of the results.