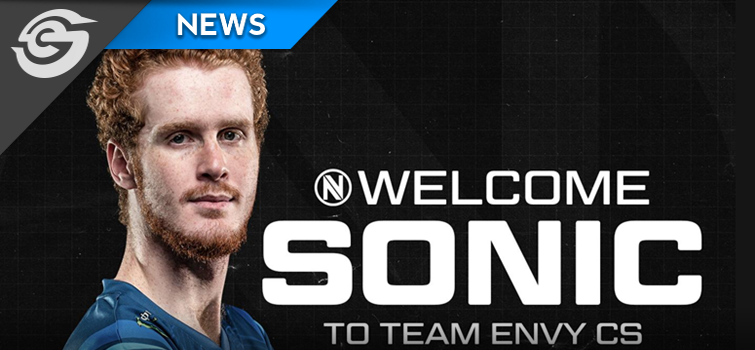 Never Idle: Sonic on moving to Team Envy
Possibly the best South African Counter-Strike player to ever touch the game, Aran "Sonic" Groesbeek's talent for the game is indisputable. While based in the United States under the banners of Bravado, Denial and more recently ATK, Sonic has only gotten better. Still just 20 years old, Sonic is on an upward trajectory and will likely continue to rise in the consciousness of CS fans in the USA. He's caught the eye of many in the North American scene, which has finally culminated in him joining Team Envy, one of the largest Multi Gaming Organisations in the world.
Forward, march!
The switch from an all-South African lineup and teammates that he's been with for years will have not been an easy decision to make. However, when one of the biggest teams in world esports comes calling, it's not easy to turn them away. While Envy are not currently a top CS:GO side in the world, they have ambitions of rising back to the top after last having been there with the Major-winning French lineup of 2015. After finally giving up on the French scene after years of mediocre results, Envy's more recent forays into rosters featuring players from their native America have been less successful. Sonic is replacing a legendary American player in jdm64 and will have to deliver for the team in a big way to help them move into the upper echelons of world Counter-Strike. While that seems a long way away at present, the ambition is there and the mix of youth and experience of the current lineup has some of the right ingredients to start them on the path to regaining some of the brand's past glory.
Straight from the source
Team Envy are showing a lot of faith in the young man. This is the first time a big international org has picked up a top South African player. I caught up with Sonic recently to get his thoughts and feelings after the biggest move of his career.
ax: Congratulations on signing with Team Envy Aran. What does this mean for you and your career?
Thank you! It's a big milestone for my career. At the moment the team still needs to be built from the ground up. That will take some time but the experience and caliber of the players will ensure that goal along with the huge backing of Team Envy, a world class Esports organization.
Presumably you've been practicing with the team for a while. What has it been like with the team so far?
We've only really been practicing for about two weeks and it's been great so far! Even without our structure and strategy in place, we're putting up some good results in scrims and officials. I can't wait to see what the future holds.
Was it a tough decision to leave ATK and make the move to your first non-South African team? What made you go with Envy?
Probably one of the hardest decisions I've had to make in my life. I considered those guys brothers while playing and living among them for 2-3 years. The core of my decision was that I felt like I needed a change of path in my career with new challenges, obstacles and experiences. I owe a lot to JT and T.C. Most of what I've learned about Counter-Strike came from them. Johnny (JT) has an amazing ability to break down the game and the thinking behind it.
Was joining a North American roster a goal you had set yourself? Or was it just something that happened naturally as a result of your performances?
It happened naturally. My goal was to make it with a South African team. We were on our way there but some unfortunate events caused us to stagger in our growth and almost collapse. I just needed a change for myself.
Did you get any other offers during your time in NA? Would you mind sharing about any of them?
I did, but back then I wasn't interested, I loved where I was at the time and no money would change that.
jdm64 is a legendary name in the NA scene. Are you up to the challenge of filling his shoes? Will you be taking over his sniper role directly?
JDM is a great player and has a particular style of awping. I am taking over the AWP role. I feel like I have a much more dynamic ability as an awper in terms of being able to switch up styles on the fly according to how we want to play. I know the player that I am and am capable of being, I don't fill players shoes I just put my own size 11's down. 😉
Your new teammates FugLy, Nifty and ANDROID are all highly experienced campaigners. What do you hope to learn from them in Envy?
All the players have a wide range of experience from some high rated teams. I feel we can all learn from each other and grow as a unit. You can learn something from anyone no matter where they're from. As a team we're equals and that's what is most important.
s0m is only 16 years old but has been touted as a future star in the making. So far in Envy he's struggled to find his form. As a former young CS prodigy yourself, do you see him making the step up to the level that the team needs? What advice will you be giving the youngster?
s0m's a great player. I believe once the team becomes structured and we begin gelling, we'll see his true potential as a player. He has a lot to learn and no better place than in Envy with all the experience the players hold. All he has to do is listen and click his mouse. 🙂
As a team with an ESL Pro League spot, the level of competition you face in Team Envy every week will likely be a step up from what you've been generally facing in Mountain Dew League (MDL) with ATK. Do you anticipate it will take a while for you to find your feet at this level?
I don't think it'll take anytime at all. We were constantly playing against Pro League teams in ATK and have always put up good results against them and I'll continue to do so in Envy.
What advantages does playing for Envy give you over your previous team?
Oh boy, I ain't gotta worry for a while hey! Haha. Envy's got it all man. I'm in good hands. 🙂
A lot of South Africa's younger players look up to you. In a lot of people's eyes, you are the best player SA has ever produced. Do you feel any pressure as the first SA player to be picked up by an MGO of Envy's size?
I've developed a good mindset on how to deal with pressure over the years. It doesn't really phase me anymore. I love my fans and those who support me, but my focus is on what's in front of me. When it comes to CS, nothing else matters. Just what I need to do.  
What are you expectations for team in the next few months? What sort of results are you targeting?
We're a very goal-oriented team focusing on long-term results. I can't give you exact estimates on when we'll be top contenders, but just know that we're working each day toward that goal with the correct systems in place.
How do you think MDL will go for your former teammates at ATK? Will they be OK without Sonic?
If there's anything I can tell you about that lineup, it's that when they get knocked down they're sure as hell be getting back up and fighting even harder. We're South Africans.
Is there anything you'd like to say to the Sonic fans back home in South Africa?
Support is a massive driving factor for me it adds to my purpose and puts a smile on my face. I hope to return that favour with some trophies that I can bring back home for South African CS.
Is there anyone you'd like to thank or give a shoutout to?
My parents. I think I'm one of the luckiest guys in the world to have their support and wisdom.