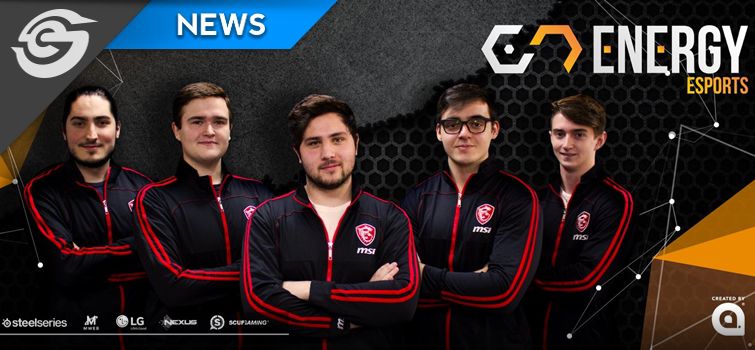 Interviewing the new Energy eSports CS:GO academy team
Michael 'axtremes' Harmse
Eds: This is a follow up interview to the recent announcement that Energy eSports picked up Skeletons Again as their CS:GO new academy team.
Energy eSports are seemingly full of announcements lately! After a period of relative quiet from the well-regarded multi-gaming organization, we've seen a veritable flurry of activity. They first announced the resumption of their partnership with MSI just a few weeks ago. It was followed up the bombshell that their serial title-winning CS:GO team would be picking up young prodigy Gareth "MisteM" Ries. Now, we've recently got the news that they've pulled off another coup.
Energy Academy
The erstwhile Skeletons Again lineup have joined Energy eSports as their Academy side. Skeletons Again are a good team with some very skilled and experienced, though still relatively young players. The team currently sits at the top of the VS Gaming Premier Division table and looks very likely to gain entry to Masters at the next promotion/ relegation due at the end of the leg. Their acquisition could prove to be a masterstroke by the Energy management. They might have gotten a Masters team and a worthy scrim partner for the main side in one fell swoop.
Straight from the source
I manage to grab Nico "Dweezil" Devonport of Energy Academy for a quick chat.
axtremes: You spent some time as an independent roster. Was it difficult without an MGO backing you? Were you actively looking for an MGO to play for?
Dweezil: We were lucky that we had no LAN tournaments to participate in. This suited us as we had no funding to back the team (other than personal funding), which we would've needed for travel and accommodation for the event. I would not say we were "actively" looking for an organisation. However, we were open to all offers given to us and had conversations with the team and the organisation. We were waiting for the perfect MGO for our team and our needs, rather than jumping on the first offer that came along.
Congratulations on joining Energy. What kind of support will they be giving the team?
Thanks! Energy have provided us with a bootcamp venue at Energy HQ. This is one of the major perks. We're looking forward to spending many bootcamps there, ironing out our own issues and practising. They will also support us for LAN events. The opportunity is there to receive help from the other Energy squad. We will be able to practise and bootcamp with them as well. Energy is of course also sponsored by Steelseries, MSI, A-LABS, MWEB, LG, The Nexus, and Scuf Gaming.
You're currently at the top of the VS Gaming Premier Division. How will things play out?
We do believe we will be able to maintain our top position in the VS Gaming Premier Division and be promoted to Masters by the end of the leg.
Will you be changing any roles in the team or is everyone happy with their current spots?
We have recently moved Tayl0r to IGL and given pnd the space to make plays, thus we will be keeping the roles the same for the foreseeable future.
Do you think you'd be able to beat the main Energy team if you were to face each other in a tournament this year?
We think we are extremely capable and we feel it is a real possibility with the practice and dedication we will be putting in.  
How do you think the team will perform for the rest of the year?
I do feel we will perform well this year. We are very excited with this opportunity and will be practising to up our performance from where we are currently.
What are your goals for 2018?
Our current focus is on achieving the number 1 spot in South Africa.  
That's a lofty goal indeed. I'm sure the main Energy team will have something to say about that! Good luck to the team for rest of the year.
Header image courtesy of Energy eSports.