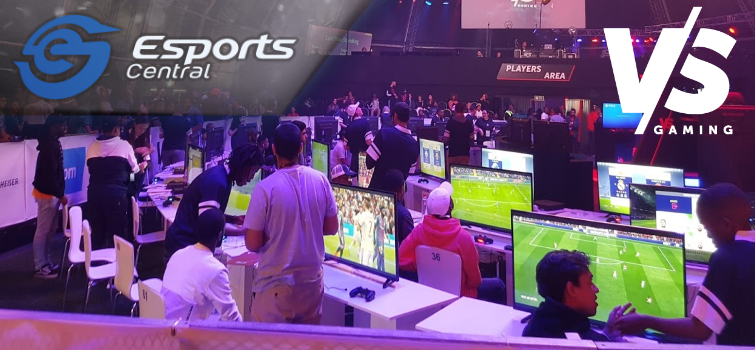 Wrapping up the VS Gaming Festival 2018
Michael 'axtremes' Harmse
This past weekend I had the privilege of attending the VS Gaming Festival at Montecasino between 5 – 6 May in Johannesburg. It doubled as both a celebration of gaming itself and perhaps more importantly, as the FIFA eWorld Cup Qualifier for Africa. I'm happy to report that in person, it was a superbly executed event. Certainly one of the best esports events ever staged in South Africa based on the live experience.
Shock and awe
Housed in a massive tent-like structure outside of the Montecasino Piazza, the VS Gaming Festival was a smorgasbord of visual and aural delights. The central stage played host to some of South Africa's hottest DJs and artists to keep the attendees entertained. There were all sorts of activities including plenty of consoles on hand to play anything from FIFA (of course) to sim racing. There was even a rather novel indoor soccer area that used lights and projectors to give the impression that the players were inside of FIFA 18 itself. Very cool. Suffice to say, there was something at the festival for the whole family to do. Check out our wrap up video of the event below!
The match area for the FIFA eWorld Cup Qualifier for Africa was also impressive. It featured numerous player stations clustered underneath a giant 360 degree screen projecting the matches to the spectator seating areas on either side. As you can see for yourself in the pictures, it had plenty of visual wow-factor.
The business end
Onto the serious business of the actual FIFA eWorld Cup Qualifier itself. The weekend saw 1,024 players registered to participate. Half were competing on the Playstation 4 platform, while the other half went with the Xbox One. That's still a rather eye-watering 512 players per platform. It was a herculean logistical challenge. Unfortunately there were some issues with player registrations, particularly on Sunday. A few took to social media to allege waiting times of almost 12 hours to play their matches, while others complained about the schedule being delayed by as much as a six hours. Obviously these delays aren't ideal and is an area VS will need to improve upon next time. It can't be overstated how large a feat of organization VS had to attempt at this event, so some minor issues can be forgiven here.
The players were both there to claim glory as well as their places in the rather prestigious FIFA eWorld Cup, a rather large carrot if I ever saw one. Then there was the prize pool. Transforming the metaphorical carrot into perhaps a carrot farm-sized incentive, was the R400,000 first prize for each platform. If all of that doesn't motivate you as a player, then nothing will. The stakes were high and the players were set to steal the show as they took on the biggest tournament of their careers.
Trying to spot the spotlight
It turns out Ronaldo stole the show. No, the real Cristiano Ronaldo didn't attend the event, although that would have been amazing. I heard Ronaldo's name far more than I heard any of the players' names during the Grand Finals. The commentators seemed to fixate far more on the virtual players on the virtual pitch than the real-world players competing for the prizes. It's nice that they knew enough about football to be able to be able to regale us with tales of Ronaldo's exploits and skills. However in the case of esports, it's just pixels representing the skill and will of the actual FIFA players. They should have been the ones being spoken about the vast majority of the time. We rarely got to see the players on camera. There was very little opportunity for the viewers to form a connection with the players and follow their storylines. This aspect could have been so much better. We could have created some real stars. Instead we got to hear about what a star virtual faux Ronaldo is.
Had there been some in-game overlays that indicated which player was controlling which team, that would definitely have been helpful. As it was, it was very hard to figure out just by listening to the commentators. To their credit, the commentary team were very excitable and passionate about the action which helped add some excitement to the matches. With the venue being as amazing as it was, I would have loved to see them switch to cameras in the venue more often. It felt like home viewers never quite got the sense of occasion that we all got from being at the Festival in person. There was also very little in the way of information on social media about match times and who would be playing, aside from the finals. We were kept up to date with the musical acts, but ultimately that was a sideshow to the main reason most of us were interested in the first place.
The analysis panel was hung out to dry on a number of occasions, being left on camera to speak for upwards of an hour at a time to stall because of the delays. I feel for them, having been in that situation myself. I can't blame any of the guys working on camera as those are difficult conditions to work under and they made the best of it. VS needed more in the way of filler content prepared for such an eventuality. Yes, I'm being critical of the broadcast aspect and I feel fully justified in doing so. It comes from a place of frustration in knowing just how exceptionally good the event was to attend in person, that the broadcast let it down so badly. VS are capable of good esports broadcasts, but this was not one of them. Hopefully they will take some lessons from this event. I'd  also like to see them try incorporate the innovations the European esports companies are making in FIFA broadcasting and try to adopt some of those to improve the experience for viewers
The Grand Final winners
On Xbox One, Shiaan Rugbeer walked away with the R400,000 cash windfall after beating Irshaad Mahomed in the Grand Final. Irshaad had to make do with a mere R150,000 for his efforts. For Playstation 4, Thabo Mike Moloi was in dominant form to sweep aside Zuhair Ebrahim and claim a deserved title win. We wrapped up the top four finishes for each title in a short article earlier this week that you can read here if you missed it.
The real winners
Those were the South African esports community and particularly that of FIFA 18. What a tremendous event from VS Gaming that will go down as a landmark of great execution in the live space. The broadcast was a black mark on an otherwise stellar outing for VS. I'm really looking forward to their future efforts in the space. They've set a high bar here for other tournament organizers and I'm excited to see what they do next.