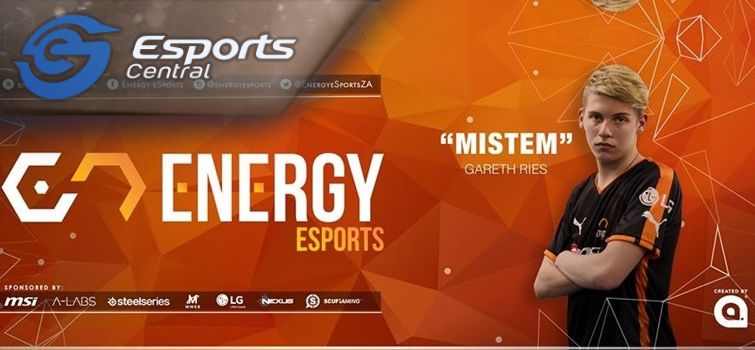 From Minor to Major | Energy's MisteM in Berlin
The most prestigious tournament in all of Counter-Strike, the 2019 Starladder CS:GO Major in Berlin, Germany, is just over a month away. The qualifying teams from the North American and European Minors were just decided over the weekend. Still to be decided are the teams from the CIS and Asia Minors. From the 24th of July, the Asia Minor will be staged, determining the qualifying teams from Asia, Oceania, the Middle East and Africa. Our very own Energy eSports are in attendance having won out in the local qualifier a few months ago.
I spoke with Gareth "MisteM" Ries of Energy eSports to get his thoughts ahead of the most important CS:GO event of their lives thus far. 
ax: You're just about to get on a plane for Berlin. It's the first time an SA team has had the chance to actually qualify for a Major. This is a massive opportunity. How are you dealing with the nerves?
MisteM: I played at the PLG Grand Slam and DreamHack Mumbai, so this won't be my first international event. However, playing at a minor for a spot in the Berlin Major has given me nerves as it is the biggest international event I will be attending to date. To deal with the stress, I will be focusing on my game and play each round/game as it comes to help stay calm.
It will likely be a step up in the quality of Counter-Strike over what you contend with locally. Is the team ready for the challenge of stepping up to a higher level of competition?
 The team has been working very hard for several weeks, playing around 8 hours of CS a day as a team. The team's confidence, synergy and hunger is by far the highest it's ever been. We are ready to take on any team in this minor. We will take every game round by round.
Did you do anything different to normal to prepare for the Minor?
The squad's preparation was normal but more intense than ever. We focused a lot on the theory behind CS and putting that work into scrims. This was beneficial as it allowed us to see the mistakes we were making. It allowed us to focus on fixing them and making everything more fluid in the strategies we employ.
Group B seems pretty stacked with Tyloo and MVP.PK in there. Are you guys happy to avoid them early in the tournament?
This is true. However, we do have Grayhound in our group, which is the highest ranked team according to HLTV rankings. Neither group is easy, but that being said, we don't mind who we play. Regardless of our opponents, we are still going to play the best that we can and try to stick to our style of CS.
Your first match is against Grayhound. I'll ask you directly: does Energy have what it takes to best the more experienced Australians?
I think we are more than capable of beating Grayhound due to the amount of  work we have put in. adM has always told the team: "Don't look at the names of the players in the server, just play our game and things will go smoothly." This will be the mentality of the team going into the game. Still, there will be more nerves going into this game, primarily because it is the opening match for the Asia Minor.
Who do you expect to be facing in the Winner or Loser's BO3? Whoever it is, it's likely an easier matchup than Grayhound.
I would probably want to play Avant more, as 5Power had already defeated the old lineup at the PLG grand slam. Whatever the case, if we are going to qualify for the Major, we will be required to beat most of the teams in this Minor.
5Power and Avant are not teams that we've seen a lot on the international stage. Have you worked to anti-strat them?
We have a basic idea of how the teams play, but we don't want to be in the mindset of playing their game and directly "anti-stratting" them. We have put a lot of work and preparation into our game and that is what we will be playing.
What are your goals as a player for the Asia Minor?
My goal for the Asian Minor is to play the best that I can and to qualify for the Major of course!
What are your aims as a team for the event? What are you hoping to get out of it?
Our aim as a team is to finish in the top two in the event and to play at the Major. We have put in a lot of work, time and effort. Nothing can stop us from achieving that.
Do you have anything you'd like to say to the South African CS:GO fans that are all behind you guys?
I'd just like to thank everyone from South Africa that has supported Energy from day one. Thanks to my family for their exceptional support. They haven't stopped supporting me ever since I started playing CS and gave me the motivation to be the best I can be. Finally, I would like to thank Energy eSports and our sponsors: MSI, LG, Steelseries, Puma, Nexus Hub and MWEB for all they have done for us. 
Good luck in Berlin Gareth! The South African Counter-Strike community is behind you guys all the way.