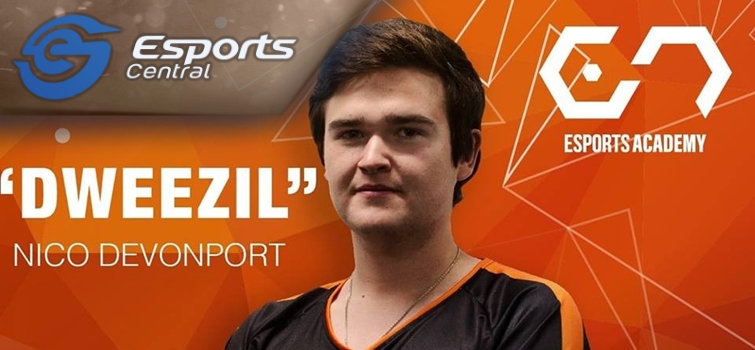 Energy eSports' Dweezil on winning the Asia Minor CSA Closed Qualifier
Unexpected championship victories and Energy eSports. They seem to go together like fermented juniper berries and quinine. By that I mean really, really well. After claiming the VS Gaming Masters Title at Comic-Con Africa in October last year under the Energy Academy name with a hastily shuffled lineup, Energy has enjoyed yet another big title win. Possibly the biggest online victory ever for a South African team playing within our borders.
Defying expectations
With an entirely new team, Energy beat Goliath Gaming in the Grand Final of the Starladder Asia Minor CSA Closed Qualifier. Why this matters so much, is that for the first time in history Africa has been included in the qualification process for the next CS:GO Major. To get to the Starladder Berlin Major, South African sides would first need to fight it out for a spot at the Asia Minor where qualification for the Major itself is at stake. It's not an easy thing to accomplish, but Energy are halfway there.
I would contend that this was every bit the upset tournament victory as Goliath looked to have had a stranglehold on the Closed Qualifier and didn't seem capable of even losing a single map. I would not have rated this young Energy side capable of beating Big 5, Goliath or Sinister5 yet. Much less in the manner they did. They took the hardest road possible and had to best all three teams, including playing Goliath twice. It's not possible to have had a more legitimate championship victory than being forced to beat the top three teams in the country within the same tournament. This is a momentous win and deserves to be celebrated.
You can read more about it in Matthew "HaZe" Stott's article here.
Lightning can strike twice
For Nico "Dweezil" Devonport, the only surviving member of the VS Masters Champion Energy Academy side, this was his second title win against all odds. I thought him to be the perfect team member to talk to and get an idea of how events unfolded.
ax: Did you believe that your team was going to win the whole thing? What was the objective heading into the Qualifier?
Dweezil: At the start of the Qualifier, I felt there were doubts amongst everyone. However, we also knew what we are capable of and our main objective was to win. We are still a new team and we knew we had to put in a lot of work to get the consistency up to defeat the other teams.
The lineup is completely different to when you won VS Masters at Comic-Con and has gone through a number of changes since then. It leans a bit more towards exciting younger players. Was that a conscious decision to go with youth?
At the time of the shuffles in the roster, we were left with very little time to find new players and build a new team. I feel that we were able to pick up the best players we could that fit into the team for the time and options we had. We did look at bringing in younger players primarily who had a lot of potential to be able to shape them into the players that would work the best for the team. I feel it has worked out for the best. Also looking forward, we are able to maintain a core lineup to grow and get stronger with.
How do you feel the current team stacks up against the previous iterations?
I feel we have been a strong force with some issues to still iron out, but we have so much more potential moving forward. We will be ironing out all the issues to perform at the highest level we can with this roster.
Tell us a bit about your teammates. What roles they play, what kind of teammates they are. Who do you think of as the star player (or players) in your team?
We have two core roles that are set, which is myself playing primary AWPer and bLazE on entry. However, these roles are flexible as it'll change from round to round based on positioning in the rounds. adM is the IGL for the team and MisteM helps with this from time to time. rAid is often lurking or on entry most of the time. In terms of star players, I feel we all have our moments and whoever is feeling it on the night we will support as the star player. We like to see ourselves as not relying on one or two players for our success.
After losing to Goliath 2-0 the night before in the upper bracket final, you had to get past an impressive Sinister5 squad for another chance against Goliath. Give us an idea of how that game went and what your thoughts were going into it.
In general our intention going into any game is to win and most importantly, to play our style of CS regardless of our opponent. This helped us believe that we would win this game because we are confident in our style, as long as we stick to it.
Goliath were unbeaten for the entirety of the tournament. What was the feeling within the team ahead of the Grand Final?
We felt very confident going into the rematch in the Grand Finals. We all knew when we played them in the first matchup that we outplayed ourselves and focused too much on what they were doing instead of just sticking to our style of CS which we know works for us. We just kept assuring ourselves that if we play our game we will be able to defeat them.
Inferno went your way, but you got slammed on Nuke. How did you move past that and reset for Train?
We knew our map pool was a weakness against them here. We knew we had to veto one of their two stronger maps against us. Therefore, we felt we had a better chance on Nuke versus Goliath over Dust 2. After Nuke we just reset mentally and didn't let the result get to us, as it was somewhat expected. Thus, making it easier to reset for Train where we felt we had a good chance against them.
Train was going very well for you until your Terrorist side where they started to dominate defensively. Was there a sense of desperation to get those last few rounds or were you always confident you were going to make the late-game surge and close it out?
There was some doubt on T side for us, however, we felt like we were destined to close it out after such a dominant first half. The tactical pauses came in handy towards the end.
We've got to go with the cliched interview question…tell us about your emotions immediately after the win. Now, a day later (at the time of interview) has it sunk in yet?
The emotions were very high for everyone on the team. This meant so much for all of us and it's an amazing achievement and goal to have reached with the storyline our team has. A day later it still feels pretty surreal.
What does this mean for the team and for South African Counter-Strike?
This is the biggest event for any of the guys currently on the roster and it's an amazing opportunity to help get exposure for South Africa in CSGO. We are going to work extremely hard and try our best not to let ourselves or any of the South African community down.
Is there anyone you'd like to give a shoutout to or thank?
I'd like to thank Energy eSports and Starladder for giving us this opportunity to compete for such a prestigious event. I'd also like to give a shoutout to our sponsors at Energy – Steelseries, MSI, LG, Nexus, MWEB and Puma for supporting us.