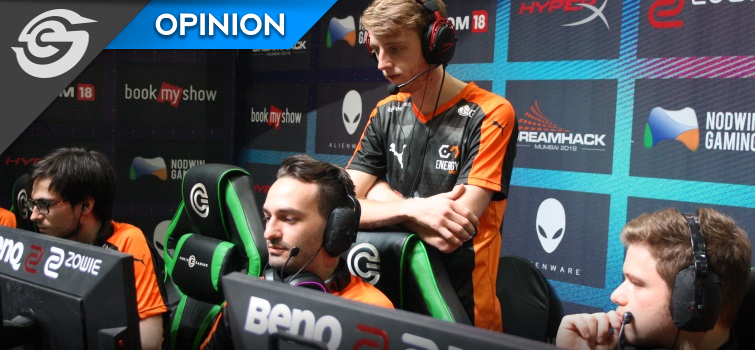 Looking back at PLG and DreamHack Mumbai with HAzE
They say traveling and experience are two of the best ways to learn. Combining them made for insurmountable learning. For anyone not familiar I was the coach/analyst for Energy eSports and we partook in not one but two international competitions throughout December. First up was a trip to Abu Dhabi to compete in PLG followed up a few days later with our maiden DreamHack tournament in Mumbai.
CS:GO and uncharted territory
I was contacted by the commander and chief of the CS:GO team, blackpoisoN, to aid the team in their preparation for the events. My main focus was to help them be as prepared as possible for each of their matches giving detailed information on what to expect from their opponent. Granted my input was hindered by a lack of time before the matches and my inexperience in the position. I'll always look back wishing I could have done more to contribute and produce better results.
As time went on I did gain more confidence and flourished in departments greater than a classic analyst. Things like making suggestions and calls in complex situations, helping individuals prepare mentally and adding to the general motivation within the team, traits more aligned with a coach.  
Heading into PLG the team wasn't in the best head space. We lost to Bravado Gaming in the WESG qualifier before we left and didn't get close to producing a performance we'd expected from ourselves. As a result we changed some roles within the team and had no time to practice before we set off. Sure, looking back it may have been a brash decision making changes before a big event but we felt we'd stand more of a chance this way. The question wasn't whether we were making the right changes, more just the timing of it.
PLG Grand Slam in Abu Dhabi
We embarked with a fire inside of us keen to impress on the big stage, where better to do so than the money capital of the world, well right next door. Situated on a man-made island, Yas Island, cultivated purely for leisure and entertainment we were in awe. We were pooled with Fnatic, 5Power and Sharks. A group we were confident we could progress to the playoffs through potentially beating 5Power and Sharks.
It's no secret that there were major technical delays. With games being push back four or five hours and some even postponed to the next day, frustration began to set-in. I think it was compounded considering the level of expectation we had heading into the event. Being a part of a world class event and being met with delay after delay is deflating. It's worth noting that the organisers were top class and did everything they could to ensure our comfort.
Our opening match against Fnatic could have been closer with 16-3 being an unjust scoreline but we had no expectations for the game meaning we brushed it off and prepared for what was next. Unfortunately I couldn't be behind the guys for this one as I was in hospital with food poisoning. The elimination match would be against the Chinese team 5Power. This was an abomination of a game from our perspective; losing 16-3, 16-3 we were despondent. It just seemed like we couldn't get into the game both times, shellshocked in a way.
Learning to pick ourselves up again
The tough pill to swallow was that it was our performance that let us down. It's a lot easier to accept when you've been outplayed by the opposition but here we knew we'd led to our own demise. The question in the back of our minds was; how can we turn this around in such a short space of time heading to Mumbai in the next three days? Our problems ran deeper than strats or specific map issues meaning we needed time to amend them. We did not have the luxury of time so we did what we could making the most of it, but we were very limited.
Traveling from JHB to Dubai followed by a two hour shuttle to Abu Dhabi and doing the same on the return. Then when heading to Mumbai we flew via Abu Dhabi, where we were just three days prior. All in all it was about 45 hours of travelling alone over a two week stretch without factoring in layovers. Having said all that, we took it in our stride. The last thing we were going to complain about was travel duration considering the opportunities we had been afforded.
DreamHack Mumbai
Off we went to an exotic country, this time with hampered confidence. Our first match was scheduled against local rivals, Bravado Gaming. Another opportunity for us to redeem ourselves and show the world what we're capable of. This time around we approached the game with more respect and less expectation. The game on Dust_2 could have gone either way and the first half on Mirage was alright too, with glimpses of brilliance it gave us a platform to progress from. The performance gave us some much needed confidence heading into the event and belief in our ability.
Again we found ourselves in a do-or-die match. This time against a local team, Entity Esport. Knowing it was a best-of-one we had to hit the ground running, and it almost seemed like the added pressure made us rise to the occasion. Producing a solid performance we won the game 16-11 we were awarded a rematch against Bravado Gaming. Ironically in this game the crowd was supporting us more than Entity in some cases, something we all fed off. Go check kanii's 1v3 clutch in the 2nd pistol round for context.
The final rematch
This time we had a different mentality, we knew we were capable of causing an upset, particularly in a best-of-one. The map got off to great start for us winning the pistol and the first gun round. Some harsh resets and untimely mistakes made for a tough first half, one which we should have bagged comfortably. For the most part it was neck and neck until the very end when they pulled away, a late comeback with some awesome clutches gave us hope to take the game to overtime but eventually we lost 16-12. Again though the same theme prevailed, it was our own mistakes that had let us down. A few poor individual decisions and mishaps against a team of Bravado Gaming's stature were always going to be punished.
Regardless we'd produced a performance we could finally be fully proud of. The way I see it is, rather have your let downs be of your own accord, that way it's something that you have control over. If you're just being down right destroyed and outplayed by your opposition it's a lot more difficult to progress. Where as in our case it was our own mistakes, things we can fix and move forward from.
Personally I'm not sure where my future lies with the Energy eSports CS:GO team but what I am 100% sure about is that they have an insane amount of potential and skill, individually and as a team. I think after Mumbai they finally got confirmation that this team has what it takes to be recognised and compete consistently on an international level.