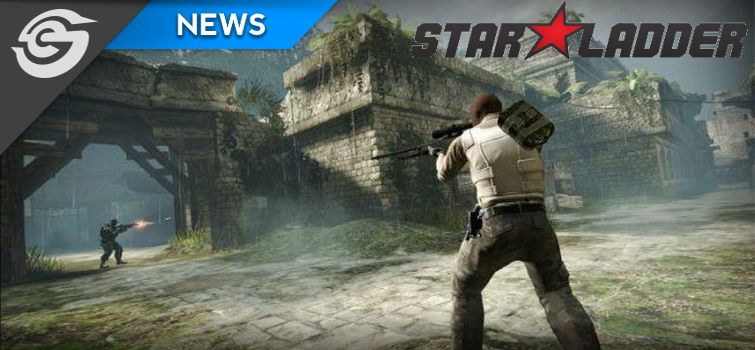 Energy Esports qualify for the Asia Minor
On Tuesday Energy Esports made headlines as they claimed their spot in the StarLadder Asia Minor. The road was long and Energy Esports were thoroughly tested. However, the young squad showed impressive teamwork and discipline throughout. They'll be travelling to Berlin to compete against seven other teams over the 24th-28th of July. The prize is simple, two spots up for grabs in the StarLadder Major 2019. Oh, and to win a share of the $50,000 prize pool!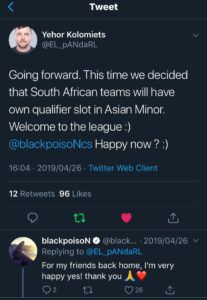 The money will be the last thing on Energy's mind as they head to Berlin as they have only one goal on their radar; qualify for the Berlin Major. It all began when StarLadder announced there would be one spot available for a South African team in the Asia Minor. That was a big deal for our scene, as never before have we been afforded such an opportunity. That announcement created a massive buzz came across the community as teams realized they had a direct road to the Major.
The qualifying process
The road to the Asia Minor comprised of three individual qualifiers, two open and one closed. Four teams would proceed from each open qualifier to the closed qualifier where they'd duke it out for that lone spot. The first open qualifier began on the 15th of May. Four big teams, Sinister5, Big5 Esports, Goliath Gaming, and Energy Esports progressed from this qualifier. The second open qualifier kicked off on the 18th of May and saw Exdee Gaming, Ladon Esports, TOLY, and ViNCO Gaming progress to the closed qualifier.   
The stage was set, eight teams now stood face-to-face with a once in a lifetime opportunity. To go along with that, there was also no clear cut favorite heading into the qualifier. The general perception was that Goliath Gaming, Energy Esports, Sinister5, and Big5 Esports stood equal chance of winning the qualifier. With an open playing field, it was anybody's game. Even some of the underdog teams like Exdee, or the dark horses Terry Loves Yoghurt, were in with a shout.
So it began
TOLY beat Sinister5 2-1 early on, knocking them down to the lower bracket. From this point it was clear that the competition would be stiff. Of course TOLY have been together for just a couple of months. Their team comprises ex-Energy Academy duo pnd and ysgerbwd, heavy hitter TheM4N, along with kreatioN and Heartbreak. This lineup certainly aren't short of firepower. Ladon Esports and ViNCO Gaming were the first two casualties of the qualifier, eliminated by Exdee Gaming and Sinister5 respectively.
Round two brought upon the first matches between the top four. Energy went up against Big5 and managed to eek out a 2-1 win, dropping Big5 down to the lower bracket. The first map, Inferno, was by far the most entertaining. Big5 were looking down and out losing 15-9, but managed a late resurgence to salvage a 15-15 scoreline.
In the end, Energy prevailed and won the map 22-19, but it required some heroics on their part. Energy's captain MisteM lead from the front, picking 87 frags across the three map series. The other upper bracket semi-final was easily won by Goliath Gaming, beating TOLY 2-0. This set up an upper bracket final between Energy Esports and Goliath.
With the teams fighting for their lives in the lower bracket, TOLY eliminated Exdee with a 2-1 scoreline after closing out the final map 19-16. One of the favourites was now going to be eliminated from the qualifier, with Big5 up against Sinister5. Both teams won their respective map pick, which means Overpass was a do-or-die scenario. Sinister5 triumphed after an impressive T side, which they managed to close out 16-10. Between Flexeee and dyvo 135 frags were amassed. This means Big5 were now eliminated from the qualifier.
And then there were four
The next match was the winner's bracket final, with Goliath Gaming up against Energy Esports. Interestingly, Energy opted for Dust2 as their first veto leaving Nuke in the pool. Goliath happily obliged picking the map and winning it with ease, 16-8. Energy must have been heavily averse to Goliath's Dust2 if they were willing to float Nuke.
Generally speaking, Nuke is the one map you avoid at all costs if you haven't done sufficient preparation. Whereas Dust2 allows you to get away with a lot more. After making quick work of Energy on Nuke, Goliath went into Overpass with a wealth of confidence. Goliath closed out the series 2-0 and booked their spot in the Grand Final, leaving them one win away from the Asia Minor.
Sinister5 brought TOLY's Cinderella run to an abrupt end after beating them 2-0. Zeo was the standout player in the match. TOLY had to continue their flawless run on Train to be competitive in the series. After losing the map 16-13, their fate was sealed. Next up, Dust2. Sinister5 are considered one of the best teams in South Africa on this map for a reason. Sinister5 won the map 16-6 and kept their hopes alive, booking a date with Energy Esports.
Energy vs Sinister5 is an interesting match for a few reasons, of which the most interesting is the ZeroChance vs MisteM matchup. ZeroChance has been one of the main mentors in MisteM's fledgling career, meaning its somewhat of a master vs graduate affair. It was the graduate who dominated the first map picking up 29 frags taking a ton of confidence into Overpass. Energy dominated the CT side picking 13 rounds in the first half and soon after closed out the series 2-0.
The rematch
We were now down to the final two teams, Goliath Gaming and Energy Esports. Both stood within touching distance of the Asia Minor, with only one thing standing in their way – each other. Up to this point Goliath Gaming had been on an absolute tear, not even dropping a single map on their run through the tournament. They were the definite favourites to go on and win the qualifier. That was all negligible though, the only thing that mattered was the match in which they were about to partake.
Again Energy went with Dust2 as their first veto and Goliath chose to remove Overpass, a surprising decision. When Goliath beat Energy 2-0 earlier on in the qualifier one of the maps was Overpass, which Goliath won 16-8, so my question is, why veto it now? Perhaps that was the reason Energy picked Inferno and maybe if Goliath had left Overpass in the map pool Energy would have been inclined to have a second crack at it.
Perhaps Goliath anticipated Energy to counterstrat them on Overpass and decided not to risk it. Sure it's easy to throw around 'ifs' and 'buts' in hindsight, but Goliath may have been overthinking it.
Regardless, proceedings began on Inferno, which as I mentioned, Energy won. Energy absolutely needed the map win too, considering that the next map was Nuke where their prospects were bleak to say the least. Goliath inevitably won Nuke with a 16-5 scoreline taking it to a third map to determine which team would be heading abroad.
The final moments
So Train began, after losing the pistol round Energy were flawless on their CT side picking up 12 consecutive rounds. The double AWP setup between adm and Dweezil was impenetrable and left Goliath with a mountain to climb heading into their CT side. Although Goliath were significantly behind moving into CT, they still would have been backing themselves. Goliath got off to the ideal start and in fact reduced the round deficit to just one.
It looked as though they'd done enough and were on course to win the map and head overseas, but there was a late twist. Energy showed incredible resilience and composure as they managed to grind out five consecutive rounds and closed out the final map 16-11.
The aftermath
Energy had done it! Completed an incredible run beating all of the top 3 teams in the country and were, rightfully so, rewarded with a position in the Asia Minor. It will be the first opportunity for majority of the squad to experience a taste of the international scene. A thirst which once experienced is only quenched by continuing to travel the globe and compete against the best in the world.