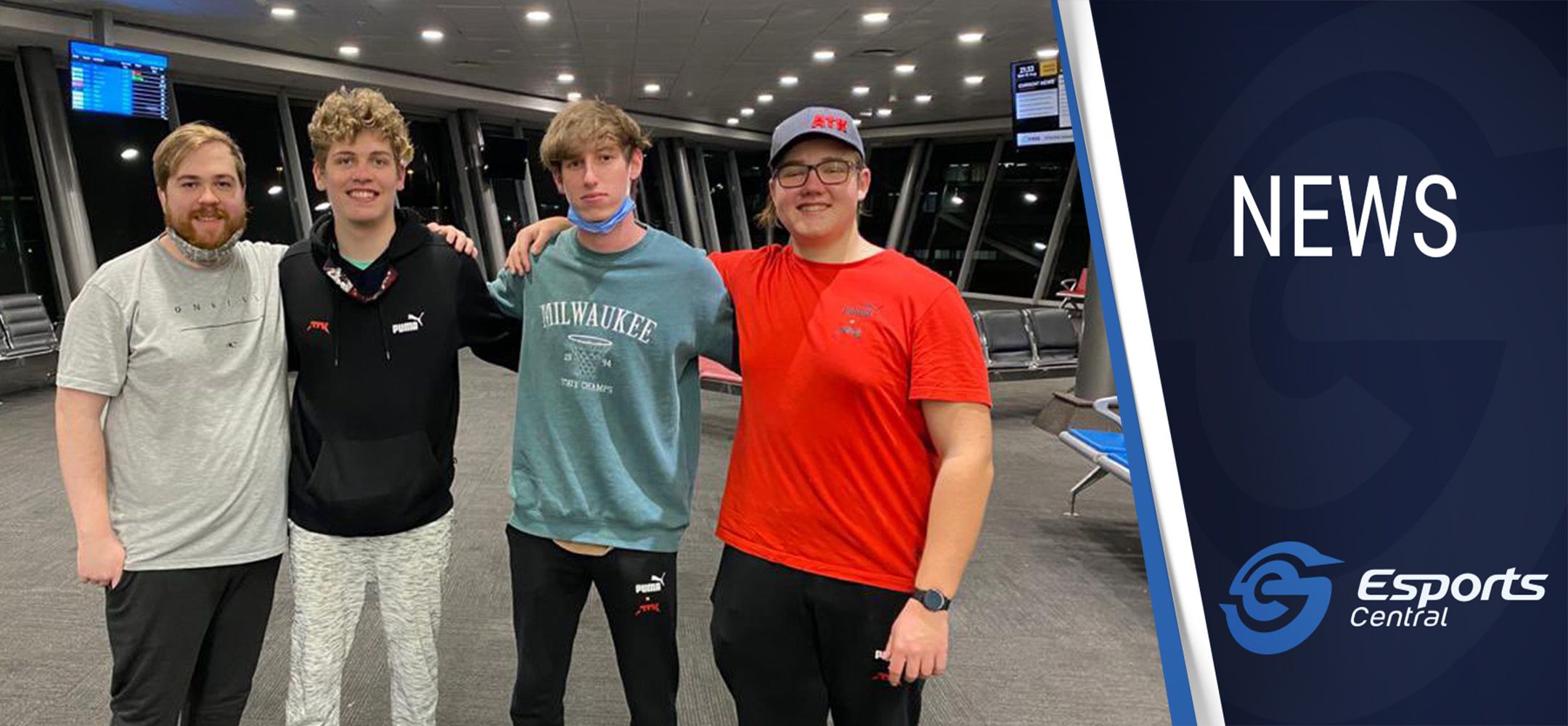 ATK's CS:GO squad finally travels to Mexico
It's not easy to send an esports team overseas to compete. After over a year of setbacks, ATK Arena's CS:GO squad has finally started their travels to Mexico, from where they will compete in the ESEA Season 38 NA Advanced league.
Yes, we've reported about their travel plans before, but the latest setback saw Aaron "SloWye" Van Der Walt depart from the squad. Last week, ATK Arena announced that Ian "motm" Hardy has joined on a trial basis to compete with them in ESEA S38 NA Advanced.
ATK finally travels to Mexico
On Sunday, ATK Arena announced that the squad has finally started their travels to Mexico. For those who don't know, the current ATK CS:GO squad consists of:
Josh "bLazE" Saunders
Gareth "MisteM" Ries
Rhys "Fadey" Armstrong
Wiljahne "mango" Smith
Ian "motm" Hardy
Daniel "sprayxd" Kogan (Coach)
Warren "Flea" Barkhuizen, the CEO of ATK Arena, talked about the hardships of getting their CS:GO squad overseas in a TwitLonger post.
Warren "Flea" Barkhuizen explains:
"It's been a long and frustrating 18 months for the ATK CS squad. Anybody that follows the local CS:GO scene understands the dominance the team has asserted since their formation in early 2020. The original plans, to close out the 2020 VS Gaming Leagues and move to Europe or North America, were thwarted for obvious reasons that we're all too familiar with.
When Serbia emerged as an option earlier this year, we even got as close as visiting to inspect properties, meet with tournament organizers and evaluate bootcamp options. Then the team's visa applications were rejected. So ensued another grueling 6 months of evaluating every other option from Ireland to Canada.
With very few options for those with South African passports this proved difficult, but a light at the end of the tunnel began to show itself as COVID-19 vaccines became more readily available. As you'll know by now, Mexico has emerged as our best shot at proving what we all know: this is the strongest lineup South Africa has produced in a long time.
While there has been the extremely unfortunate loss of Aaron "SloWyee" Van Der Walt, the core of the team remains strong and we're looking forward to proving our mettle in North America over the next 2 months worth the reintroduction of Ian "MOTM" Hardy. Thank you to all involved in assisting us in obtaining visas, accommodation, even J&J vaccines ahead of time and to the supporters who by now were surely doubting whether or not our ambitions were going to come to fruition.
The team are as motivated as I've ever seen a group of athletes and I'll be supporting them to the greatest of my abilities. We won't let you down."
The winner of the ESEA S38 NA Advanced league will get a spot in the Premier Division, which means big opportunities, while 2nd to 4th place get a shot at the Premier Division, as well via a relegation battle at the end of the season! We wish them all the best of luck and hope the team gets settled in quickly and without any issue.
Header image via ATK.