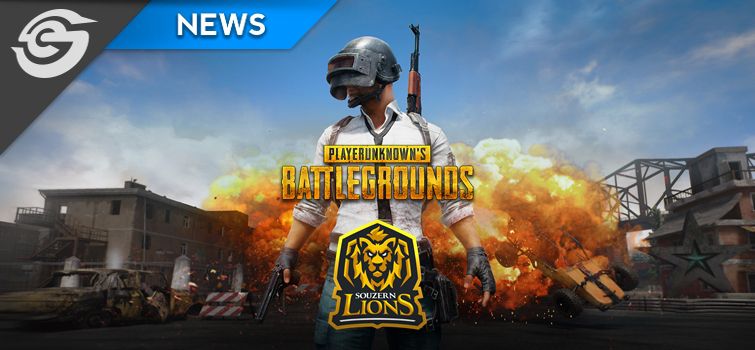 Souzern Lions welcomes PUBG
Matthew 'HAzE' Stott
Recently, popular esport facilitators FACEIT added PUBG to their list of supported games. The aim of this is to create a platform which will deliver a structured progression system for competitive PUBG, setting a new standard for competition within the battle royale genre, and igniting the PUBG community. Following suit our local connection Souzen Lions, which has successfully launched and maintained a CS:GO hub, has also jumped on board.
Enabling the scene
Although we're slightly late to the party, we welcome Battlezone to the local PUBG scene. An initiative created and developed by Souzern Lions. It currently comprises of 32 FPP duos per game duking it out on Sanhok. Though, this arrangement is temporary with the intention to increase player base and allow the hub to gain exposure and traction. Once the ideal stage has been reached it will transform to a 64 player server comprising of 16 squads with the map being Erangal, meeting the  international competitive standard.
In order to join in the games you need a Faceit account (NOT a Faceit subscription). From there you connect to the Souzern Lions hub and then Battlezone (Link below). If you are searching by yourself you'll be matched with another person also searching individually to form a deadly duo, or alternatively you can search with a premade partner. This means we'll have full lobbies of players only from Southern Africa.
Every person begins their Battlezone experience with 1000 points. Points are accumulated after each game depending on kills and placement and are awarded to each player as opposed to per duo. To get an idea of how the point system works. Check out their website to get a breakdown of how the points are awarded.
Unlike the CS:GO hub there is currently no subscription fee to partake in this fantastic initiative, meaning there's no excuses to not be a part of this pioneering experience. That's not the only incentive, the top 4 players at the end of each month receive a R500 cash prize with 5th and 6th place getting 500 Faceit points.
We share a dream
Much like the entire ZA scene has day dreamt about, Souzern Lions shares a common dream. The dream of bringing local servers to the country, except there's a difference. Instead of hopelessly holding thumbs, their intention is to create enough commotion and gain significant attention to hopefully be internationally recognised. This starts through channels like developing and stimulating a competitive environment of highly skilled players and teams.
Souzern Lions aren't relying on already implemented infrastructure and developed players to achieve this goal. Rather, they are also creating a platform for teams to regularly practice amongst each other. Dubbed as Scrimzone, every Wednesday night 16 teams will go head-to-head over a 3 game series accumulating points across the matches. They also up the ante by including all countries from the Southern African region.(South Africa, Zambia, Kenya, Mauritius, Mozambique, Namibia, Botswana, Madagascar, Angola, and Zimbabwe)
The purpose of scrimzone is for established teams to have an opportunity to practice and grow the local scene collectively as opposed to relying on international channels. Sure, there is a difference in skill level but that gap will be bridged with time and effort. This would aid our cause in collectively portraying the South African scene as a populated and competitive one and potentially increase our presence on the global map.
Tournaments and events
Continuing its diverse opportunity creation, Souzern Lions' founder Robby 'blackpoisoN' da Loca has also hinted at potential tournaments and events stemming from Battlezone. He did note however, that the level of commitment from Souzern Lions is directly proportional to the input and engagement from the community.
With this platform being provided for the South African scene the onus now falls on the players to enable its maximum potential. As previously mentioned, with no subscription fee to join there is no excuses as to why this shouldn't be a successful endeavor. It's an opportunity to take the scene to the next level and ensure longevity in the South African PUBG esports arena.
Links: