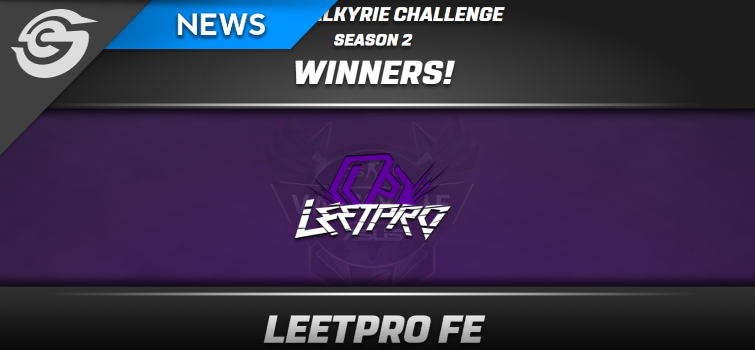 The Ride of the Valkyries
With Season 1 of the Valkyrie League a great success it was only a matter of time before we'd see another season, and Mettlestate were all too happy to oblige. The 14-team second season began some 11 weeks ago and the finals concluded on the 30th of September 2018.
The league was created with the explicit purpose of giving the ladies a place to grow and develop their game and while there are criticisms as to the exclusive nature of the league it has succeeded in doing just that. Many of the teams had picked up coaches and it showed in the increased tactical nous and teamplay on show by a number of them. At the end of the regular season however there were still some familiar faces in the playoffs with Bravado Gaming Academy, LeetPro Fe , White Rabbit Amaryllis and Aperture Gaming Fe grabbing the top two spots from their respective groups.
Battle Commences
The weekend began with defending champions Bvd.Finesse taking on Aperture.Fe on Saturday morning. Playing essentially 4v5 in the first map on Dust 2 as a result of internet trouble and explicitly 4 v 5 on Inferno, Aperture was clearly off their game and were easily dispatched to the losers bracket in 16-1 and 16-2 games. Next up was rematch between last season's second and third place teams LeetPro.Fe and White Rabbit Amaryllis. While the end of map scores were 16-6 on Mirage and 16-6 on Inferno, it doesn't really do justice to the level of play we saw on the server.
The rematch of the Grand Final of Season One took place in the Upper Bracket as Bravado Gaming Academy and LeetPro Fe went at it. Bravado opened up a big lead on attack on the first map Cache with Rachel-Anne "RayChill" van Dyk running rampant. Leetpro however slowly grinded back before losing a critical clutch near the end of the second half which allowed Bravado to sneak the victory. The close loss had clearly affected LeetPro and they fell fairly easily in the second map 16-5 with RayChill again the chief executioner.
War in the Underground
Knocked into the lower bracket, Aperture Gaming Fe and White Rabbit Amaryllis would now battle it out for a spot on the podium. Again picking Dust2, Aperture finally showed the teamplay that had been missing in the morning and posted a stellar first half on attack. White Rabbit struggled to defend but they were revitalized on the attack and completely dominated the second half. Youngster Meagan "Queen" Macvicar in particular delivered a monster performance to post 30 frags in a 16-14 win. Overpass was less contested but no less engaging as a series of force buys and messy plays led to many traded rounds. Eventually White Rabbit pulled clear and captured the victory and a spot in the money.
Sunday morning began with White Rabbit taking on LeetPro for a spot in the finals. In a storming opening game that went to overtime on Train. Danielle "TrueF!re" Pienaar was the saviour of her team with an ace and some lovely solo site holds on B bombsite. Having come so close, White Rabbit now had their tails up and came out like a house on fire on Mirage. Once more led by Queen's awping and Ashley "BrinkeR" Groves, White Rabbit Amaryllis blew LeetPro away in a convincing 16-8. Inferno would be an issue for the AWP however especially on the attack. LeetPro looked much better in the third map. With Sharon "Shazz.kL" Waison teeing off they eventually took a comfortable 16-8 in the decider and set up what must be becoming a grudge match with Bravado Gaming Academy.
Old Enemies
The best of five final started on familiar territory for the two teams with Cache the first map. This time however, LeetPro would not be denied late in the map. Courtesy of a frankly astounding 36 frags from Shazz.kL, LeetPro would win 16-13 and go one up in the series. Ominous signs for Bravado were on the horizon however as RayChill failed to cross double digits. Inferno had been a fortress for Bravado but here that fortress was blown apart. New addition Rench fought as hard as she could to give her team a chance but a 16-10 defeat was the only reward for a Bravado that looked massively off their game.
The stellar entry-fragging had dried up and they were struggling to adapt to a LeetPro side that was reading them with ease. Mirage was another map that Bravado had won on in the first meeting and here they looked to right the ship. Finally the big stars came to play with 2SSB doing her finest Wonder Woman impression to hard carry her team to victory. A 16-11 win beckoned for Bravado and a chance for a continued reverse sweep on Dust 2.
Bravado's CT side had shown a tendency for overrations and that continued in full effect to start the map. A frankly confusing pistol from Bravado to start the map led to an easy win for LeetPro and off the back of Karla "scorpz" Grewer's awping coming alive Bravado was now in real trouble at the start of the second half. Needing to win the second pistol they made a number of critical errors which allowed LeetPro to win the all important round.
With victory slipping away, Bravado shifted into sixth gear and came storming back. Breaking the LeetPro economy they strung rounds together to get it to 12-12 before a catastrophic decision to purchase four AWPs for no reward on a round they ended up losing placed their economy under strain. When they lost again two rounds later they no longer had the savings to properly contest and LeetPro ended up closing it out 16-13.
Leetpro are deserved winners after a 3-1 victory in the finals with all of their players having a map or moments of brilliance. It is now the second event that LeetPro have won against Bravado with Shazz in the ranks after the WESG victory earlier this year. Season Three, heavily hinted at by Barry 'Anthrax' Louzada on Twitter is definitely going to be one to watch.