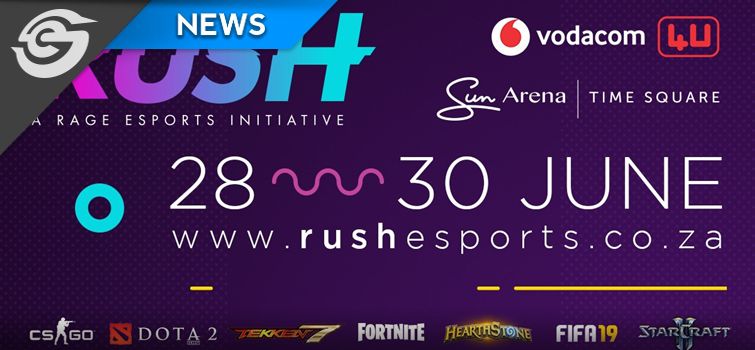 What to expect at Rush Esports this weekend
It would be remiss of me not to point out that Rush Esports is not a standalone event as in previous years, so the headline should be: 'What to expect at Rush Esports x GeekFest this weekend'.
With that out of the way, there is plenty of esports action on the agenda at the event. There is also around R450,000 in cash, products and other prizes up for grabs. The tournaments on offer cover a range of genres and platforms. Almost all of the tournaments are sponsored by Vodacom 4U.
WESG Qualifiers
The main stage of the event is dedicated to the finals of the WESG qualifiers operated by Mettlestate. The final four competitors in CS:GO, Dota 2, Hearthstone and Starcraft II will battle it out for cash, Samsung products and (most importantly) a spot in China next year. The winning Dota 2 team will still need to go via an African qualifier, and the Hearthstone winner appears to be off the trip list completely.
All of the remaining matches in the qualifiers (semifinals and finals) will be played in rotation on the stage. This should off a variety of action to keep spectators enthralled. You can book the following times to catch the action live at the venue and (we presume) on Twitch:

The Other Titles
FIFA 19 has been a staple of the Rush event since 2017, and 2019 is no different. 128 players (there are no walk-ins allowed) will battle for their share of R51,000 in cash, along with Samsung products. Fortnite is also back after 2018's debut. It will again be hosted on mobile. No pre-registration is required, so you can walk-in, set your score and await the prize. If you win of course. There's around R15,000 in cash on the line, along with the (ubiquitous) Samsung products.
Fighting fans are lucky enough to have two titles on offer. UGC will host Tekken 7 to 64 fighters with just over R5,000 in cash on the line. They will also be offering bootcamps and chats about the game to get newer players involved. Red Bull is bringing Street Fighter V to the event. Or to the streets of the event at least. The Red Bull Hit The Streets Street Fighter V Qualifier at Rush will give the winner a spot in the finals in Cape Town later this year. No pre-registration is needed with the competition on Sunday only. Friday and Saturday is all about warm-ups.
GeekFest
GeekFest itself offers competitions but not of the esports kind. Pokemon GO, cosplay, board games and more will feature over the three days.
Event Details
Date: 28 to 30 June 2019
Time: Friday 10am – late | Saturday 10am – late | Sunday 10am – 5pm
Venue: Sun Arena, Time Square, Pretoria
Tickets: www.ticketpros.co.za

Day Pass: R120 | Weekend Pass: R300 (valid for all three days) | Player Pass: R250 (valid for all three days for players competing in tournaments)