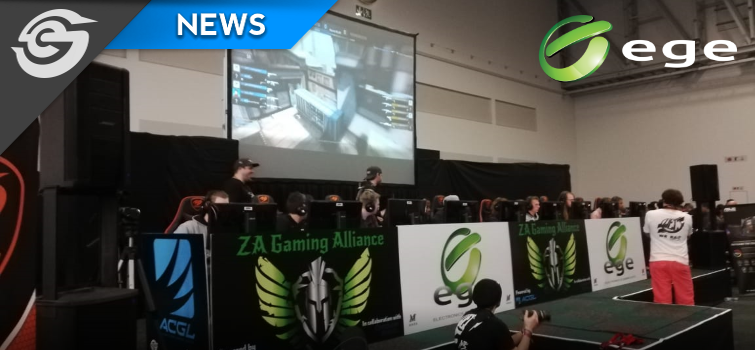 My experience at EGE 2018
Kirrin 'ABalloon' Holzapfel
The Electronic and Gaming Expo (EGE) comes around once a year and sets its roots into Cape Town. It showcases everything from indie game developers demoing their latest titles, to merchandise and cosplay aficionados. Walking around hits you with a host of things to draw your attention. You can find anything from people walking around in costumes to the competitions being hosted on the main stages. If you've never attended, it's akin to being at a comic convention, a game expo, and a LAN all at the same time.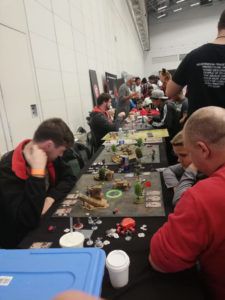 One of the major attractions that brings people to the convention is obvious to see. Upon walking in there is a very natural ebb and flow of people browsing around the exhibits and stores – each attraction with their own respective gatherings of people. As you make your way through the venue you come across people of all ages taking part in games of all kinds. The competition amongst them was friendly and light and clearly anyone who wanted to join in was welcome.
Official tournaments & spectating
One of the largest barriers to entry for a lot of players in any competitive game at a pro level is the long road required to enter various tournaments. Barriers to entry include things like structuring full teams, earning enough pro points (points assigned for winning or attending various competitions) during a year to enter larger tournaments, and capital to get to said tournaments. As such, for most people, the ability to play on a stage or even imagine themselves playing on a stage in front of other people who enjoy what they enjoy is limited.
Tournaments are held all weekend long with official and casual tournaments intermingled throughout. Some of the major tournaments hosted by ACGL were for games like FIFA 18, Fortnight, INJUSTICE 2 and COD: WWII. The results for these tournaments can be found here.
The pickup experience
Outside of the official tournaments, there were pick up tournaments. Players are welcomed on stage out of the crowd, mixing established players with casuals for some good, old, competitive fun reminiscent of the LANs I used to attend when I was younger. Games like the incredibly popular Fortnight, Dota 2, CS:GO, and COD: WWII were played in front of attendees on all three of the stages at EGE with local casters giving run downs of the game live to the spectators, just like during the official competitions. I don't think that there was a moment where something wasn't either being played or set up to play the entire three days that I attended.
As a spectator catching glimpses of games, I got to see a host of players take the stages and try their best to show what they could do. It wasn't until the final day that I actually took a chance and chose to play a match of my own. I managed to snag a seat with my colleague Bronté Miles in a 5v5 match of Dota 2. I have to say that I was really nervous, despite the fact that this was a casual competition with random players.
Getting up on stage was a feeling I've never experienced before. The set up mimicked what I've seen a thousand times in international competitions from awkward pre-game banter with the presenters to sitting in a chair in front of a live audience and being expected to play some crispy Dota 2. Each player got to check out and use the gear supplied by Cougar Gaming, from the chairs we sat in to the mouse, keyboard, and headset.
Am I a Dota 2 pro now?
After setting up my personal preferences in game, and checking my mouse, I had a moment before we started and realised that I was feeling immense pressure. Something I've always thought must be pretty extreme for professional players. This was a small, friendly competition for the crowd, not some major tournament being held in a country that wasn't my home, and I still felt weirdly worried that I would mess up. And I did.
I found myself messing up things that were second nature to me in game. The hours and hours of practice I'd put in over many years playing MOBAs seemed to fly out of the window the minute the game started. I wanted to do things so right that I couldn't seem to do anything the way I wanted to. Even though I was stressed as all hell, and slightly frustrated at myself, it was a boat load of fun to play.
Despite all of that, the game swung in our favour largely in part to the excellent players that were with me. Shout out to my team from the Phantom Lancer, I didn't get a chance to find out your names since you all ran off so fast! After winning the match we were shuffled off to the front of the stage to claim some neat free swag in the form of a Cougar Gaming Control 2 Gaming Mousepad and a Cougar Gaming Bunker Vacuum Mouse Bungee.
EGE 2018 in a nutshell
It wasn't my first time at EGE and it's a lot of fun, but if there's one thing I can recommend above all else it's this: If you play a game and you're at EGE next year, take a chance and try get a match on one of the stages. You may find you learn something about yourself; win or lose. And who knows, maybe you find you even have a taste for the competitive life. I know I don't but I sure can taste the allure.