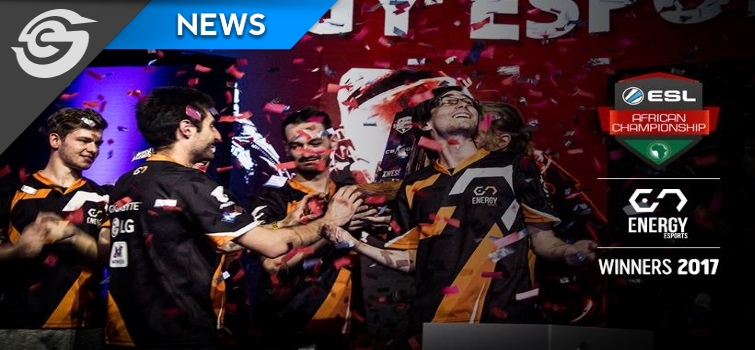 Kwese & ESL late payments for ESL Africa Championship Season 2
Chris 'Sargon' House
Update 22.06.2018
Reports from my sources indicate final payments have been made to the affected parties owed money by Kwesé. 
Update 24.04.2018
An article on This Day Live (dated 22 April 2018) reports that Kwesé TV have been hit by a massive cash crunch and are struggling to pay a variety of rights holders for content and licences. These include FIFA, UEFA, ESPN, and the NBA. The information comes from a report by TV Sports Market. Despite the troubles, Kwesé officials "remain reasonably optimistic" about upcoming funding rounds. For more, please follow this link to read the article. It seems this is a organization wide problem that isn't just limited to paying esports talent. 
Introduction
The South African online league for the ESL African Championship Season 2 took place between the 7th of August and the 21st of September 2017, where eight teams competed for $28,605. The ESL African Championship Season 2 Finals were held at the rAge Expo over the weekend of the 6th/7th October 2017, where two teams from South Africa and two teams from North Africa competed on LAN for a $46,096 prize pool. Energy eSports were eventually crowned the African Champions, with Bravado Gaming placing second. North African teams Limitless.gg and Viboras came third and fourth respectively.
Late Payment Complaints
Why the trip down memory lane? At the beginning of 2018 I started hearing rumblings that teams and talent hadn't been paid in full for either the ESL Africa Championship online league or the LAN finals. At the beginning of March 2018 multiple sources were still letting me know that payment in full had not been received. I have to point out that none of my individual sources felt comfortable being named here, so this is all based on what I've been told. My requests for official statements from South African MGOs and Code Red (who represents much of the talent who worked at the event in question) about these issues were either declined (understandably so) or wholesale ignored (less understandably so). Because of what my sources were telling me, on the 15th of March 2018, I reached out to both ESL and Kwesé to find out what was going on.
To put this into perspective, by the time I wrote the email to Kwesé and ESL, teams and talent who worked/competed at the LAN had been waiting for full payment for approximately 160 days (or 5 months and 9 days). If we're only looking at workdays, then they'd been waiting 110 working days. It was even longer for teams/talent due proceeds for the online league portion of the competition. By all accounts this was well outside the payment timeframe/terms agreed upon by all parties.
The ESL/Kwesé Connection
Before we delve into the responses, it's important to understand the division between ESL and Kwesé. In my questions I sent to Kwesé I asked them to outline the relationship between themselves and ESL with regards to the Africa Championship.
Econet Media is a subsidiary company within the globally networked Econet Group which is home to a number of successful businesses. Econet Media is the dynamic content business driving the development of Kwesé, a pan-African entertainment company and fresh new television brand offering multi-platform distribution of its content. Kwesé and ESL have entered into a strategic partnership which will see the two entities leverage their collective strengths advance esports in Africa. Through this partnership, Kwesé TV broadcasts ESL's 24 hour esports channel across the continent – the first round the clock esports platform available on television in Africa. A wide variety of live and SVOD content from ESL content is also available on Kwesé Play which is an OTT streaming service. Together ESL and Kwesé will also continue to host gaming tournaments on the continent.
Who, then, is responsible for managing the tournaments in Africa?
Kwesé and ESL worked closely together to manage, oversee and execute the inaugural and hugely successful ESL African Championship. ESL managed the administrative aspects of the tournament while Kwesé managed the production.
And who pays the teams and talent?
In terms of the partnership Kwesé and ESL are responsible for the payment of players, talent, production and the various elements of the tournament.
So in theory Kwesé and ESL are both responsible for the tournament here in Africa, but with varied responsibilities. Kwesé manage the production, while ESL manage the administration. Both are responsible for payments. In reality my sources indicate there is little contact with ESL, and there isn't much of an ESL presence available to them to directly deal with issues.  
ESL and Teams
So, what about those player payments? As I've already mentioned – I emailed both ESL and Kwesé on the 15th of March 2018. By the 19th of March 2018 Christopher Flato (PR manager for ESL Germany) responded to my email. He thanked us for making them aware of the issue, and said that payment had gone out from their end. There were unforeseen problems, though, and the transfer had been delayed due to errors within the payment process of their bank. He further stated that they'd reached out to the teams directly and all payments to affected teams would be completed by the 21st of March 2018.
True to their word, by this date my sources were confirming payments to the teams had been received. After reaching out to ESL they immediately investigated the issue and fixed the errors within their payment processes. It's great to see such responsiveness by ESL to problems our teams were experiencing. My only concern would be the strength of the Rand in recent months, and what impact that might have had on the amounts received by teams (if any).
Kwesé and Talent
This just left the talent payments. Kwesé had responded to my emails immediately and I sent them some questions. They returned answers to me on the 22nd of March 2018, which outlined the relationship between Kwesé and ESL (as well as responsibilities). In addition I had asked about the talent payments. Their response:
Unfortunately, we did experience unforeseen delays in the payment of championship prizes. We kept all parties informed as we resolved these issues, and are pleased to say that this has now been resolved, and the players have received their earnings – the biggest prize pool in African esports history.
By this time the payment issue for players had been cleared up, but my sources indicated talent were still without full and final payment. I had asked for clarity on the talent payments specifically in my original batch of questions, but they hadn't provided answers about this. In further emails they explained that:
Since establishing Kwesé Gam3r, a multi-function esports business which forms part of Kwesé's diverse content offering, Kwesé has made significant investment in the continent's gaming industry. This includes substantial investment towards the successful pan-African gaming tournament ESL Africa Championship to date. Ensuring the timeous imbursement of all service providers and talent is of utmost importance to Kwesé. In light of the outstanding payment/s which remain Kwesé will endeavour to identify the affected parties and ensure settlement. Kwesé remains committed to addressing each of its financial obligations.
This reply suggests Kwesé are aware of the outstanding payments owed to talent, and that they're committed to addressing their financial obligations. I also asked Kwesé to shed some light on any future plans they have for 2018.
2017 was an exciting year for Kwesé Gamer. We set out to revolutionise the esports and gaming ecosystem and we did just that with some of the largest gaming tournaments in Africa. We also brought esports fans world class productions on the Kwesé esports channel on our bouquet. Capturing and producing esports content for Africans across our free-to-air platform broke down barriers and introduced the world of gaming to millions of new fans across the African continent.

In 2018 we have some exciting plans for esports in Africa. We will be broadening our reach and engagements in the continent through local tournaments and activations in some of our key markets. We are also committed to increasing the offering with some local productions on our channel. We have made a significant investment towards Kwesé Gamer already and fans can look out for more world class challenges from Kwesé.
Conclusion
I'm writing this article on the 23rd of April 2018. Why did I wait so long? I had hoped to publish this once the issues had been resolved, as a piece looking back on how to improve the situation going forward (so this never happens again). As of today it's been approximately 199 days since the ESL Africa Championships Season 2 LAN finals held at the rAge Expo last year. While teams have been paid, my sources indicate talent payments have still not been paid in full. I have no confirmation of this via official channels, but so far my sources have been solid up to this point. If true, this is a hugely problematic state of affairs. While I understand that corporate payments can take some time, making talent wait 199 days is unacceptable.
In addition, if plans are being made for future ESL/Kwesé events in Africa, one would hope settling the tab from old events would be a significantly higher priority than organizing the next event? The local esports ecosystem is very young and I'm not sure how organizations and/or talent can continue operating in environments where payments are this late. I would hope that, at the very least, ESL appoint a single African representative for these events. This way teams and talent can interface with someone in ESL regularly to ensure these problems don't continue to happen in the future. From what I understand, these comms between all these organizations is a little broken telephone like. That needs to change.
Header image courtesy of ESL Africa.