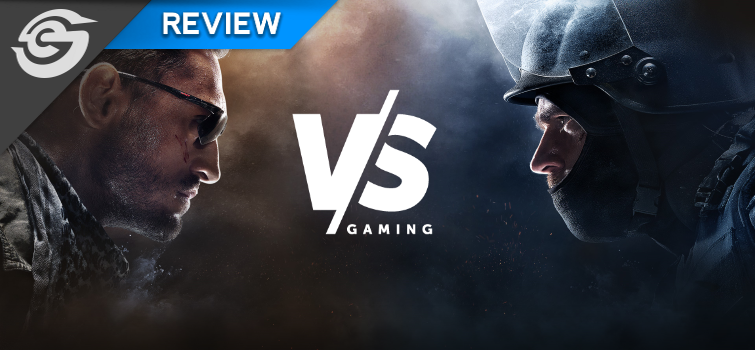 VS Masters CS:GO 2018 Leg 1 in Review & Leg 2 Preview
Michael 'axtremes' Harmse
VS Gaming's premier South African CS:GO league, Masters, just started its second leg for the year last week. Unlike in previous years, for the first time two teams were relegated and two were promoted. This has meant we're now a little closer to a true strength versus strength competition in Leg Two. Although we are still missing teams like Sinister5, Aperture Gaming and Energy eSports. Hopefully future legs go further to rectify matters.
Curiouser and Curiouser
LeetPro and Pulse Gaming were promoted at the expense of the now relegated White Rabbit Gaming and Severe. Here's where it gets a bit confusing though. Pulse's lineup were picked up by White Rabbit Gaming and will continue in Masters as White Rabbit Gaming. At the same time the old, relegated WRG team will continue campaigning under the same MGO in the Premier Division.
I do think that is somewhat of a concern that promotion/ relegation matches were not played between the top two teams in Premier Division and the bottom two Masters teams. Just because a team perhaps failed during a season doesn't automatically mean the best team in the division below would be any better or could even beat them. In this case I do feel the automatic swap has worked out and is therefore justified. However it could in future lead to some problematic promotions for teams that aren't quite ready to perform at the higher level of Masters. A team seeking promotion should have to prove they deserve to be there by beating a Masters team in a series. Likewise, a Masters team wanting to retain their place should prove they are deserving by beating the Premier side looking to make the step up.
Looking forward in the rearview mirror
Let's take a look back at Leg One and use that to find some context as to how the teams might do in Leg Two.  
Not many legs to stand on. Yet.
Relegated: Severe – 8th in Leg One
Results were rather thin on the ground in the first leg for Severe, with only a singular win against xTc Esports playing with a stand in. Severe were a beneficiary of a fairly easy bracket to get into Masters and would likely struggle against some of the Premier Division teams. There's still some way to go for Severe before they can challenge Masters teams on a regular basis. They have a chance in Prem to gain more experience and attempt to make their way back to Masters.
Promoted: LeetPro eSports
With a good mix of experience and skill as well as some explosive players, this LeetPro side will be a tough challenge for any team in the league. They should be able to best most of the opposition in Masters. I wouldn't be surprised if they end third in the league behind Goliath and Big 5. I wouldn't even be surprised if they beat one of the top two during the season. They are most likely to be the best of the rest and they can only get better from there.
Relegated: White Rabbit Gaming – 7th in Leg One
White Rabbit Gaming have suffered some roster turmoil in recent times which has clearly not helped their performances on the server. They have some good players, but they need to find some stability and consistency if they are to fight for top spot in Prem and try to return to Masters in future.
Promoted: White Rabbit Gaming (former Pulse)
Yes, this is the twilight zone and you are seeing double. There's some exciting young talent in the team under the guidance of experienced campaigners like Dillon "uNreaL" Jost. They could be good for a mid-table finish if everything goes their way, although they might find Masters rather tougher than Prem.
eXdee Gaming – 6th in Leg One
The lineup is quite young and inexperienced, with only Jandre "makmuR" van Vuuren having past experience in the higher echelons of South African CS:GO. He was a member of the CarboN lineup that beat Bravado in early 2016 and were their strongest competition during that year. There's a lot the other players can assimilate from him. So far it hasn't quite carried through to their results and it may mean an even lower position on the log in Leg Two.
Sentry Gaming – 5th in Leg One
This side has been unexpectedly good in Masters and ESEA. At first glance, I didn't think they would be as much of a force as they've turned out to be. I've seen enough of them in ESEA to be encouraged. They just need more from the rest of their players as experienced captain Quinten "AbSyN"  Weening seems to be doing most of the fragging. If one or two of the other can match his level, they will have real upset potential against bigger teams. The inclusion of LeetPro and the new and improved WRG could however mean a trip down a place two for Sentry.
Strong Legs
Online Kingdom – 4th in Leg One
This young lineup has impressed me this season. Their teamplay has been a real strength. The team had Energy eSports on the ropes in ESEA before losing at the death. They also pushed Goliath Gaming to their absolute limits in a Sunday night Masters match, going to double overtime before finally conceding. The next day in ESEA, they were able to go one better and get the win against Goliath. Online Kingdom are team on the rise and should be good for more upsets. What I'd like to see however is them consolidating their position in Masters and closing out the tight matches against the big teams. Tyler "Adaro" Oliver looks like a potential future star AWPer in the making. If they maintain a similar finish come the end of the leg, they will have continued their progress.
xTc Esports – 3rd In Leg One
The xTc boys go under the Reborn moniker and that's exactly what they looked like this past leg. After losing some of the their best players to Skeletons Again last year, it could have been over for them. However, xTc have returned to the customary place near the top of South African CS:GO with a Semi-Final placing in ESEA Season 27 and a podium position in Masters Leg One. On paper their team appears weaker than before, but this is a team that is more than the sum of its parts. That said, since his return from his stint in Big 5 Esports, Mark "Spazz" Jebens has been looking particularly punchy. This leg will be a real test for this team. They will be aiming to finish in the top half of the table.
Big 5 Esports – 2nd in Leg One
The team that should have taken Bravado' mantle as the team to consistently challenge Energy as the next best team in the country. They certainly were the third best team behind Bravado and Energy for two seasons of ESL Africa last year. Sadly they didn't participate in ESEA and Energy are not present in Masters. Without enough higher-tier teams to push them to show their best every week, it feels almost like Big 5 have regressed somewhat. Last year they would have never given up a match to Goliath. Their structure was too stifling for the freewheeling Goliath side to push past. In 2018 it seems the roles have reversed and Big 5 are no longer the best of the rest. Big 5 need to come back with authority in Leg Two to reclaim a first place that would have, in their minds, been assured prior to the start of the competition. This team should be far better than what they've shown this year. This leg, LeetPro will be gunning to steal their spot. Will Big 5 roar?
Goliath Gaming – 1st in Leg One
The perennial underachievers of 2017 when they were first formed, Goliath have in 2018 cemented their place amongst the elite with an online title and a VS Masters Leg first place. This side boasts some talented aimers. Their blend of youth and experience is a big asset. Unfortunately the team overall has shown a propensity for struggling against lesser teams, suffering ESEA losses to younger rosters that they shouldn't be vulnerable to. They've scraped out the wins they needed this season, but being the best is more than scraping through. Goliath should be dominating opponents in a similar manner to which they dominated their closest rivals Big 5 in the first leg. Their loose style will tend to either blow away opponents or cause them difficulties against teams that have the structure and aim to counter their aggressive plays. They are good but they could be even better given their personnel. Goliath need an effective plan B to add some tactical nous to their aim-heavy approach. What I want to see from Goliath is a team that ruthlessly puts away their opponents and can more consistently match teams like Energy. Anything other than another leg win would be a regression from Goliath. Big 5 and LeetPro will be pushing them hard.
Onwards!
With Leg Two having already started I'll  be following Masters closely and casting as many games as possible! Keep an eye on Esports Central for match dates and times so you can follow the action.
Note by editor: We have updated this article with information regarding teams that were promoted/relegated.