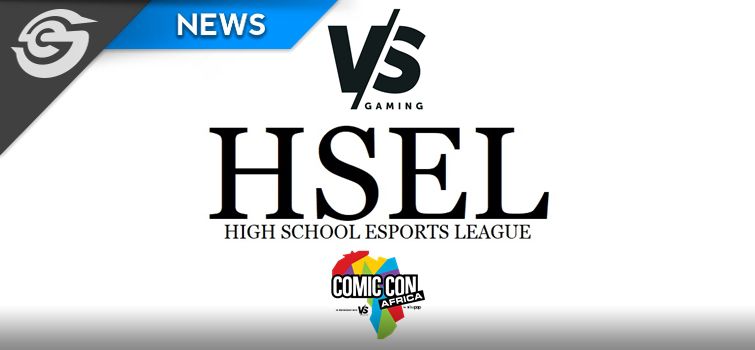 High School Esports League finals at Comic Con Africa
Clint 'Zombie Dredd' O'Shea
Telkom VS Gaming has announced that the VS Gaming HSEL – in partnership with the High School Esports League (HSEL) – will be hosted at Comic Con Africa on 15 September 2018. This will see the top three teams that qualified via a recent online tournament compete for bragging rights at the very least.
Teams qualified for Counter-Strike and Dota 2 and represent four different schools over the six spots allocated. The HSEL was originally formed by 17 schools, with VS Gaming now offering the league a place on their website for the 2019 online season. Registrations will open on the site on 24 September with all schools currently part of the HSEL eligible to participate. New schools wanting to take part can contact HSEL on greet01@wbhs.co.za to register.
"This is an exciting initiative for both Telkom VS Gaming and the HSEL. Not only are we broadening our scope of gamers, but we are also doing this in a responsible and committed manner by working closely with the HSEL. The fact that the finals will take place at the inaugural Comic Con Africa is an added bonus for all gamers involved," says Wanda Mkhize spokesperson for Telkom VS Gaming. "This platform will also give scholars a great opportunity to play alongside the best players in South Africa".
"As the HSEL we are very excited to participate in the Telkom VS Gaming HSEL. As the largest online league on the continent, this partnership is massive for the high school league and its players. We are hoping that the success of this league will take us to greater heights in the future," says Tyrone Green from HSEL.
The three teams per title attending Comic Con via the online qualifier are:
CS:GO
1st Place: Paul Roos Gymnasium
2nd Place: Westville Boys' High School
3rd Place: Parklands College
Dota 2
1st Place: Westville Boys' High School
2nd Place: Oakhill School
3rd Place:Paul Roos Gymnasium
[Via Press Release]