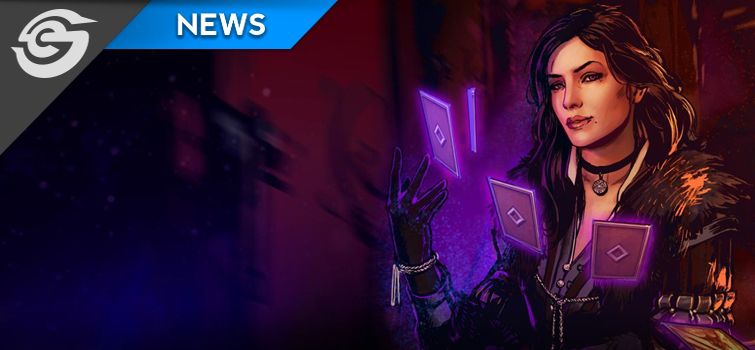 An interview with Jessica Maij before this weekend's Gwent Open Series
Nick Holden
Over the past two months a South African Gwent player has been making us proud. Jessica 'MissLadyJay' Maij qualified last month for the Gwent Challenger Series playoffs by making it into the top 50 of the Gwent Pro Ladder. Unfortunately she got knocked out of the competition on the first day of play but that hasn't stopped her in the pursuit for Gwent glory! Earlier this week Jess qualified for Gwent Open Series Playoff which take place this weekend.
Jessica qualifies for the Gwent Open Series
The Open Series finale takes place next month in Warsaw, Poland and our very own Miss Lady Jay has a chance to qualify. The competition, which has a $25 000 prize pool, is currently nearing its conclusion as over 100 online players get ready to do battle over this weekend.
In order to qualify for the event Jessica has been playing online over the past two months. We caught up with her to find out more about her journey:
Hey there Jess, congratulations and thanks for taking the time to chat to us. First up, could you take us through what was required from you going into the open qualifier?
"I played a two month season. I had to place in the top one-hundred players on the ladder in order to make it into the playoffs.
This being the very same season that I placed top 50 in the first month of competition in order to make it into the challenger series playoffs.
The past season was the only in which players could qualify for both the Challenger Series Playoffs and the Open Series playoffs. In previous iterations players could only qualify for one of the respective competitions and not both in the same Season.
This was done because the game is set to have a massive update which means that they needed to get the tournaments completed before the update launched."
Take us through the second half of the season, were you more dedicated?
"In the first half I played almost 900 games within one month, and I really didn't want to put that pressure on myself again. Knowing that I was in 16th place half way through the season made me quietly confident. I wasn't  too sure how much the other players would compete so I constantly kept an eye on the standings of the ladder and made sure that I was placed firmly within range of qualifying. I played much less than the first half of the season but I'm happy with my final placement of 43rd which secured me into the Open Qualifier."
Do you feel like your gameplay has improved within the past month?
"During the competitive season I've had to play four faction decks, and I've been through numerous tutorials, guides, coaching sessions and actively practiced against pro players during that time. I feel like I've become more comfortable, I'm progressing well and that I've improved quite a bit since the last qualifier."
Do you think that you have a better chance in this open qualifier than you had in the last challenger series qualifier?
"Yeah, I think I have a better chance. First of all I don't have to worry at all about the top six players from the previous qualifier as they have made it through to the next stage of the competition and don't compete in the open qualifier playoffs. So I feel great about not having to compete against them and therefor my chances are better.
I am also feeling very good about my line up of decks which should play into my favour for the up and coming playoffs."
We know that last time you ran into issuing with your PC, have you managed to remedy that problem from last time?
"Last time I played on my dad's laptop, which unfortunately crashed during one of my games and put me on the backfoot. This time around I will be using my work PC which should be a little bit more reliable than last time."
The local Gwent scene
Taking a look at the South African community, are you aware of anyone else that has made it through to the qualifier from the country?
"No unfortunately not this season. I heard about a player that made it through a few seasons ago, but I haven't heard anything from them since then. I'm the only African in the ladder which is pretty cool and also the only console player."
Any suggestions for the South African players?
"The South African community is really small at the moment but I don't think they all see the value that Gwent can offer. Over the past few month I have been getting international attention, something that I never recieved for any other game. The opportunity for other South Africans is there too and I think that once the next update is out that more local players should get involved."
Do you feel that there is any added pressure going into the next qualifier?
"I feel that there is a bit of added pressure and support. As for the support I've been getting so much more views on Twitch and I have been building momentum with that audience. I'm also getting loads of international support from the French and Russian supporters.
I don't think I will be streaming the competition though because it could be a big disadvantage if I show them my play style."
Any final words before you go into the tournament this weekend?
"I just want to say thank you to all those that have supported me. A big shoutout to Energy Esports, the Multi Gaming Organization I represent. I also want to thank CCG gaming who helped me prep for my first qualifier and those lessons have been extremely valuable. Then last but not least, Spyros Orfanos who has supported me every second of the way."
Jessica heads into her first match tomorrow (8 September) at 12:00pm. She will be required to play 7 rounds of the Swiss System format, which means that the first matches are especially important for her to win. Should she place in the Top sixteen at the end of Saturday, she will then return to play on Sunday in the Double Elimination bracket, where the top two players will go through to Warsaw, Poland to play for the $25 000 prize pool.
If you would like to follow Jessica on her journey, you can catch her on Twitter where she will be attempting to keep you all up to date between her matches.
Please show her your support, she absolutely deserves it for making it this far (and hopefully further) in the competition.
Let's GO JESS!!!