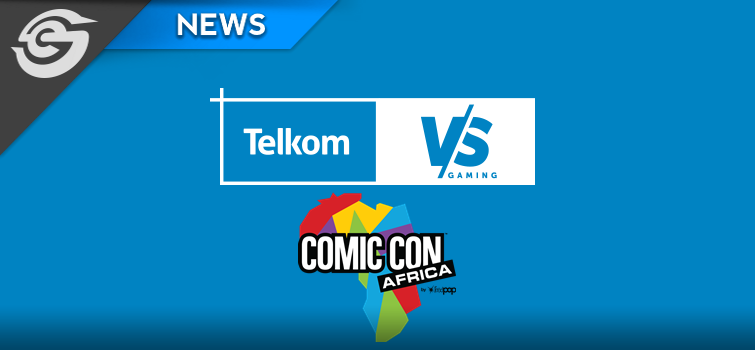 SA's Top Dota 2 Comic Con Africa Contenders
Kaameel Chicktay
Six months and 21 days; that's how long teams have been competing for a slot to qualify for what is undoubtedly the biggest Dota event in South Africa. We are, of course, talking about the VS Gaming Masters Dota 2 Finals that take place at Comic Con Africa this weekend.
The VS Gaming Masters is an annual event that boasts six figure prize pools, massive stages and the toughest competition South African esports has to offer. The tournament has been running annually since its inception in 2016. Dota 2 matches take place between the 23rd and 24th at Comic Con, hosting eight teams who will be fighting to the death (a wee bit of an exaggeration) to be crowned the 2019 Masters champions and take home their share of the R570,000 prize pool! 
The participating teams are:
Energy Esports

Evo Esports

Goliath Gaming

Origin Esports

Salt 

Sinister5

White Rabbit Gaming

Exdee Gaming 
Let's dive right in and see who our top 2019 contenders are.
Energy Esports
Roster:
Andrew

"C1"

Ferguson

Nicholas

"Strike"

Cheng

Darron

"Chelsea"

Reinhardt

Mark

"Filthy Frank"

Lelhe

Mo

"Modase"

James
This is the roster that raises the most questions for me. The Energy Esports team is filled with many well known names in the South African Dota 2 scene, most notably Filthy Frank. Frank is a player who has cemented himself as one of the most outstanding players South Africa has ever seen, specifically in the position four role. This is the position that Frank has even secured spots on a number of international teams, climbed to 8000 (7999) MMR, and got as high as top 50 on the SEA leaderboard. Despite these accomplishments, Frank's career locally has been rather inconsistent. 
In examining the rest of the team you'll quickly realize he's not the only inconsistent Energy player. This Energy team, minus Modase (who has not played at a LAN since 2016), did claim gold at the WESG LAN qualifiers at Rush earlier this year. However, two weeks later they fell fantastically short of top spot at the VS Gaming Champs. There they lost to both Sinister5 and Goliath Gaming, two teams they had swept just two weeks prior. They proceeded to kick TKC as result of the defeat. With the changes to the lineup, swapping out TKC for Modase and with Strike playing in a new role and weighing the existing pros and cons, the best finish I can see for them is 2nd but most likely 3rd/4th. This team can be very strong, but probably won't be.
White Rabbit Gaming
Roster:
Position 1: Kelvin

"HarryTheHams"

Van Sittert

Position 2: Pierre

"Precious Petunia"

Van Rensburg

Position 3: Claus

"Jappa"

Van Thelemann

Position 4: Divaan

"Reapo"

Pienaar

Position 5: Matthew

"B-E-E"

Raubach
White Rabbit Gaming is a team created with some of South Africa's most infamous rejects and pubstars. When this team formed, few gave them a second thought. It is filled with familiar faces who, individually, never really stood out in top echelons of South African Dota. But together, this team has become quite the formidable force. They've just come off the back of a 2nd place finish at the Syntech Masters where they knocked out Sinister5 to make it to the finals, where they put up an impressive performance against a monstrous Goliath Gaming squad in the finals. 
Despite having taken the lead against Goliath in a majority of those Syntech Masters games, their execution going up high ground was a little shaky and Goliath punished that to steal games that were so firmly WRG's to win. I think this team has a very effective way of drafting and they carry out their strategies with a high level of confidence and skill. For me, WRG definitely are the dark horse team to watch during the upcoming event.
Sinister5
Roster:
Position 1: Tristan

"Aghanim"

Kiefer

Position 2: Adam

"Adastam"

Moore

Position 3: Dennis

"Dota_and_Die"

Connellan

Position 4: Nicholas

"Schlinks"

Dammert

Position 5: Caleb

"DOOMbunni"

Semple
Sinister5 are the 2018 Masters champions. This team is here to defend their title and are coming in on usual Sinister5 form, finishing top 2 in nearly every leg of the Masters league, finishing 2nd at the WESG qualifiers, and a 2nd place finish at the VS Gaming champs. On the surface this team looks like one of the scariest right? But, if we're judging strictly off form, then my answer is a categorical no!
In analysing their performance it becomes evident that the team isn't as smooth as it seems. They were completely outclassed by Energy Esports in the finals of the WESG qualifiers at Rush. More recently they only finished third at the Syntech Masters. One of their loses, a game against Goliath Gaming, was one of the most atrocious games of Dota I have ever seen Adastam play with him AFK farming on Dazzle for 35 minutes and then proceed to lose the game three minutes later. 
With that being said, where do I see this team finishing? Probably second. As I mentioned earlier in the article, this is the norm for Sinister5. Last year they came into the Masters finals in a similar situation; finishing third at the Ballistix LAN and fourth in the Asus ROG Cup just two weeks prior to them being crowned the undisputed 2018 Masters champions! Last year, like OG, they managed to overcome the odds and win the biggest annual event on the South African Dota calendar. The question everyone is asking is simple. Can they do it again?
Goliath Gaming
Roster:
Position 1: Aidan

"depi"

Marshall

Position 2: Travis

"Castaway"

Waters

Position 3: Rynhardt

"RDK"

de Kock 

Position 4: Tertius

"Traxion"

de Bruin

Position 5: Frans

"Mental"

Roos
Finally, we get to my number one pick to win this event! Goliath Gaming. This squad fields some of the biggest names to grace the South Africa Dota scene. A recent twist even featured the addition of Travis "Castaway" Waters to the squad. Castaway is an immortal of the local scene, being the infallible mid player of the legendary 2016/2017 White Rabbit Gaming that went undefeated in 2017. Travis is unbeaten at Masters LANs, winning both that he competed in. His success extends beyond South Africa. He broke into the top 100 of the SEA MMR leaderboard and won ESL India with Entity gaming. His achievements are not ones to scoff at and neither is the rest of the squad. 
Consistency is Key
Goliath Gaming have won two LANs this year. They've lifted the VS Gaming Championship, in which Traxion, RDK, Mental, Soup, and Stickalish played. This was followed by the Syntech Masters, featuring depi (an 8K MMR beast) and Welp's (who Castaway is now replacing) arrival to the squad. Even though I've just hyped up Castaway like the biggest fanboy in the world, I can't deny that a straight player for player swap with Welp is a downgrade. Welp is undoubtedly the greatest player we've seen emerge from our scene so far, making it all the way to the top 10 of the SEA leaderboard and the only South African who made it to the Closed Qualifiers for TI9. The man is a monster. But beyond the swap alone, with Castaway in the team RDK (who's now in his 69th prime) will be forced to move from carry to offlane. 
In conclusion, Goliath Gaming is the strongest team on paper. We don't know what the chemistry will be like with the changes. However, despite that, my money is still on them to win the VS Gaming Masters at Comic Con Africa this year.