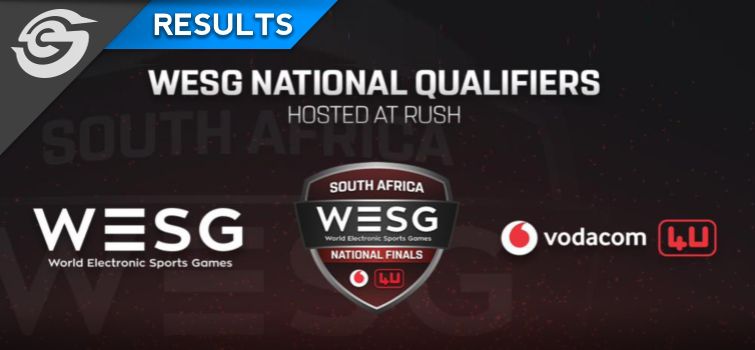 Hearthstone WESG Non-Qualifier Wrap-up
Dylan 'Dib' Brown
This past weekend saw a host of WESG qualifiers hosted by Mettlestate at Rush. The top four teams or players competed for progress in their fight for a spot at the WESG finals in China. Hearthstone has been a part of WESG since it's first event in 2016. This year however is different.
Up is Down
It seems that Hearthstone is no longer amongst the listed games for the next WESG finals. This really is a pity as whilst WESG's nations based format might not make sense in team games like Dota 2 and CS:GO it has always been reasonable in a single player game like Hearthstone. WESG has actually been one of the bigger Hearthstone tournaments that happen each year. Unlike some of the other games it has also usually included some of the top tier players from around the world, with current Grandmaster Purple having won WESG 2018. 
It's been a particularly good opportunity for South African players to compete internationally, make connections with top tier players and get some high level competition experience. So it was a big surprise when it was revealed, about half way through, the qualifying process that the winner of the Mettlestate Hearthstone WESG qualifiers would in fact not be going to compete in China. 
Mettlestate did manage to up the prizes for the LAN at Rush, with the prize for first being upped to R8,000 and a Samsung TV, and second being R2,500 and a Samsung Gear VR headset. This is a bit top heavy of a prize distribution for a LAN that requires travel in a game like Hearthstone, but with only one of the four finalists not being from the Gauteng region it worked out in the end. Even more so because that one traveller from Cape Town, Adam "Sythe" Katz managed to walk away with first prize.
Sythe's Journey
Sythe was far from an unknown force coming into this tournament, he was the ESL Africa champion back at rAge in 2017. He was used to the pressure of a LAN environment and one of the favourites at the begining of the qualifiers. His lineup was meant to target Warrior, particularly Control Warrior and other slow decks, unfortunately for him his first game against Wynand "Vivid" Meiring, was not a good one for him on paper. Sythe had Bomb Hunter, Spell Mage, Pogo Rogue and Mecha'Thun Warrior, whereas Vivid had Zoo Warlock, Token Druid, Mech Paladin and Bomb Warrior. Vivid's more aggressive decks gave him an advantage over Sythe.
As the casters for this game, Jana "SaltyMonkey" Du Toit and Dale "Pand3m0nia" Pon pointed out, it was going to be his Pogo Rogue that was most difficult to get a win with. Sythe managed this after one loss on his Pogo Rogue to take the series 3-1 over Vivid. Vivid was the defending champion, having won the qualifiers for WESG 2018 last year. So it was a great victory for Sythe to get him in the money.
Dale "Pand3m0nia" Pon was also playing as well as casting, and he went up against Dominic "Tranquilfern" van Schie in the other semi-final. Sythe was definitely hoping that Pand3monia would win as Tranquilfern and Vivid had a very similar lineup, having prepared together. Unfortunately for Sythe, Tranquilfern was able to take the win and progress to the final.
Sythe managed to overcome an unfavourable matchup again to take the win over Tranquilfern in the final 3-1, with his Mage being the only deck to take a loss.
Bittersweet victory
So in the end it was worth the trip for Sythe, who walked away with R8,000 and a Samsung 32" TV, but unfortunately did not book his spot at WESG. In my opinion, he would have been a strong representative for South Africa to send to an international event like WESG.