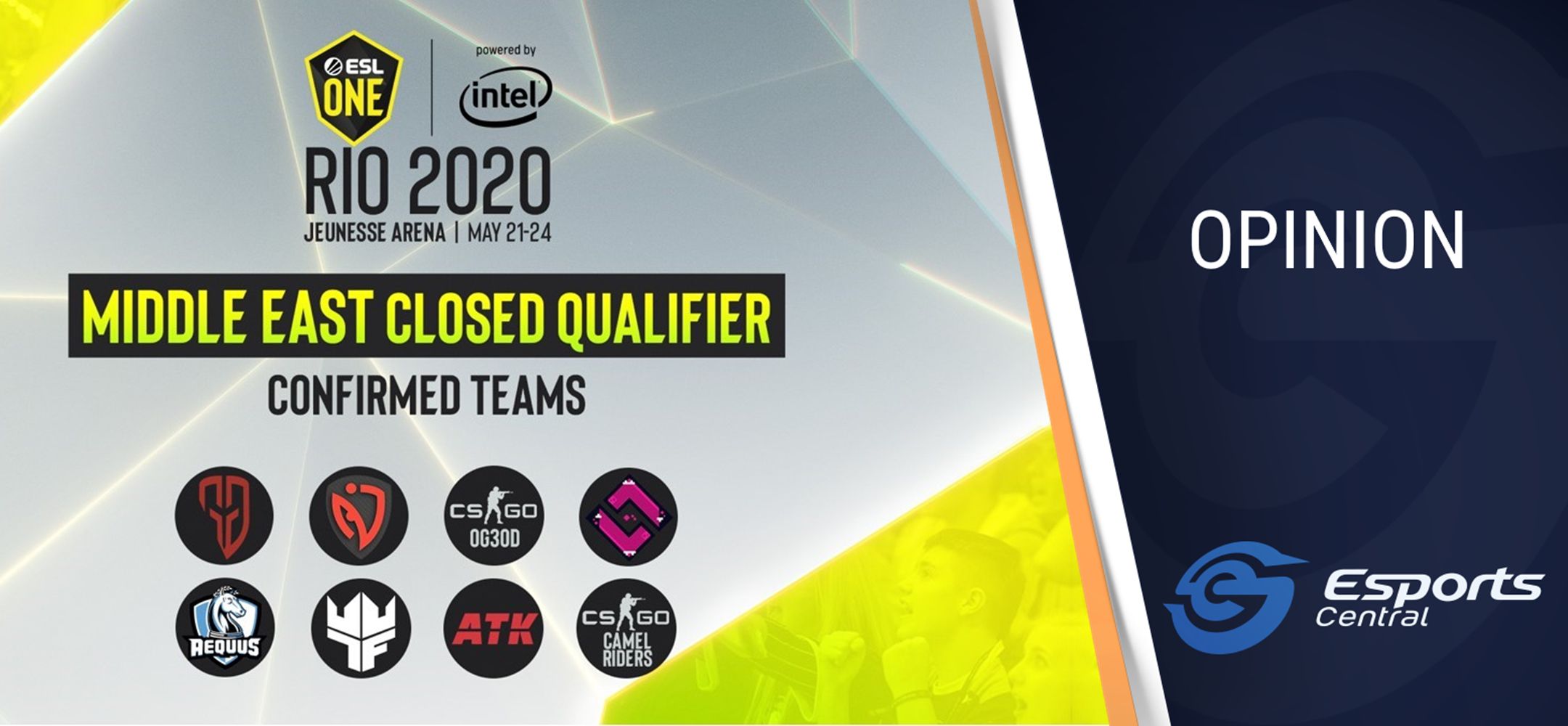 Previewing the Asia Minor Middle East Closed Qualifier
Matthew Stott
This week two of South Africa's best CS:GO teams will take part in the Asia Minor Middle East Closed Qualifier, in their quest to reach the ESL Rio Major 2020. ATK and Goliath Gaming make up two of the eight teams competing for the lone spot at the Minor.
It wasn't too long ago that ATK had announced that they signed a new CS:GO roster, and that they'd be competing in the Asia Minor Middle East Open Qualifier from Dubai. They managed to win the open qualifier and thus earned a spot at the Closed Qualifier. In Goliath Gaming's case, they were fortunate enough to receive a direct invite to the Closed Qualifier.
The format
The name of the game is simple: double elimination, best of threes all round. Music to any competitors ears, lose one game and it's not the end of the road. It's all about that spot at the Asia Minor. The Minor will be hosted at the same place as the Major, in Rio, which means winning the qualifier secures a spot to Brazil. 
The Asia Minor is essentially the final qualifier before reaching the Major itself. The Minor is made up of eight teams that qualify by winning or placing top two at one of the Asian/Oceanic Closed Qualifiers. The two teams that reach the finals at the Minor will proceed through to the Challenger stage, at which point the team will be a part of the covenant stickers group.
The teams
Along with Goliath Gaming, there were three other teams directly invited to the event: NASR (UAE), JustPassingBy (ASIA) and Yalla (AU). All three of the teams have some recognisable names from the Middle East/North African region. Most recognisable would be the players from Yalla, the trio of Lyhn, Kheops and remind competed in ESL Africa back in 2017. The three other teams to round out the qualifier are Aequus (Israel), Camel Riders (UAE) and Finest (Israel).
Goliath Gaming
This will be Goliath Gaming's second international CS:GO event, after they competed at DreamHack Delhi Invitational 2019. They'll be fielding a substitute with Robby 'blackpoisoN' da Loca in place of Wiljahne 'mango' Smith. mango is ineligible to play as, remarkably, he's still only 15 years old and needs to be 16 to take part in an event of this sort. I mean, hey, if you're looking for a substitute and you end up with blackpoisoN, I think it's safe to say you're alright.
They again have Thulani 'LighteRTZ' Sishi as their coach, which I'm a huge fan of. Since the departure of Richard 'deviaNt' Groves the team has lacked some experience and LighteRTZ negates that. He is one of the top individuals in the country when it comes to reading and understanding the game, as well as knowing how to get the best out of specific individuals by playing to their strengths. 
This will be Adam 'adM' Mansoor's debut for Goliath Gaming in the international context. He joined the team recently taking over the reigns as IGL. It became evident to all in 2019 what adM is capable of, and with the previous Energy Esports roster disbanding, it was only a matter of time before he was snapped up. 
Goliath Gaming possess an immense amount of firepower, that's just the bottom line. There is no team at the event that has nearly as much as them. The chink in their armour comes in the way of experience playing together as five. Their teamwork and communication may lack a bit, but that can be mitigated by playing simple CS. If they all pitch up on an individual level, they're absolutely contenders to win the qualifier. 
ATK
ATK has been in Dubai for about a month now, practically living and breathing CS. I'm intrigued to see how they've been using their time. Heading into the Open Qualifier they only had a limited amount of time to prepare. Now that they've had a decent amount of time together, and have a bit of experience playing officials together, they should be better off in the closed qualifier. 
I'm expecting to see a more sustainable playstyle than just Tyson 'TenZ' Ngo needing to dominate the opposition. There is no doubt he's the star of the roster, but there's also a lot of firepower among the other four, which needs to bear responsibility too.
It was, and probably still is the case, that both Rhys 'Fadey' Armstrong and TenZ have been using this experience to gauge whether or not they want to commit full time to this ATK roster. Based on their performance in the Open Qualifier, albeit they weren't really tested, I think they've probably been a bit more motivated. 
Judging from what I've seen on social media, it seems like they are gelling well. They've been practically living together for nearly a month now, and that'll definitely impact their performance as a team in the server. Expect their teamwork to be their greatest asset while embracing their natural fragging ability. ATK definitely has the potential to win the qualifier if the engine in the team is running at maximum capacity. 
Conclusion
Above is the bracket for the opening matches. You'll notice there's a very good chance that Goliath Gaming will go head to head with ATK in the second round. Both of them are favourites in their respective games, so we could get a South African derby quite early on. 
It would be a prime opportunity for either of them to stake their claim as the best South African team there. Keep in mind, there's potential for them to meet down the line again, and only one of them can qualify. 
Goliath Gaming will be boisterous in their approach, they'll make sure that every time ATK make a mistake, they know about it. ATK on the other hand won't be as vocal, their individuals are naturally more reserved and don't get invested in that element of the game, at least most of them…
In my opinion one of the two South African teams will win this event. It's a big pity that both qualifying isn't an option because if it was, that would be my prediction. Trying to choose between ATK and Goliath Gaming is like splitting hairs, they possess completely different strengths. 
What I will say is that ATK has less room for error considering their fragging distribution, meaning they have to make less mistakes to be as efficient. They have more structure to fall back on though, purely based on the amount of time they've had together. One thing I do hope is that we get to see them go head-to-head, it'd be a fantastic match.