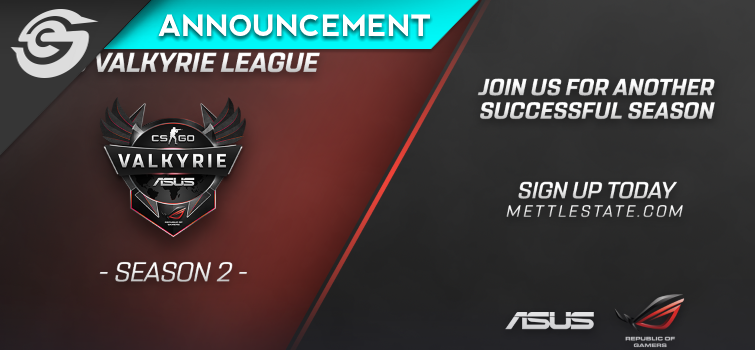 Mettlestate announce Season 2 of the ROG Valkyrie CS:GO League
Chris 'Sargon' House
Mettlestate just announced Season 2 of the ROG Valkyrie League, where teams will compete for a R50,000 prize pool. Registrations open today (Tuesday the 24th of July) and teams have until Sunday the 5th of August 2018 to complete their registration. The top four teams from the group stages will once again proceed to the final playoff weekend.
Valhalla will once again be quaking with the clashing of titans as ASUS has once again partnered with Mettlestate to bring you Season 2 of the ROG Valkyrie League! Watch South Africa's top female talent go head-to-head as they fight it out for another R50,000 in prize pool. The first round of the group stage is set to kick off on 8 August and will run through to the end of the group stage on 26 September. The ladies then have just a day or two to relax before heading into the finals weekend, set for the 29th and 30th of September.
Be sure to catch all the CS:GO action live every Wednesday via Mettlestate's Twitch channel. Head here to sign your team up today.
Information and images courtesy of Mettlestate.