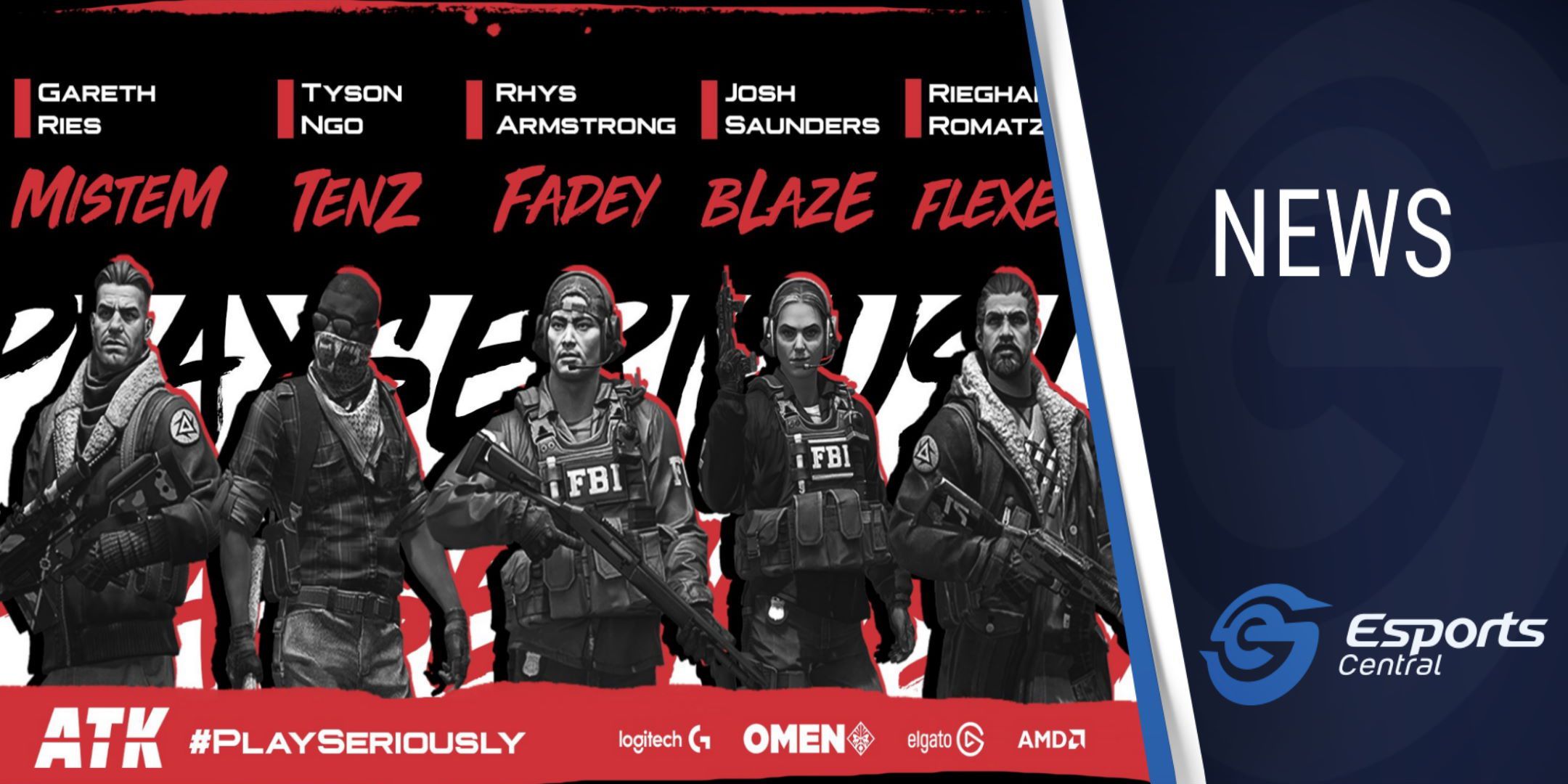 Looking at ATK's New 2020 CS:GO Roster
Matthew Stott
ATK announced on Monday that they'd signed a new CS:GO team. It was a highly anticipated announcement after the owner of the organisation, Warren "flea" Barkhuizen, tweeted that he had just signed a "scary new CS roster". 
The organisation has been without a CS:GO team since their squad was acquired by Cloud9. They'll be reentering the scene with the following lineup: 
Tyson

"Tenz"

Ngo 

Rhys

"Fadey"

Armstrong

Gareth

"MisteM"

Ries (c)

Josh

"bLazE"

Saunders

Rieghardt

"flexee"

Romatzki
First and foremost, it's absolutely amazing that another group of South Africans will be heading to live and compete abroad. They're a bunch of young, hungry, and talented players with some serious potential. 
Chapter One
The team's first outing will be a trip to Dubai where they'll have a boot camp before competing in the Asia Minor Qualifiers. Looking at the other teams that are registered for the event, I think there's a reasonable chance of them reaching the closed qualifier. Even though the roster is in its infancy, with a week boot camp they should be able to conjure up enough to make it through. 
An important aspect to keep in mind is that both TenZ and Fadey have been listed as stand-ins for the event. In HLTV's article Fadey mentions that they'll both be using this opportunity to test the waters before making any commitments. It's understandable, it wouldn't be a great idea to commit to moving to another country with little to no knowledge of how the team will operate and synergize 
Having said that, there are a few of the players that have played together in teams prior to this. Both TenZ and Fadey were part of ATK before the roster was overhauled while MisteM has played with both bLazE and flexee in Energy. Point being, there will already be some previously developed relationships heading into the team. This will give them a headstart in understanding each other's strengths and playstyles.
The Composition
The team isn't short of fragging power. There are multiple individuals on the team who are capable of single-handedly winning a map. As soon as I look at the roster though, the first glaring omission I notice is the lack of an experienced and seasoned leader. 
Taking on a challenge like this requires incredible mental fortitude and tenacity. It's inevitable that times will be tough somewhere along the line and it takes certain types of individuals to inspire those around them to persevere. Someone like what detrony or Elusive was to Bravado Gaming when they set off. Not to say that they don't have what it takes, that's not my point at all, but none of them have been in a position where they've had to prove themselves as that type of leader. 
There's some experience in Fadey who was a part of Bravado Gaming's Project Destiny and TenZ who spent some time in Cloud9. While TenZ was relatively unsuccessful I'm sure he learnt a lot during this period of his career. The other three have been a part of top teams in South Africa, but that only accounts for so much. At least they've all had a taste of the international stage, having competed abroad one time or another. 
MisteM is the Captain now
It's been confirmed that MisteM will be the leader of the team, which I think was the best possible choice. I spent some time with him in Energy when we travelled to Abu Dhabi and Mumbai, and I believe he has what it takes to be a leader. He's got a great understanding of the game and what it takes to be a captain. In 2019 he tore the South African scene to shreds with some insane fragging power. Hopefully, that isn't lost with him taking on the responsibility of IGL. 
What I Expect
Considering the types of players in this team, it's not too difficult to guess what brand of CS they'll employ. Fadey mentioned to HLTV that the team will be playing around the AWPer, TenZ, which makes the most sense. TenZ is the main player I was referring to when I mentioned that they have explosive individuals. He has an aggressive playstyle which teams struggle to contain. Once he gains momentum he's a force to be reckoned with and can take over the server.
They'll be playing off-the-cuff, spawn, and situation-based CS. This means they're constantly keeping it open-ended, which also makes them difficult to read. I think the more freedom the better, but ironically that freedom can only be instilled with certain types of support. It's really important that there's someone in the team setting up the likes of TenZ and MisteM, allowing them to make the instinctive based plays. 
It's important that they don't try to do too much with their time, especially considering their opposition at the Minor qualifier. They won't need incredibly detailed strategies to overcome the teams there. They have more than enough firepower to rely on. Keeping things simple will be the best approach.
Conclusion
It's going to be one heck of a learning experience, predominantly for flexee, MisteM, and bLazE. Heading off into uncharted territory, realising a dream so many share but so few get to experience. With enough time and determination, I think they have the potential to make a name for themselves. 

There may be some changes along the way but in my opinion, there is enough there to build on and create something formidable. The team reaps the benefit of ATK being a known team in the region. They'll already have some recognition in that regard. Although, only time will tell.
Header image courtesy of ATK.