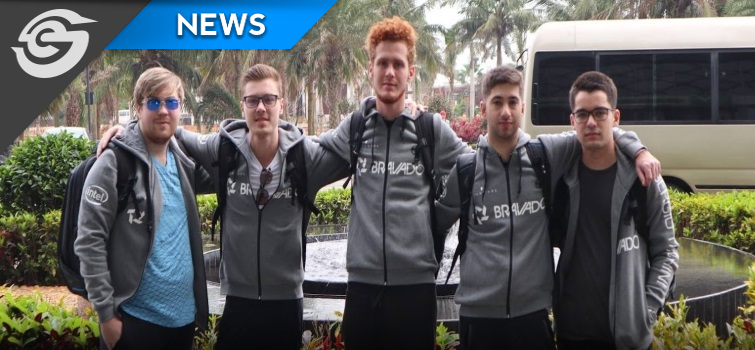 Bravado's journey to the New World so far
Michael 'axtremes' Harmse
Project Destiny. A great name for a Scandinavian progressive metal band or the codename for Sargon's latest attempt to get a Tinder date. If you thought either was true, you'd be absolutely wrong. For the only two people in South African esports that don't know what it is, I'll explain a little for your benefit. You're welcome. Bravado Gaming's Counter-Strike: Global Offensive team embarked on Project Destiny in late January after qualifying for the WESG World Finals. It is an ambitious attempt to close the gap between Bravado and international teams by relocating the team to North America. Phoenix, Arizona to be exact. Since the move, Bravado have experienced some incredible highs and some rather disappointing lows. This is a recap of their path thus far.
Climbing that Mountain
Bravado have been quite dominant throughout ESEA Main Season 27. Their goal will of course be to qualify for the ESEA Mountain Dew League (MDL). At this stage, they look well placed to attain that goal with only one game standing between themselves and reaching the Final of Main. At the time of writing they were due to face FeelUnderAgeMan in the Main Semi-Final, with Bravado heavily favoured in this matchup. The players from FeelsUnderAgeMan are unironically not old enough to compete in MDL due to the minimum age rules. Even if Bravado were to somehow lose, unlikely as it is, they could still go through to MDL because of that. However, I am quite confident in saying that Bravado should have no trouble qualifying to MDL.
The Final, should they reach it, would be against Fam143, a team that they beat rather handily during league play in March. Shaun "Profeci" Murrel and I managed to cast this match, which you can watch here. Of significance in the VOD is the third match against FakeOut Nation. Rather infamously FakeOut Nation threw the game after they were leading 14 – 4. This was in order to secure a more favourable playoff bracket. If they managed to get enough rounds in this particular match without winning it, they would then avoid Bravado in the early part of the playoffs. It was a rather disappointing match to cast, which lead to me leaving it out of the VOD with an explanation of the situation included instead. Subsequently ESEA took the controversial decision to ban FakeOutNation from ESEA for a league season for throwing.
What's so great about the MDL? It is the league one below the North America ESL Proleague (EPL), which is the most most prestigious online league in world CS:GO. Technically, you could argue the NA EPL is slightly less fiercely contested than the European EPL. While acknowledging that, one also has to note that EPL includes Major-winners Cloud 9, double Major-winners SK Gaming and current best team in NA, Team Liquid. That's rather intimidating from where I'm sitting, while simultaneously being a massively tantalizing incentive for teams like BVD. MDL is the stepping stone to EPL. In MDL, Bravado will potentially face several professional teams like eUnited, Torqued, Swole Patrol and Myth. MDL will be a much tougher nut to crack than Main, but the ultimate reward of inclusion is most certainly then within reach. I think BVD could finish near the top of MDL in their first season. It might take a season or two to take the step up to match the higher level of competition that awaits them, though.
Notable victories
I mentioned this in my piece for GameNation SA, titled Project Destiny and International Success. I wrote: "By notable victories, I specifically mean beating teams in the tail end of the HLTV Top 30 Team Ranking on more than one occasion throughout a tournament." Bravado took a rather large step in this direction by beating 15th-ranked Renegades in a clean 2 – 0 over the past weekend in the ESL One Belo Horizonte Closed Qualifier. While by tournament, I was more thinking LAN as opposed to online, this is still a big achievement for the SA side. Unfortunately they weren't able to follow this up, losing to familiar foes compLexity later that day. Another victory of note would be their win over Team Dignitas in the ECS Season 5 NA Closed Qualifier.
Throughout their time in North America, Aran "Sonic" Groesbeek has been the leading light for the team. He has been one of their best players overall, both in their wins and in their losses. This even while making the switch to main AWP after their return from WESG. It doesn't seem to matter what his main weapon or role is, he seemingly has the skillset to succeed regardless. Sonic has confirmed for many overseas pundits that he can play at higher levels and is a potential future star player in the making. Whether BVD make the step up or he gets bought by a bigger NA team. While of course, BVD would of course prefer to hold onto him, I think it's still good for SA CS:GO if Sonic is picked up. I'll leave that for a future article. The rest of the team has also showcased their skills enough to earn the entire team's players invites into the Faceit Pro League (FPL).
Tough stuff
Bravado's players have had to be made of tough stuff. Their victories have been wonderful, but there have also been some heartbreaking defeats. In the same GameNation SA piece, I wrote: "Preferably without suffering humiliating blowout losses as has so often happened on overseas excursions for SA teams in recent years." Unfortunately, there have been a few of those, particularly on their expedition to WESG in China last month. They had some good fortune with their toughest opponent pulling out of the tournament. However, they first suffered a terrible beating at the hands of the French of EnVyUs. What followed was clean 2 – 0 losses to their old enemy Space Soldiers, ORDER and Team One.