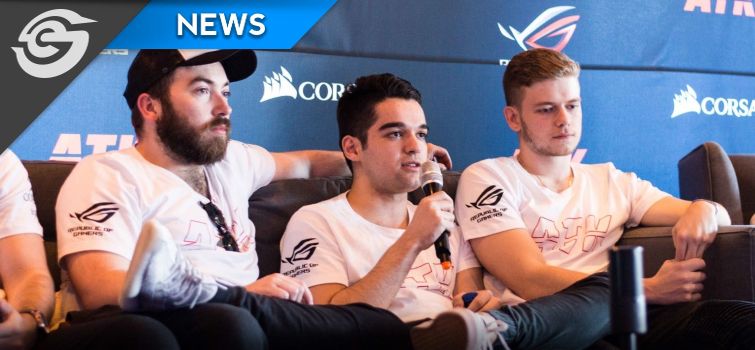 JT is back on the ATK
The USA-based South African ATK CS:GO squad have been having a tough time of it since Aran "Sonic" Groesbeek left to join Team Envy. Having to play with stand-ins, rather than securing a permanent replacement, has not helped make the lineup change as smooth as one would have hoped. Where to next for South Africa's best Counter-Strike team? I reached out to in game leader Johnny "JT"  Theodosiou to find out. 
I highly recommend reading Dust2's interview with JT from a few weeks ago during the ESEA Global Challenge LAN.
JT phone home
ax: Your most recent event was the ESEA S31 Global Challenge. Tell us a bit about how things went for ATK there overall.
JT: They didn't go very well, we lost to sprout and chiefs but we weren't expecting amazing results considering we were playing with our coach.
In the BO3 loser's bracket match against Chiefs, it really felt like you guys were on the cusp of a win on the third map, Overpass. What went wrong?
Our CT side overpass has been inconsistent for a while now, they played a different style that we weren't accustomed to. Their T side was extremely slow, their b executes were difficult to deal with and we were messing up our rotations all over the map. It was just extremely sloppy from us.
Were you happy with your showing, considering you were forced to play with your coach, Tiaan "T.c" Coertzen?
I don't think we have an opinion of the result. We came into the tournament knowing it would be difficult considering the circumstances. We just came to play our best. Obviously we wanted to win, but it didn't sting so much when we didn't.
18 months into it, are you enjoying living in the USA? It must be tough being so far from family and loved ones.
It's definitely tough living away from my family and friends. I miss them everyday, but I'm enjoying living in the USA and pursuing my dream.
Things didn't work out with TenZ sadly because of Cloud 9 snapping him up. Are you any closer to deciding on a fifth to replace Sonic? Any names you're comfortable sharing?
We are closer to finding our fifth, but I have to keep that a secret for now.
Who do you rate as the best players currently playing in SA? 
I think looking from the outside in, Mistem, Adaro and adM are playing the best right now.
The next tournament you have coming up is Mythic Cup 4. Even playing with your coach, you must be fairly confident of a better outcome. What are your aims for this event?
We're actually going to be using a stand-in instead of Tiaan. We want to get a good result here. We are familiar with all these teams and know how to take them on. I think we have a good chance of winning the event if we play our best.
With ESL Pro League Relegation coming up how do think you'll fair? Obviously you want to qualify for EPL – that goes without saying. The opposition though is quite stacked against you in the form of Envy, Lazarus, INTZ and Singularity.
Again, I think we can do quite well. We know how all these teams play and how to beat them. It just depends which version of us shows up on the day. ESL is actually letting us finally make a single roster change, so we may now use somebody else instead of our coach.
How do you think Energy will do at the Asia Minor? (Ed – this interview was from before the event took place)
I want them to do well, but I don't think they are ready. They need to take whatever happens at this event as a learning experience and fix their mistakes for the next one.
What does the future hold for the ATK CS:GO team?
Qualifying for ESL Pro League, making the HLTV Top 30 and qualifying for the next Major is what we're aiming for in the near future.
Do you have anything you'd like to say to your fans back home in South Africa?
Thank you to all the dedicated fans that still support our every game even during our current roster struggles. It means so much to us. We will have a solution soon and will try our best to give South Africa a name on the world stage.
Update: Subsequent to speaking to us, JT and ATK were able to book their spot in the MSI MGA tournament through the closed qualifier on 28 July. They were using North American player Ian "motm" Hardy of Party Astronauts as a stand-in. Dust2 speculated that they will be using motm going forward. Read about it on their site here.