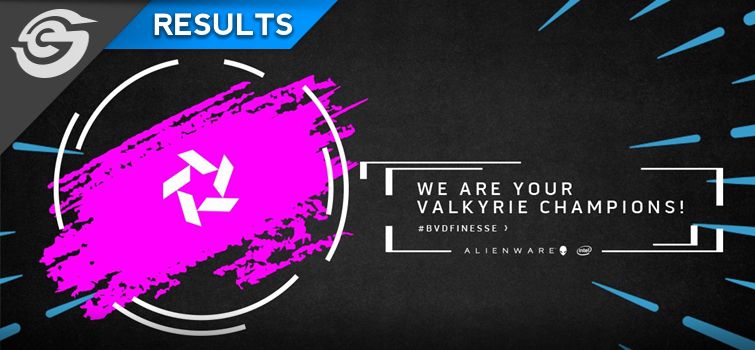 Bravado Gaming takes the ASUS ROG Valkyrie league
[vc_row][vc_column width="2/3″ el_class="articlebody" css=".vc_custom_1523270772654{padding-top: 10px !important;padding-right: 10px !important;padding-left: 10px !important;}"][vc_single_image image="4807″ img_size="full" alignment="center" css=".vc_custom_1528086880183{margin-bottom: 0px !important;}"][vc_row_inner content_placement="middle" css=".vc_custom_1523350157423{margin-left: 20px !important;}" el_class="cat-tag"][vc_column_inner width="1/4″ css=".vc_custom_1523351002838{background-position: 0 0 !important;background-repeat: no-repeat !important;}" offset="vc_hidden-xs"][vc_custom_heading text="News" font_container="tag:h3|font_size:12|text_align:left|color:%23ffffff|line_height:1″ use_theme_fonts="yes" css=".vc_custom_1524480392987{margin-top: 0px !important;padding-top: 10px !important;padding-bottom: 10px !important;padding-left: 20px !important;background-image: url(https://esportscentral.co.za/wp-content/uploads/2018/04/Rectangle-26.png?id=2528) !important;background-position: center !important;background-repeat: no-repeat !important;background-size: cover !important;}"][/vc_column_inner][vc_column_inner width="1/4″][/vc_column_inner][vc_column_inner width="1/4″][/vc_column_inner][vc_column_inner width="1/4″][/vc_column_inner][/vc_row_inner][vc_custom_heading text="Bravado Gaming takes the ASUS ROG Valkyrie league" font_container="tag:h2|font_size:28|text_align:left|color:%23ffffff" use_theme_fonts="yes" css=".vc_custom_1528087252665{margin-top: 0px !important;margin-bottom: 0px !important;padding-top: 20px !important;padding-bottom: 20px !important;padding-left: 20px !important;background-color: #262631 !important;}"][vc_custom_heading text="Clint 'Zombie Dredd' O'Shea" font_container="tag:p|font_size:13|text_align:left" use_theme_fonts="yes" css=".vc_custom_1528086900537{margin-top: 0px !important;padding-top: 10px !important;padding-right: 10px !important;padding-bottom: 10px !important;padding-left: 20px !important;background-color: #2a2b37 !important;}"][vc_separator color="custom" css=".vc_custom_1523350609771{margin-top: 0px !important;border-top-width: 0px !important;padding-top: 0px !important;}" accent_color="#3b455a"][vc_column_text css=".vc_custom_1528087364984{margin-top: 0px !important;padding-top: 20px !important;padding-left: 20px !important;}"]
The Mettlestate operated ASUS ROG Valkyrie League has come to an end. After around two months of action, Bravado Gaming's Finesse took the championship on Sunday (3 June).
The Finesse team went undefeated in the double elimination playoff and secured the best of five final 3-1 over Leetpro Esports. The tournament featured nine teams at the start and R50,000 cash prize pool.
When the dust had settled, the prizes were dished out as follows:
1st place: Bravado Gaming Finesse [R25,000]
2nd place: Leetpro Esports [R15,000]
3rd place: Amaryllis Gaming [R10,000]

You can find out more about the ASUS ROG Valkyrie League here. The videos-on-demand from the previous streamed matches are available on the Mettlestate YouTube channel.
[Header image via Bravado Gaming's Facebook page][/vc_column_text][/vc_column][vc_column width="1/3″ offset="vc_hidden-xs"][vc_basic_grid post_type="post" max_items="" style="pagination" items_per_page="8″ show_filter="yes" element_width="12″ gap="10″ order="ASC" filter_style="dropdown" filter_default_title="Matches" filter_align="right" filter_color="blue" item="2271″ initial_loading_animation="none" grid_id="vc_gid:1528087347343-44d6b142-5b5b-0″ taxonomies="71, 84, 86, 88, 90, 92, 94, 110″ filter_source="category" el_class="results" css=".vc_custom_1527564819677{background-color: #30303d !important;}"][vc_custom_heading text="ALL MATCHES" font_container="tag:p|font_size:10|text_align:center|color:%23ffffff" use_theme_fonts="yes" css=".vc_custom_1523611106929{padding-top: 20px !important;padding-bottom: 5px !important;background-color: #30303d !important;}" link="url:https%3A%2F%2Fesportscentral.co.za%2Fall-matches%2F|||"][vc_empty_space][vc_basic_grid post_type="post" max_items="" style="pagination" items_per_page="8″ show_filter="yes" element_width="12″ gap="10″ order="ASC" filter_style="dropdown" filter_default_title="Results" filter_align="right" filter_color="blue" item="2271″ initial_loading_animation="none" grid_id="vc_gid:1528087347345-cea1fd2e-4b7f-5″ taxonomies="76, 85, 87, 89, 91, 93, 95, 111″ filter_source="category" el_class="results" css=".vc_custom_1527564868647{background-color: #30303d !important;}"][vc_custom_heading text="ALL RESULTS" font_container="tag:p|font_size:10|text_align:center|color:%23ffffff" use_theme_fonts="yes" css=".vc_custom_1523611113209{padding-top: 20px !important;padding-bottom: 5px !important;background-color: #30303d !important;}" link="url:https%3A%2F%2Fesportscentral.co.za%2Fall-results%2F|||"][/vc_column][/vc_row]