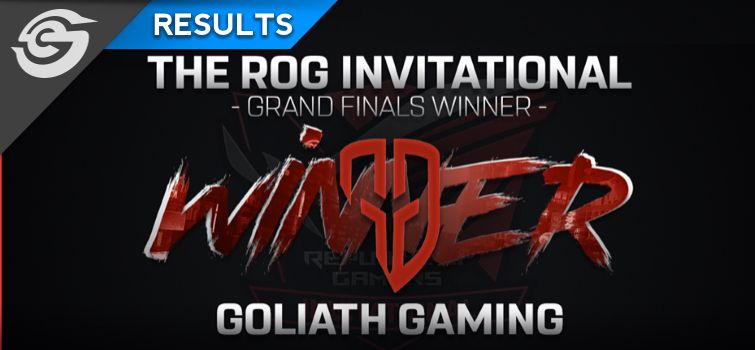 Analysis of the ROG Invitational CS:GO Tournament
Matthew Stott
Over the weekend of the 27th to 29th of September, rAge Expo played host to the ROG Invitational. The event was hosted by Mettlestate, and there were eight teams who fought for a share of the R150,000 prize pool. 
Goliath Gaming – 1st
Goliath Gaming would have been desperate to turn the tide after their performance at Comic Con Africa (CCA), which they did in the best possible fashion, winning the whole thing. 
They got off to a flawless start on Friday dominating both Omnius Gaming and Energy Esports. The game against Energy would have done them a world of good too, settling any nerves. Saturday brought the upper bracket final against Sinister5. The map was Nuke, somewhat surprising considering we rarely see the map in a Bo3, let alone a Bo1. 
Sinister5 thumped GG in the first half leading 13-2 heading into the CT half. Goliath weren't tapped out just yet though, making somewhat of a comeback. They fought on till 11-14 where Sin5 finally found the formula and closed out the game. 
Eds: This video is courtesy of Cougar Gaming South Africa and ASUS.
Goliath's next match-up was Energy. Goliath opted to veto this time Vertigo, unlike the weekend before where they first banned Mirage. The match went the distance, with some fantastic CS on display from both teams. Goliath eventually closed it out 2-1 winning Mirage, 16-10. Adaro had an insane last map dropping 35 frags!
Into the final they marched. A rematch of ECL 2019. Much like that final, it was one way traffic with Goliath dominating the affair. Goliath just straight up out-classed Sinister5 in all departments earning their status as the ROG Invitational Champions. 
Sinister5 – 2nd
Sinister5 looked more composed in the tight situations in comparison to the previous weekend. Their first match against Good Gaming, who was fielding two subs for the game, was over pretty quickly. 
This set the stage for a match that always provides, Big 5 vs Sinister5. Living up to expectations it went the full 30 rounds, with MisteM doing MisteM things popping off with 32 frags. Sinister5 eventually came out on top of what must have been a stressful and frustrating game for them. 
Sinister5 have recently been struggling to close out matches in which they have significant leads, which was the case once again. They were up 11-4 at half time heading into the CT side. Big5 made them sweat pushing it all the way to 14-14. The key difference from this weekend and last weekend, is that they still go on to win the map. 
Standing between Sinister5 and the final was Goliath Gaming. Sin5 dominated the first half going up 13-2, and closed it out 16-11. flexee had a lights out map racking up 27 frags in total. Clearly Nuke has become one of Sinister5's strengths having beaten both WRG and GG on the map now. 
In the final they weren't able to display the performance they would have liked. Losing 16-11 and 16-9 it was fairly one sided. HackeM played like an absolute beast though with a 51-35 k-d. If it wasn't for his individual brilliance the game may have been over even quicker. 
Energy Esports – 3rd 
The CCA champions would have been riding the high of their previous weekends success heading into rAge. They kicked off their proceedings by besting WRG, 16-8.
Their next match was against the team they eliminated at CCA, Goliath Gaming. A Bo1 on Inferno, delicious. Energy didn't find the affair as scrumptious however, being blown out of the water 16-4. It would have been a game that brought the boys back down to Earth. 
Energy's opponents were WRG once again. After losing the first map and their own pick, Energy's backs were against the wall. They showed character and resilience as they clawed their way back. They won the following two maps, both requiring a comeback. 
Up next was Big 5 vs Energy, a rematch of the CCA finals. During the first map Big 5 were up 14-11 and Steam went down worldwide. It was decided to postpone the match till the Sunday morning at 07h30.  After eventually losing the first map in overtime Energy again made the comeback a reality winning the following two maps. 
Energy went up against Goliath in what was a tightly contested match. Goliath came out on top this time winning 2-1. There were moments, particularly on the second map, Overpass, where it seemed Energy may go on and clinch the series. Unfortunately they weren't able to and their run at rAge was brought to an end.  
Big5 Esports – 4th 
After beating Gentlemans Club they faced up against Sinister5. Big 5 fell behind the game and had to fight their way back in the 2nd half. They made a solid comeback after being down 4-11 at half time bringing it all the way back to 14-14. In the end Sinister5 closed it out knocking Big 5 down to the lower bracket. 
Their opponents in the match were a tainted Good Gaming, who were missing one of their core players. Big 5 didn't have too much trouble winning 2-0 but Good Gaming did make them work on Dust_2. This earned them a rematch against Energy Esports. Big 5 won the first map of the series, just like in the CCA Finals.
Heading into Overpass they'd have been confident of closing out the series 2-0. However, kaNibalistic and adM proved too hot to handle with 61 frags between them. Energy had the momentum behind them and they dominated Train.
Big 5 were eliminated, coming 4th overall. Not a terrible result but a result they'd be disappointed with considering their showing the weekend before. Again they found themselves 1-0 up in a playoff game which they went on to lose 2-1. In the off time they'll be able to bridge those gapes and close out the series in their favour instead.  
White Rabbit Gaming – 5th/6th
WRG would have had hopes of breaking into the top four at the event which they were on the cusp of doing. After being demolished by Energy in their first match they were dropped to the lower bracket. Their first challenge was a plucky Omnius Gaming whom they went on to beat 2-0.
Next up was a rematch against Energy, and what a contrast it was from what we saw in their opening match. It's been common knowledge for a while now that this WRG team packs a serious punch. 
Energy were on the receiving end of that punch in the first map. WRG went up 1-0 in the series after winning Energy's pick, Overpass, 16-13. On both of the following maps WRG were in positions to close out the game, particularly on Train when they were up 15-12. Alas they again challenged one of the top 4 teams, something they can be proud of.
mango had one heck of a series with 82 frags in total, performances we don't associate with 15 year olds in such high stakes matches. If he's nurtured properly, and not too much pressure or expectation is loaded on to him, he's potentially destined for great things. 
Good Gaming – 5th/6th
It wasn't the best event for Good Gaming logistically speaking. They had to field a sub and sometimes even two throughout the tournament with DistroiT and wildheart writing their exams. Their opening match was against Sinister5 on Mirage. After a decent first half they were dealt with swiftly losing the map 16-7
Their next match was against Gentlemans Club. They were able to field DistroiT in the match and his impact was immense. He dropped 55 frags across the two maps and in the process eliminated Gentlemans Club. A result that was expected but Good Gaming had to work hard for. 
This guaranteed them a minimum 5th/6th placing. That was probably the goal for them all things considered. Heading into their game against Big 5 it was more of a case of "let's see what we can do". After being demolished 16-4 on Overpass they displayed a far better performance on Dust_2, losing narrowly. 
I believe 2020 holds a lot of potential for this Good Gaming roster. Especially considering both DistroiT and wildheart will be matriculating at the end of the year hopefully allowing them to focus more on CS, if they so choose. 
Omnius Gaming – 7th/8th
Unfortunately they too had to field a sub in their opening match with uNreaL in for h[a]tch. However considering their opening match was against Goliath Gaming it probably didn't change much. 
After losing to Goliath as expected they were pitted against WRG. I think OG would have fancied their chances to make something of the match. They got off to a super start on the T side of train being up 8-3 at one stage. Sadly they weren't able to follow up the early, going on to lose the map 11-16. 
In the end WRG were just too strong, especially on their CT side. OG found their defense to be impenetrable and went on to lose the series. Notable mention to Sol who's announced he's taking a step back from the competitive CS scene. He will be missed until he returns, I wish him the best with his studies and future endeavors. 
OG can be proud of their season, qualifying for both CCA and rAge was no mean feat and something they can be proud of. Onward and upwards for them into 2020. 
Gentlemans Club – 7th/8th
This is the team I personally knew the least about. There's familiar names in the team but I haven't seen too much of them together. After beating Damage Control in the qualifier they earned their spot at the event. Their prospects of winning matches were low but they went into the event swinging nonetheless. 
Their first match was against Big 5 to whom they lost 16-5, not without slayeRyEyE topping the scoreboard on the server though, with 20 frags. Dropped to the lower bracket as expected they'd face up against Good Gaming.
Gentlemans Club worked hard on both maps and made Good Gaming sweat. They lost the first map 11-16 and then the second 13-16. They'd have been disappointed not to close out one of the maps but still there were glimpses throughout. Also, they were by far the most dapper looking team. 
Conclusion
With no known imminent events it's a good thing we got such a big dose of CS at LAN injected into us to keep the withdrawals at bay.