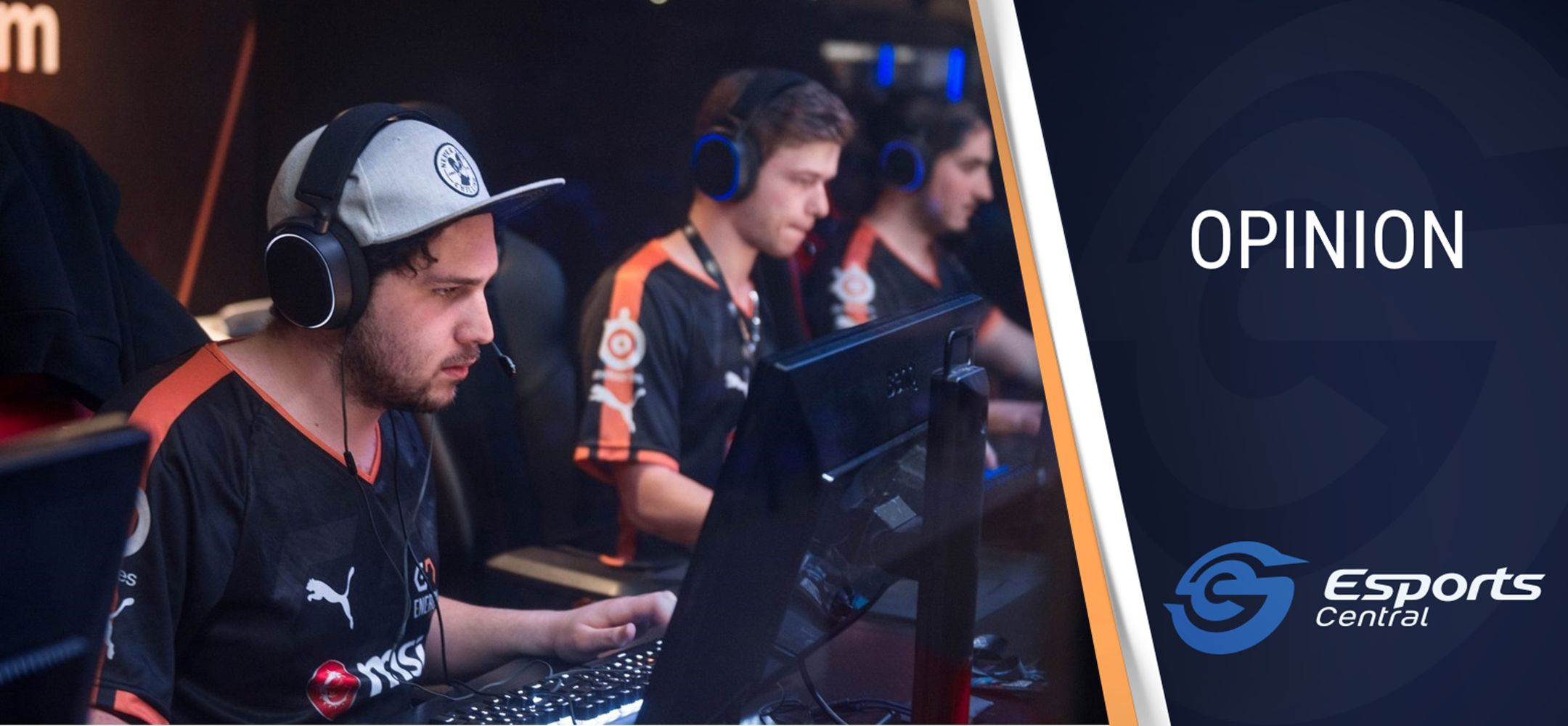 An interview with Energy Esports' Carlo 'panda' Farinha
Matthew Stott
It is common knowledge that Carlo 'panda' Farinha moved to Australia in July last year. It wasn't solely based on the pursuit of playing CS:GO full time, however it did play a part in his decision making. Things didn't materialise and before long he'd returned to South Africa for good and  immediately reintegrated into the local scene.
His return saw him form part of the new Energy Esports roster, which was revamped at the start of this year, with panda as captain. Along with disTroiT, Damz, Lichl0rd and kreatioN the new team was founded.
I asked him a few questions covering an array of topics, such as his time in Australia, his personal take on the local scene and how things have been going with the new team.
You've rejoined Energy Esports through a complete revamp of the team this year. How did you five come together?
To be honest I spoke to many players before coming back. I realised that if I wanted to try and translate what I had learned to a lot of the more "established" players it would be a waste of time. For some reason a lot of players are really stubborn and prefer to keep doing the same old things that have been done forever yielding the same results. I knew that I would need to build a team again, and so myself and Distroit looked for players who would put in the effort needed. We spoke to the other three and they agreed with the perspective and mission, and so not much else was needed. We are just pretty lucky that we mesh well in and out of game.
You recently replaced kreatioN- with Tiaantjie, how is the team feeling after the change?
The role changes were definitely needed. Kreation was a really good teammate and a really good dude in general, but we needed a change up. Bringing Tiaan in was good, we have more clearly defined roles as well as an experience boost. He is also able to take a game into his own hands and make great decisions which is really important.
How was your Counter-Strike experience in Australia?
Playing CS in AU was really eye opening, I was fortunate to be added to FPL and a top eight team within the week that I got my PC, at this time I hadn't touched a PC for about a month so I was really rusty. I decided not to go straight into FPL games and played a couple of normal Faceit games and that's when I saw an immediate difference. Players are really sharp, and their general understanding of the game is really high. Despite the toxicity that roams around in normal Faceit, it's pretty easy to find a team of players who know all the smokes and have really good comms etc even at some of the lower levels of Faceit. FPL was more of just a high-tier pug. I had some really good games but I never felt comfortable playing it, I preferred to do other things as we already played as a team so much.
In terms of team, I was recruited into a roster with some highly experienced players such as Noisia, Mattcd and Moey. The day I joined, we also played Chiefs as our first scrim and that was a really cool experience, playing against one of the best rosters in AU at that time. Practice was also completely different. The way that they approached the game and how scrims are conducted are all way more productive. We also played against Greyhound and Order a lot. Those three teams were my favourite to play against because every time we played them we had a clear understanding of what worked and what did not. We were doing well against those teams in our pracs (in terms of default/strats success), but in officials we were never able to consistently beat them.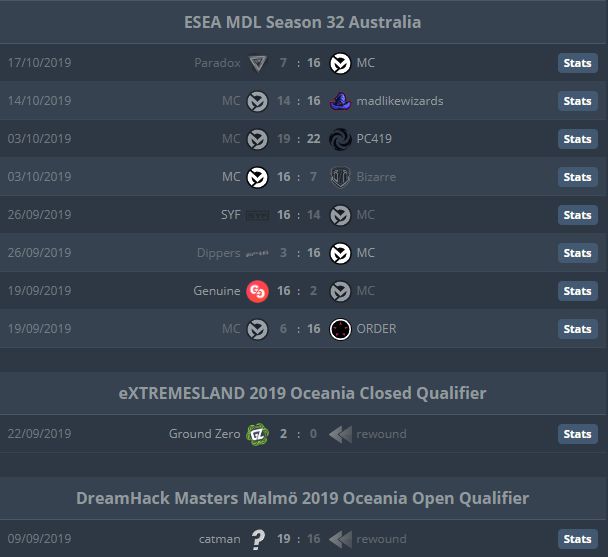 Obviously it takes time to become a really solid team, especially when you put five players together. I feel like there was a lot of impatience in the team in terms of progress, and I already started to feel the strain of the bad mentality in the team. Not to say that was the only reason, but I definitely was unhappy towards the end of my stint in AU. I wasn't comfortable in my roles in the team and my situation in AU. There's a lot of unexpected factors which come into account when moving somewhere by yourself, especially when it's so far away.
I started to think of my time there as temporary and that I couldn't wait to come home for the holidays. This was the first — probably biggest red flag — everyone gets homesick and I understand that, but I trusted my gut feeling and decided to move back home for now. It's really complicated to try to explain, but I loved being there and I don't regret giving it a go. Overall it was a really positive experience for me.
After being exposed to the Australian esports scene, what do you think the main flaws are in our scene?
As much as I don't want to sit here and roast the South African scene, it's hard to be honest when so much is being done incorrectly. For instance, the lack of leagues and competitions. I think what TOs need to realise is that they can host online tournaments with very low prize pools. Top teams will still play, and quite frankly if they don't they are the problem. From the player's side you can't expect a R250,000 prize pool every step of the way because that's just unrealistic. Both parties will eventually grow in exposure and new opportunities will arise for all involved.
What we need is consistency. We need actual promotion by players and organisations, as well as the TOs, a good amount of time before the games are played for ALL leagues and tourneys. Organisations need to have personalities and not just #sponsor posts. There is so much that can be done with little to no cost but isn't being done. I still remember the days of NAV cups where we would easily get thousands of viewers just by being on CSGL. It's removal should not be used as an excuse. Even if we get 130 viewers a stream because the games are on HLTV and there's some random betting site which has the game on, it's still more likely to be clicked on than 13 viewers.
I don't want to dive too deep into it because I feel like I wouldn't stop, but there is still so much that needs to happen to even get on the same level as a small scene such as the AU one. Fortunately, I do think it is obtainable as long as the right steps forward are taken.
How have you developed as an individual from the experience?
I think the biggest thing is experience, life experience and CS experience. It gave me new — or an adjusted — perspective on a lot of things. I feel as though I've learnt a lot but not enough, and that experience in anything is the single most important thing. You don't know unless you do. It's probably the thing we lack the most in South Africa at the moment, and I see it in every game we play and every game I watch. The players are capable but without direction, no goals are reached. I think being in a team with some really experienced players showed me the importance of being experienced, and to learn from the experienced. I can teach only so much, but there are resources which I can use to still learn more, especially from the best in the world, and not just in CS. In 'The Book of Five Rings' by Miyamoto Musashi he states that once you see the way in one thing, you start to see it in all things, another point which you can read and misinterpret but if you know you know. As vague as that sounds – it is what it is.
I'm not trying to come off as arrogant or demeaning towards the scene. I understood exactly what it meant to come back, and the challenges that came with it. I know people will read this and some will think negatively of me, but honesty is the only thing I care about when talking about CS. Which is another thing I think I have definitely improved on: being honest with myself and admitting when I'm wrong, trying to become your own student. That's a general life lesson that a lot of people could probably use. I don't like to hold back, and my teams in the past have definitely noticed this. If there's a problem I want it solved or improved on. My current team definitely knows this. There is no reason for CS to be a safe space where people get emotional about criticism or defensive about something, it just delays progress. I would say that I'm even more intense about that knowing what I've learnt in AU.
Also confidence. I had a huge confidence problem (strangely enough) after the Comic Con win. In all honesty, it was probably before that but winning didn't rectify that problem, perhaps it made it even worse. Only the five of us in the team knew how we won and what went on between us. I don't care whether people think it was because of Dom, because it definitely was. Just as it was because of Dan (sger) and Taylor and Dweezil. However, that team wasn't made to last, it was one last LAN with the friends, which is why we asked Dom to play, he's one of my best friends. After that LAN everyone was going to go their own way regardless.
We had so many arguments (before Dom) beforehand and I started to question my own leadership so much, and in doing that, my own skill. Moving to AU I had the same problem. I never felt confident and comfortable until probably the last official game I played there. Where I frankly didn't care anymore, I had spent almost a year dealing with confidence issues that I was over it. Not caring anymore and just going for it made me realise where I was again and I found my confidence again (and no I didn't read the book). It really was a flick of the switch moment. From the experience, I have reassurance of the things I knew which were correct and those of which were wrong.
What do you make of the current state of the SA scene?
This is a tough one to talk about, but something I think the scene needs to understand. Yes, we're unlucky, we're isolated and we're at the bottom of the barrel when it comes to opportunities, those of which have been underwhelming – mostly. But we're not incapable of changing that, we're not hopeless by any means. It is up to the players in the scene to change that. There is only one way to improve the scene and that's by improving EVERYONE in the scene.
I mentioned earlier how the bottom of the barrel teams and players in AU are still really good, but here it is a different story. We need to understand that everyone in the scene needs to improve, and those who can need to have a helping hand in that. We need to do something about it (we, as in the players who are at the top with some sort of experience). If more players and teams improve in SA, everyone improves. I feel as though the mentality of shitting on less experienced players is more glorified than it should be here.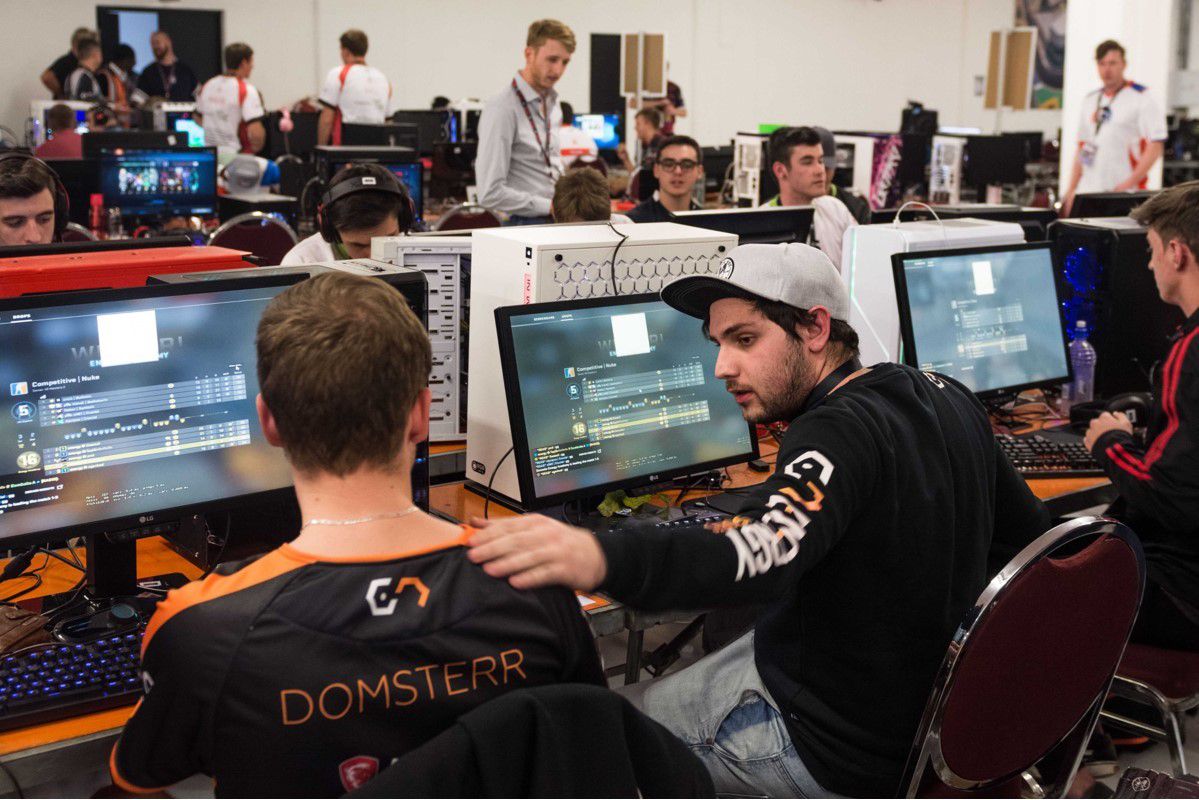 Unfortunately it is a two way street though. If someone doesn't want the help there's not much you can do, but there still needs to be a greater effort by everyone if we ever want to be on the same level as even AU is. It is definitely not unattainable in a short amount of time, but it requires teamwork throughout everyone in our scene. Many top players will probably ignore this part but as long as it stays this way, it doesn't matter who is in a team together or how hard a team is dominating the scene, the same thing will happen that has been happening forever, a good stomping from 99% of the world.
Bravado is also not a good example of how we can do it. Their story was way different. Nothing can compare to the experience they gained while living in NA, and they will agree with this probably the most out of everyone. Not everyone has the financial backing to go over and even if they do, unfortunately it isn't entirely growing the ZA scene directly, if anything it's removing more experienced players. Notice I am referring to directly growing the ZA scene from the ground up.
What are the team's goals for the year?
The goal is to become the best. It always should be. We all hold ourselves to a high standard and our goals should be higher.
In Closing
Energy Esports are competing in multiple different leagues at the moment. They are currently unbeaten in ESEA after eight games, they finished leg 2 of the VS Gaming premier division fourth and have reached the playoffs of the Inkosi Super Cup Season 2 which is live on the 30th of May.
You can follow panda on Twitter at @panda4_cs.
Header image via Energy Esports.