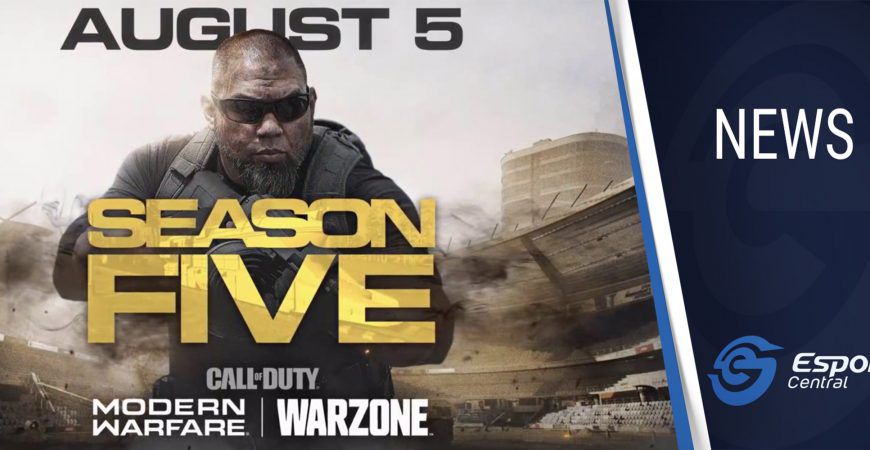 Modern Warfare and Warzone Season 5 – What you need to know
Infinity Ward has released a mammoth new update for Call of Duty: Modern Warfare and Warzone, ushering in Season 5. With the update, the Warzone map has been expanded, with all-new areas to explore, including the Stadium. There's also a new Battle Pass with 100 tiers to unlock, and much more.
Before we get to the most important details from the latest Modern Warfare and Warzone update, there's some good news. You can try out Modern Warfare for free this coming weekend on PC, PS4 and Xbox One. The free play event runs from 7 August at 19:00 SAST to 10 August at 19:00 SAST.
Warzone Season 5 content details
There's a whole lot to dive into, so let's get started with the highlights of the Warzone Season 5 content drop.
The Stadium Gets Cracked
As you might have gathered by now, the Acropolis National Arena (AKA Verdansk Stadium) is receiving a multitude of new visitors now that the Shadow Company announced their presence in an explosive, roof-based insertion. Time to retool your strategy and rethink your drop plans around this massive super-structure, complete with a pitch surrounded by rows of seating, an additional underground parking structure, a concession stand lobby as well as other multiple interior concourses and field access you can secure and compete to control.
The Train Station is Lit Up
The Stadium isn't the only large-scale location getting interior access; the ornate and imposing Verdansk Train Station is also open for Operators. The station buildings feature a number of inside locations to explore; all linked to the main ticket hall and platforms. This significantly changes the overall look, feel, and tactical outlook in and around this area of the Warzone map.
Freight Train: On Track for Epic Confrontations
A hulking freight train is on a path of destruction, and it's up to you and your fellow Operators to use this locomotive behemoth to your tactical advantage! The train rolls through one of the main arterial railroad tracks that circumnavigates the southwestern part of Verdansk in a large loop. It can be a source of protection, an epicenter of firefights, and even offers some exceptional takedown potential if your team claims the train for themselves, and guards it with additional vehicles and heavy weaponry.

Going Up in the World: Exterior Ascension
Need to take down a troublesome sniper? During past navigations through multi-floored building interiors (usually located in downtown Tavorsk District), you may have clamped onto a vertical zip line inside an elevator shaft to gain quicker access to the top of the structure. Now you can expect additional and strategically positioned Exterior Ascenders dotted throughout Verdansk. These will primarily be attached to the exterior of taller buildings, enabling you to gain a tactical and height advantage from a different angle, and with more haste than ever before.
Modern Warfare content
Four new maps for Modern Warfare are coming with Season 5, set to deliver brand new destinations and environments for players to shoot each other in.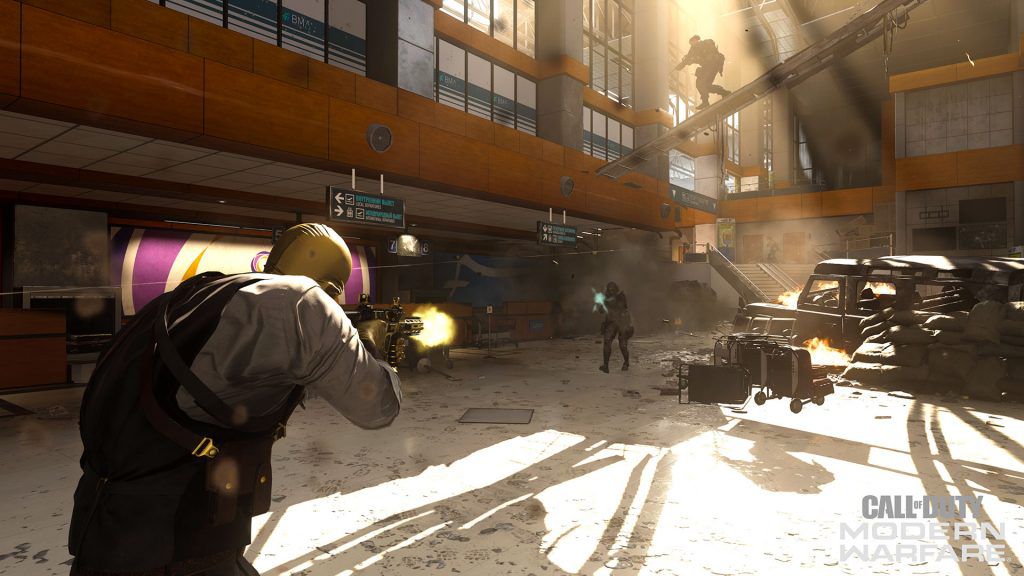 All these maps are available at launch, and there are also some great new game modes to enjoy.
Livestock – Gunfight
Petrov Oil Rig – Multiplayer
Suldal Harbor – Multiplayer
Verdansk International Airport – Ground War
New game modes coming to Modern Warfare:
Bare Bones: Ready to focus on pure, unadulterated combat? Then try out Bare Bones; a rotation of TDM, Domination, HQ, Hardpoint, and Kill Confirmed with the same rulesets as before, albeit with one important distinction: There are no Killstreaks, no Field Upgrades, and no perks.
Search and Destroy Double Down: This variant game mode features elements from the classic Search and Destroy; where one team must plant a demolition charge on an enemy weapons cache. Except this time the stakes are higher as the scale is bigger; this is a 12v12, not the usual 6v6. Expect tactics and chaos
Warzone & Modern Warfare playlist
A new season means a new playlist for both Warzone and Modern Warfare players to enjoy. Check it out below.
Modern Warfare:
Ground War (Adding Verdansk International Airport)
Blueprint Gunfight
Search and Destroy Double Down (12v12)
Face-Off (Livestock)
Oil Rig and Harbor 24/7
Warzone:
Duos
Trios
Quads
Solos Buy Back (previously called BR Solos Stimulus)
Blood Money Quads
Mini Royale Trios (Fast-paced Battle Royale in condensed areas of Verdansk)
Warzone & Modern Warfare roadmap
Infinity Ward has shared the roadmap for Season 5, featuring both the content on release, and a peek a what's to come. Check out the image showcasing the Warzone and Modern Warfare roadmap below.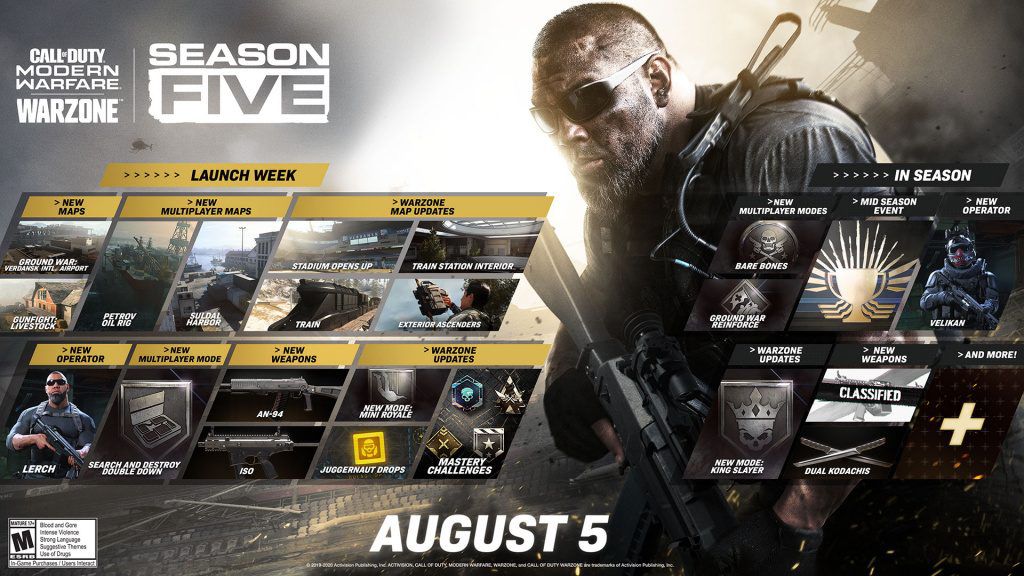 While these are the highlights for Warzone & Modern Warfare Season 5, there's also a whole lot of small fixes, changes, and additions to discover, so jump into the games today, after you've completed the hefty download, of course.
Header image via Infinity Ward.