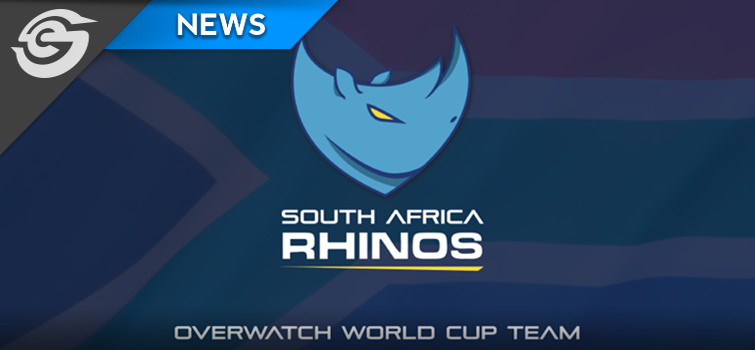 The South African Rhinos are on their way to the Overwatch World Cup
The 2019 Overwatch World Cup takes place between October 31st and November 2nd at the Anaheim Convention Center in the United States. The Rhinos, the Overwatch players representing South Africa at the event, managed to secure funding to attend the event. This herculean task was achieved thanks to generous donations by the community as well as a few integral sponsors like Wistper, Atk Arena, and Goliath Gaming. The team are currently travelling to the event, but suffered a setback with the loss of Ruan "Senticall" Potgieter from the lineup.
Far from easy
Samantha "Tech Girl" Wright, the team's General Manager, explained why in a TwitLonger post.
Ruan "Senticall" Potgieter will not be travelling with the team on 28 October or competing in the competition. He has not been able to obtain a visa in time for the event. I'm not going to go into details at this time, as we are still in discussions with the US Consulate, but will offer insight in the next few weeks. Unfortunately there is no way to resolve any queries before the selected travel date.

This has not been an easy week for the team. We've spent weeks working with Senti to try align with the necessary travel document requirements and to have to admit defeat at the last moment is obviously heartbreaking and demoralising for all of us. For me personally, it has been extremely emotional. I promised this team I'd do everything in my power to get them to the World Cup and have tried everything in my means to assist Senti, to no avail. I'm devastated.

Our seventh player, Joshua "AshBro" Luttich will now move in to the main roster. The team have been working extremely hard for the last few months and AshBro has always known his role was the most high pressure, as he could be called on at any moment. He is ready to rise up to the challenge.
Show your support
Despite the difficulty, the team appears upbeat and are posting updates as they're travelling to the event. I'm sure the entire Overwatch community, and much of the local esports community, are behind them. If you want to watch the streams, you can do so on the Overwatch League Twitch Channel, or the various additional streams. You can also head to Twitter and follow the team on the official @ZABarbarians account for live updates.