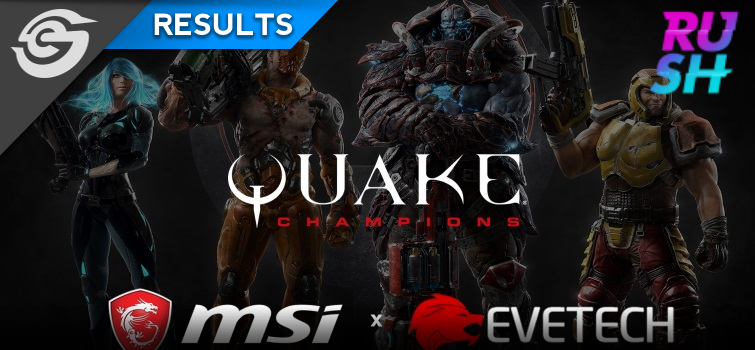 The Rush MSI Quake Champions Cup 2018 Results
Michael 'axtremes' Harmse
This article was originally written by Mario "Dr4ma" Cyrus Appolis for the Quake Champions South Africa website. It has been edited and added to by axtremes for clarity, with permission from the original author.
Rush Esports at the Sun Arena  in Pretoria saw the introduction of Quake Champions at a big LAN tournament for the first time. It was in my eyes a great success and may be the start of many bigger and better events yet to come. 
The road to Quake Champions on LAN
Online qualifiers started two weeks before the event and eight players qualified to battle it out offline. They were playing for a rather sweet-looking MSI i7 Gaming Notebook with a GTX 1060 for first place. There was also a MSI GK70 Mechanical Gaming Keyboard for second place. After the online phase, the eight players who qualified were: Ph4ntom, Stat1c, Anonymou5, KaoticZA, Void, Dr4ma, cYan1D3, and Shase.
Gladiators assemble!
Walking into the arena really made you feel like a professional gamer. This was largely due to the setup of the event, the lighting, the helpful support staff and the atmosphere. The Quake Champions tournament had its own dedicated stage, with a big screen and ample viewer seating. For the most part, all the Quakers seemed relaxed and confident despite the big stage.
Brothers in arms
I have to commend all the Quakers that were at the event. They are a real friendly bunch of guys with everyone eager to help sort out any problems that we had. No matter who won or lost, everyone received congratulations and respect from all the Quakers. Make no mistake however, everyone that competed came to win and cause upsets. The competition was electrifying, with everyone cheering and shouting for their favourite player to win.
This was my first time on stage, playing on really cool gear and with a big screen behind me. I won't lie, it felt surreal and slightly nerve-wracking. Playing at many LANs has helped to ease the nerves but this was certainly different because of the sheer scale of the event.
Shots fired
Quarter-finals
The first matchup saw Ph4ntom vs Stat1c. Stat1c showed some skill and wasn't easy to push over however it was Ph4ntom that took a convincing win to move into the Semi-finals. Next up was KaoticZA vs Anonymou5. Kaoticza played well and showed some great skill, but the many years of Duel experience from Anonymou5 saw him win the match to move onto the Semi-finals.
Void vs Dr4ma was certainly an interesting matchup. Void is a highly calculated, patient and unpredictable player. His major strengths are knowing what his opponent is doing, what the correct weapons to use for different fights are and taking crazy chances to win the fight exchanges. One of the other strengths he has is changing his play style from passive to aggressive at any moment. This certainly caught me by surprise. Well played to Void for advancing to the Semi-finals.
This game really stood out for me. Cyan1D3 vs Shase. Both players seemed hellbent on winning. The determination and concentration on Cyan1D3's face was clearly visible. He came all the way from Namibia to win. Shase knew from the very beginning that Cyan1D3 would not be easy to take out. Cyan1D3 has been practicing hard which has seen many improvements to his Duel game. For a guy that has only dueled for eight months, he certainly has a lot of talent and skill and understands the game very well. He is a very good mechanical player with impeccable aim and a keen understanding of dueling. His closest game was on Blood Covenant and had he won the outcome could have been different. However, it was Shase with his impeccable ability to play just as confident out of control that saw him move into the Semi-finals. Well played to both players!
Semi-finals
The next game that I was really excited to watch was Void vs Shase. I have spoken about Void's style of play. Shase, on the other hand, is a different player altogether. Shase has incredible aim, mechanical ability and sharp and quick thinking. He's got a firm grasp on the timing of major items evens under high pressure and the ability to adapt to any player's fighting style. Shase always has the upper hand by choosing the best positions before engaging in a fight. There is a reason why he is one of the best in the country.
However going into the match, I believed that Void's style of play would effectively counter Shase's style of play. The unpredictable and careful play style from Void certainly kept Shase on his toes. At one point it could have been anyone's game to progress to the finals. There was a long time that Shase was under pressure and Void seemed very dominant because yet again he changed his style play from careful, tactical thinking to calculated aggressive attacks. It took awhile for Shase to adapt, but in the end, he figured out what to do which brought about an exciting and nail-bitingly close game. Well played to Shase for advancing to the Finals.
The first Semi-Final played earlier between Anonymou5 and Ph4ntom was rather a more one-sided affair, with the tournament favourite Ph4ntom not needed to dig all that deep to come away with the win. Unfortunately Anonymou5 only managed a single round win on Corrupted Keep on what was otherwise smooth sailing for Ph4ntom.
The big one
Ph4ntom vs Shase final as predicted by many was the climax of the MSI Quake Champions Cup. I would highly recommend watching the finals again because I am sure you missed some great tricks that saw the one player overcome the other in close nail-biting fights. Both players played at an incredibly high pace and with incredible skill. Who won the fight exchanges came down to chip damage, estimating the other opponent's stack amount and some incredible dodge and aim ability. In the end, there can be only one victor and that belonged to Ph4ntom on this Day. Good games and well played to both players for a wonderful and thrilling final!
Dr4ma alert
I would like to take this opportunity to thank MSI and Evetech for hosting the Quake Champions tournament. I know you guys could have chosen many other games for the Tournament but from every Quaker in South Africa we would like to say thank you and we look forward to the next Big Quake champions Tournament. I would like to also thank all the players that watched the streams. Word has it that we had more viewers on the streams than Counter-Strike. Thank you to all the community that supported and cheered for the players.
If you missed the live stream then you are in luck. All the vods can be found here. Unconfirmed rumours suggest that a large 2v2 Quake Champions tournament will be hosted again this year by MSI, with bigger and more prizes up for grabs. While we wait to find out for sure, get to the grinding boys and girls! Get your partner and start practicing your 2v2. I will be starting this week!
axtremes: I absolutely loved working on this event. Quake is such an exciting esport. I sincerely hope it experiences the growth it deserves in South Africa. It was a privilege to work with such a dedicated and passionate group of players. They made our jobs so much easier because of how willing they were to share knowledge and take time to chat. Matthew "Haz3" Stott and I will certainly be looking to cover more Quake. I think they may have converted us! 😉