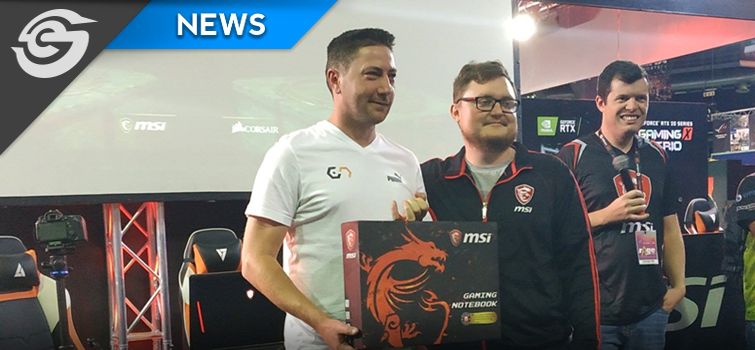 Interviewing Ph4ntom on MSI rAge Quake Champions
Stephen "Ph4ntom" Cloete is historically the greatest Quake player South Africa has ever produced. Is that still the case in the present? I rather cheekily asked him. I managed to catch up with him after his third title in succession at the MSI rAge Champions a few week ago at, you guessed it, rAge Expo 2018. This time he had a much tougher fight on his hands versus Travis "Shase" Weedon in also their third Grand Final encounter in a row.
axtremes: Heading into rAge, you were lacking a little in terms of practice. Were you at all worried about it considering players like Shase and Void were grinding practice for the weeks prior?
Most definitely! Practicing the weeks leading up to a tournament is where you find your form and consistency and this is where I felt I came short a few times. I thought that with the time differences between the Quarters, Semis and Finals, that I would have enough time to practice for my next opponents at the event but it turned out not to be possible.
Were you feeling any pressure to win the title considering you won the last two local tournaments with relative ease? Shase was certainly talking a big game in the week prior.
Yes of course! I had spent virtually no time practicing in the two weeks leading up to rAge Champions and was well aware of just how much time Shase and Void were putting in. It also didn't help me mentally that Shase had taken some maps off of me in practice games before I went down to Cape Town, which was the week before the competition. He had every right to feel confident about his chances.
With the way the brackets worked out, it always looked likely you'd be facing Shase. Were there any other players at the tournament you thought could perhaps have knocked him over prior to the final, had they been in his side of the bracket?
Had you asked me this question a few months ago, I would have answered it differently by saying that Void, Adrenalin or cYan1D3 could take a map or two off of Shase on a good day. But no, not at rAge. Shase has improved a lot over the last month. Before, he would be too focused on positioning and in many cases so much so that he'd often give away map control of heavy armor and mega health because of how risky that kind of play can be. Nowadays, Shase has applied a lot more focus on maintaining map control which has given him the right balance as a whole.
You beat probably the three best players in the competition on your way to the final between cYan1D3, Void and Shase. Would it be fair to say that this win, along with the previous two, make you the undisputed best Quake player in the country?
You're only the best if you've played and beaten everyone, consistently. There are still many old school Quake players that have not surfaced yet and they can all give you a run for your money on a good day. Some however, have recently started playing Quake Champions so I'm really looking forward to next year!
You didn't have it all your own way in the Grand Final by any means. Shase seemed to have you on the ropes at one stage. Were you expecting him to be so strong?
I knew it wasn't going to be easy. Shase has improved a ton lately and having known how little I prepared for the tournament, I had already come to terms with the fact that I may lose the finals. My biggest challenge was mentally overcoming all of these various factors and being able to push through it with my experience and ability to play under pressure.
Did you have any set tactical approach to the game you were planning to use against Shase?
My original plan was to keep things simple. Time the heavy armor and mega health, not be overly aggressive and do my best to maintain map control. Then usually, the frags should comes naturally. This is mostly true, but Shase played particularly well out of control and always put himself in good positions to deal damage after I had picked up the major items. This began affecting my confidence and made me play slower, which in some cases, cost me control of the items or even the map. I soon realized by the end of map four in the best of five series that I needed to change my game plan and play smart instead.
With regards to Champion picks, I pretty much stuck to my guns and played the same trustworthy champions I normally do in Galena, Ranger, Visor and BJ. This was definitely no time to get creative and try something new, even with Death Knight having been a bit overpowered at the time. In terms of map picks, I was actually expecting Shase to pick Molten Falls to begin with but instead he picked Ruins of Sarnath and then Blood Run. It is clear that he has been practicing these maps a lot. I took some time thinking about my first map pick as I was honestly undecided between Awoken and Blood Covenant. I've had similar success against Shase on both of these maps.
There was a moment on the second last map where you had just headed into sudden death to determine the winner of the map and Shase signaled that he had a lag issue. That effectively broke your momentum. Tell us what was going through your head.
It wasn't the greatest moment because I had full control of Blood Covenant and my momentum was strong with reading Shase and where he was or planned to go. I was consistently inflicting damage on him with the Railgun when he was out of control which kept him busy needing to collect the 50 armors and 25 health. This made my read on his game even stronger. When Shase mentioned that he was experiencing lag, it naturally came as a distraction and I lost my timing of the mega health.
The reason I lost the map though is admittedly my own fault. I knew full well that I did not have timing of the mega and continued to double jump with Doom Slayer over the pillars straight into Shase's Lightning Gun. He did an enormous amount of damage and managed to close out the map-winning frag with a rail in between the pillars before I could escape.
What did you do to come back from that loss and claim the title?
I had to dig deep and soon realized that I'll beat him if I just play smart. Another key factor is being able to reset after having lost a map. You're far better off applying your mind to the present and future than to dwell on the misfortunes of the past.
What do you think the future of Quake Champions as an esport is in SA?
Provided we can have the continued support from the likes of VS Gaming, RUSH and MSI, the rest would be up to the players and community to continually grow Quake Champions. It needs to be a team effort and we are all equally responsible. Something else that should hopefully become more prevalent next year is that there are many other old school Quake players which have begun playing Quake Champions. It would be great to see other new and upcoming players break into the current top 8 or even top 4.
The stronger the competition becomes, the more we can all grow and develop as players. This is pivotal as it will define our ability to succeed should one or two of us compete at international tournaments in the near future. An interesting alternative could be the introduction of competitive Slipgate 4v4, the new mode released in the last patch.
Do you have any final words?
I would just like to once again say a massive thank you to MSI for hosting rAge Champions. These guys are amazing! I would also like to thank Energy eSports and all of our sponsors for their valued contributions. MSI, Steelseries, LG, Scuf Gaming and Puma.
Header image via Energy Esports.