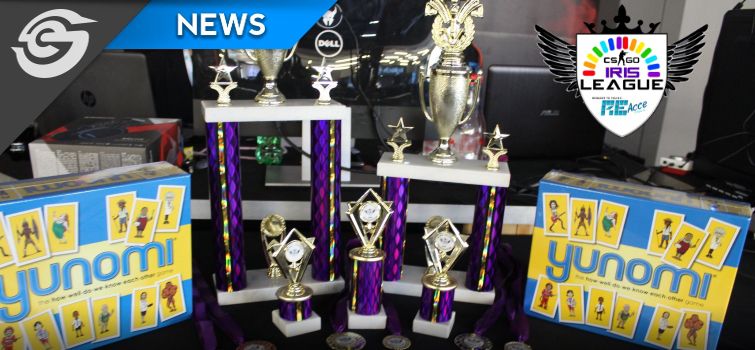 RE ACC-tivating the female CS:GO scene
On the eight and ninth of June, RE ACCE Esports held their IRIS League Finals at the Matrix Maverick Gaming Centre in Rivonia, Johannesburg. This all-female CS:GO league was run by a small MGO (Multi-Gaming Organization) and culminated in the LAN Playoffs at Maverick. I think it's great to see smaller organizations like RE ACCE getting involved in hosting tournaments. 
Bearing up under the strain
The event was not without its fair share of problems, both from an organizational and broadcast point of view. Those relatively minor issues are however to be expected from a first-timer in this space and should not detract from what was a commendable effort. Particularly when one considers the female CS:GO scene has had almost nothing to get excited about this year since the discontinuation of the Valkyrie League. I've long been an advocate for more small, community-driven events and this is exactly the sort of thing I love to see being put into action.
I managed to talk with Michaela "KaylabearQ" Mc Kenzie from RE ACCE about the event. Here is what she had to say. 
Michael "axtremes" Harmse: Tell us a bit about RE ACCE Esports. What is it, what do you guys and girls do? 
Michaela "KaylabearQ" Mc Kenzie: Our MGO, RE ACCE was actually created by RE Accounting and Services (Pty) Ltd. I work for RE Accounting and I also do the marketing side of RE Accounting. On the side, I manage the MGO RE ACCE Esports and all the marketing, social media posts and designs. Eddie Mc Kenzie, my brother-in-law, is the owner of RE Accounting and RE ACCE. Organizing and planning of the tournament was mainly myself and Eddie. Our main idea was to promote Esports in South Africa as it's still growing here and is not as big as it is in other countries. We also wanted to help develop undiscovered talent in South Africa. There are big names already, but our idea is to build a RE ACCE family where we can all grow together. We hope to one day reach the professional level and we'll worj as hard as we can. 
You're also a CS:GO player yourself, right?
I am the captain of our female team RE ACCE Cleo. My main idea for my own team is to build a relationship with each player so I can understand each player's character so I know how to work with them. At the end of the day, it's not always about who is the best, but the family you have. 😊
What made an MGO like yourselves decide to organize and host a tournament? 
Well, last year we hosted the SA CS:GO Corporate league (online tournament) in October. That was our very first tournament. We had 20 teams participating. Each team consisted of three employees or more that represented their company. We made it a minimum of three employees because there were a lot of small businesses that wanted to enter, but they didn't have enough employees. After this tournament was a huge success, we decided to go even bigger and try something even more challenging.
What was your objective with the IRIS League?
The reason we hosted the RE ACCE IRIS League was to discover the hidden talent amongst female CS:GO players and to promote Female Esports. This league was not just for the best female players, but newly developing female players too. We wanted to encourage as many players and teams as possible to take part.
As a small organization, it must have been really tough to pull this off. How did you manage to do so much with the limited resources at your disposal? 
I'll be honest, this was super stressful. As a small organization and our first LAN Event, lots of people wanted to tell us how to do things. We took as much advice as we could, but we stuck to our own rules. We also had sleepless nights working on schedules and a lot of planning. Our main goal was to keep everyone happy and to host a successful event, so we just kept going and staying strong. It was more of a mentality, I can't really say how we did this. We just did it, I guess. It's not as impossible as many people think. Anything is possible! 
Can you explain the difference between the Diamond and the Platinum Cup? 
After last year's Mettlestate Valkyrie, lots of smaller teams broke up and ended up drifting apart. They felt like they didn't stand a chance and decided to split up or not enter these tournaments at all. The problem is that there will always be new developing teams that want to get to the top. With competing against teams like Energy or Bravado, it can sometimes really break a team's synergy and they lose motivation. We decided to do things differently. We started off with group stages and split the top teams from the lower teams. This was so that the lower teams could feel that they are competing for something and also feel more motivated playing against teams their own level.
We divided all the teams in two groups and let them play each other once in a best of one match as the group stage. Then after the group stages, we had the Diamond cup which was the top three teams from each group and the Platinum with all the teams below. We let everyone in the Diamond Cup play against each other once in a best of three so that the top four teams would go straight into Semi-finals at the Maverick LAN Gaming Center. The same with the Platinum Cup. We let everyone play each other once and the top two teams went to the Finals.
On the broadcast side of things, it was great to see current and former players getting involved in casting the games. How did you get so many people involved and enthusiastic to get the action out to the fans? 
I think with our marketing and everyone talking about the league, we had some people asking if they could get involved. We also asked around for people to get involved. Kelly "Serenity" Steyn is an old APG player and she wanted to try out casting for the first time. We wanted to give anyone a chance to try it out, but she and Brad "BananaZz" Altona did such a good job, we asked them to keep doing it.
They helped us so much and kept the entertainment going all the time. I think it's nice to get some female casters in the female leagues. Esmari "Esproxy" Swart helped out with some of the casting at the event. She is also a former Leetpro player and played for Drama Llamas in the Diamond Cup. We also had RecoilZA cast a match.
You were also playing in the tournament with the RE ACCE team. How did things go for you and your team? 
This wasn't easy for me. As the captain, I had to manage my own team and manage the league. We also were under a lot of pressure because we were ranked under the top five female teams in SA last year, but we recently had a lot of roster changes. Two weeks before the tournament we got two new players, so it was very stressful. Keeping everyone happy and calm, also keeping myself calm. It was tough. I think our main problem was trying to live up to everyone's expectations and pressuring ourselves. We got a huge beating from that.
After the group stages we fell into the Platinum Wup, which wasn't really what we aimed for. We decided to lower the pressure on ourselves and just play as we always did, with me making sure everyone had the right mentality. With this, we actually topped the Platinum Cup without one loss. However, we unfortunately lost at the Finals but put up a good fight against GG.Electrix. I also want to add that playing in the booths at the Maverick Gaming Center was super amazing. It was great getting the experience. I feel that my team will in the future be able to handle pressure much better just because of this. 
Energy eSports won the Diamond Cup. What did you think of their performance throughout the competition? 
I think a lot of teams look up to Energy. These girls are just on another level, I think they even shocked Bravado. Energy didn't lose one map in the entire tournament. I think they played their hearts out in every game. The last Map that they played, they were behind and the map was in Bravado's favour, but Energy somehow managed to comeback. They took it to overtime and won the map, taking the finals 3-0. For a team that doesn't even have a coach, they are very inspiring. 
Were you happy with how the tournament went?
I'm very happy with the way we did this. We might have some minor changes next year. We had a lot of people approach us who want to get involved next year. After this success, more people will recognize us and be willing to be a part of it. 
What can we expect from RE ACCE in future? Will there be more IRIS league or other tournaments coming? 
All I can say is WATCH THIS SPACE. RE ACCE might not be a big organization, but we have big plans. We plan on doing more IRIS League's. Keep an eye out on social media for the 2019 CS:GO corporate league soon. We haven't got a set date yet, but it's happening. 
Is there anyone you'd like to thank or give a shoutout to? 
I'd like to give a shoutout to Eddie. He put in so much time and effort into this tournament and even the MGO. He really does much more than people actually expect. 
Thanks to Maverick Gaming for supplying the venue and the equipment. They also had staff working long hours keeping the place in one piece. Neil Campbell from Maverick helped us out all the time to fix tech difficulties, supplying the servers to play on, cables we needed. He was there all the time. 
Thanks to the prize sponsors: Almega Makelaars, Fokof Lager, RE Accounting and ML Drilling, Sublimated FX, RE Accounting and Yunomi.
I also want to give a shoutout to all our supporters that kept us motivated. All the help we had during the tournament and even the teams that participated. We appreciated it so much!
Header image courtesy of RE ACCE Esports Facebook page.