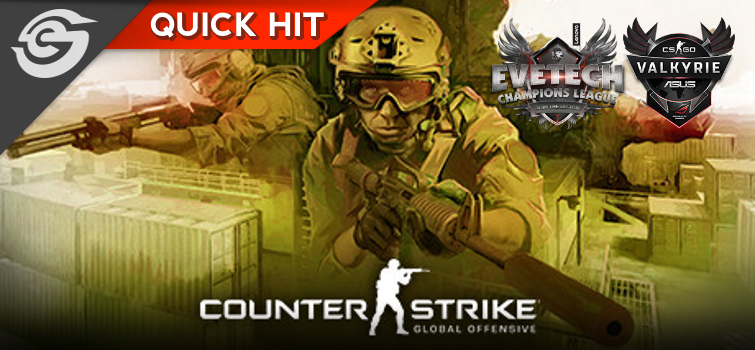 Quick Hit: Valkyrie and viewer support
The ASUS ROG Valkyrie CS:GO League seems to be doing rather well. Every week the broadcasts routinely attract more viewers than the Evetech Champions League, in which the country's best teams participate the very next evening. Valkyrie is a female only league, whereas ECL is open to all and includes big names in the local scene like Energy eSports, Goliath Gaming, and Big 5 Esports. Both are broadcasted by Mettlestate on their Twitch channel, so loose comparisons are fairly easy to make.
Making waves
It's fair to say that Valkyrie enjoys a disproportionately high viewership amongst the various esports leagues being broadcast by Mettlestate every week. In using the word disproportionate, I don't mean that in a derogatory manner by any means. Conventional wisdom dictates that viewers tend to only want to watch the very best teams within a scene. For your tournament to get the best viewer support, it should feature the best teams in some enticing matchups. The female teams are certainly not at the level of the best CS:GO teams in the country. That cannot be argued. They do however help contribute to a great show on the broadcast and their support on stream is strong. The female teams are doing something right, otherwise they would not be enjoying the highest average viewership across CS:GO, Call of Duty and Dota 2 during Mettlestate's various weekly broadcasts.
Why is this happening?
That's the R50,000 question. Could it be that the Valkyrie players are engaging better with their followers on social media? That could very well be a large part of the equation. The players tend to be very vocal about their matches on social media, whether it be Twitter, Instagram or Facebook. It's very tough to avoid knowing about Valkyrie on a Wednesday if you follow South African esports people on social media. Subjectively, I'd say they do a much better job of making sure their followers know about their matches than their counterparts in other tournaments. It's an opinion shared by many behind the scenes. I'm just the one crazy or stupid enough to write about it in an opinion piece. There's definitely more to be said and I'll look to speak to some industry figures and players to try delve deeper for a longer piece in future. Suffice it to say, the female teams are doing a great job and we can all learn from their example to up our own respective social media games.