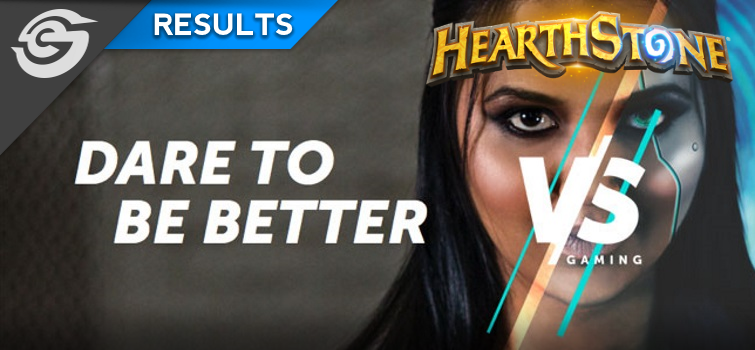 VS Gaming Hearthstone Leg 4 Recap
Dylan 'Dib' Brown
Leg 4 of the VS Gaming season has recently ended, along with the playoffs for the final few qualification spots for the VS Gaming Championships at Comic Con.
VS Gaming Hearthstone Leg 4 recap
In Premier division it was a good leg for Matthew "Simplez" Christie, an established player in the local Hearthstone scene. He managed to come out on top of Premier Division, with a 5-2 record securing himself the top seed for Comic Con.
MicaGima, DDEVIL and Fibo all finished with a 4-3 record, just below Simplez. Sinister 5's Carl and M_D_K escaped relegation, but Pand3m0nia and Slyncypoo weren't as fortunate. This marks the first time since Pand3m0nia's promotion to the Premier division in 2015 that he has been relegated. As it's the last leg for the year, we will have to wait and see if this has any bearing on next year's league placements.
All Premier Division players qualify for a spot at Comic Con, as well as the top 6 from First Division. The bottom two from First division play off against the top two from Second Division to determine the final two spots for Comic Con. With one of the First Division players retiring, we would see 2 out of the three possible players qualify for Comic Con. These games were scheduled to be played on August 7th and 9th, but we do not yet have results from these games. Meaning that the final two qualifiers are still to be confirmed. Tranquilfern224 from the 2nd division qualified, along with Tchaiklof, who is from Mayotte, a small island off the African Coast, and one of the few players at the VS Gaming Championships from outside South Africa.
Comic Con Africa on the horizon
Overall the field for the VS Gaming Championships at Comic Con is looking very different to last years Championships. With so many of the previously established players dropping out it has opened the space for some new blood to rush in, and they've been taking advantage of the experience to get some wins against VS veterans like Pand3m0nia. Who will be take the title at Comic Con Africa? As always with a card game like Hearthstone it could be any of the qualifiers, but the favourites, based on their experience, must be Simplez, Carl and Pand3m0nia.