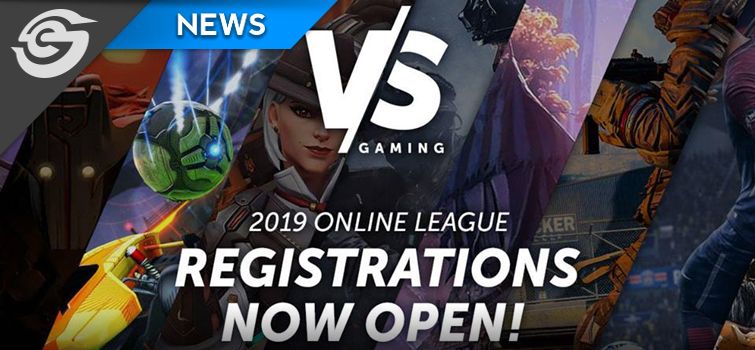 VS Gaming registrations now open for 2019 season
Clint 'Zombie Dredd' O'Shea
VS Gaming have announced that registrations are now open for their 2019 league season(s). The announcement reveals changes to season structures and the departure of two old stalwart titles in Hearthstone and Battlefield 4. Battlefield is completely gone (for now at least), while Hearthstone is essentially replaced by Artifact.
Other key changes for 2019 sees a "redistribution of prizes to aid community development" and the Championships not happening at Comic Con or rAge but at the new Maverick Gaming venue. The dates for the Championships are also altered and sees each title completing on a different weekend later in 2019. There will be more opportunities for teams to qualify for the Masters, which will return to Comic Con.
Online and offline leagues will now see players and teams rewarded with "prize money incentives throughout the year" with each season assigned a prize pool. VS Gaming expects this will mean "teams and players will be motivated to perform consistently well."
Masters 2019
The 2019 Masters – still only for CS:GO and Dota 2 – will offer "multiple points to qualify". The VS Masters Online Qualifier will be the first opportunity, followed by the VS Masters JHB LAN Qualifier.  The third chance is via the VS Gaming Championships, and finally, the fourth leg of the Premier Division. There are plans to expand the LANs "around the country to give players the opportunity to compete in their home towns." If secured, "these activations will utilise one of the VS Gaming Championship slots." 
The full title list (with registrations links) for VS Gaming's 2019 is:
FIFA 19 is not yet open for registration it seems. I'm not a betting man, but I would suspect the VS Gaming team are awaiting details on next year's FIFA Global Series before announcing things.
The timelines are varied per title (with most starting on 10 January 2019), and I would suggest heading to the announcement article for more detail per title. However, the below are the details for the two Masters titles in 2019.