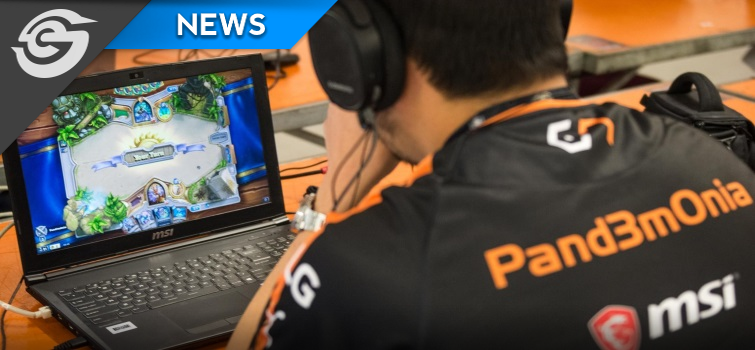 A chat with the two time champion, Pand3m0nia
Dylan 'Dib' Brown
We've already heard from PenguinZA, who reported on the results from the VS Gaming Championships for Hearthstone. Now we have an opportunity to hear from the two time champion himself, as we speak to Dale "Pand3m0nia" Pon.
The Hearthstone Champion!
Congratulations
Pand3m0nia
on your second VS Gaming Championship title! You certainly pick the good years to win, with the prize money this year being raised from last year back to the levels set in 2015. Let's start off with a tough question, which win feels better?
Definitely this year's considering I've been going through a bit of a slump lately, just being relegated from the VS Premier League. I've also been struggling to find motivation lately, and life has been rather busy.
You speak of a slump, what kept you going through this and what made you want to come back and prove yourself at VSGC?
I'm not really sure… I guess I just wanted to prove to myself and those around me that I could still do it. The prize money was a bonus as well (laughs).
You've been taking part in Hearthstone esports locally for quite some time now, why Hearthstone over other games?
Well I started with competitive Chess when I was younger, than moved to competitive Magic: The Gathering, and then moved over to Hearthstone when it entered Open Beta. I've always loved strategic games where I can put my logic and analytical skills to the test.
This was the first VS event being held at Comic Con instead of rAge. Having gone to so many events at rAge before, what did you find different about having the tournament at Comic Con?
I didn't really notice much difference since I was busy playing most the weekend. Having the VSGC at Comic Con instead of rAge feels a bit strange since Comic Con is meant to be more about comics, and that side of 'nerdiness', whereas rAge is meant to be more the tech and gaming aspect of 'nerdiness'. As much as I enjoyed it this year it just feels like it should probably be at rAge.
Okay, those have been some tougher questions. Here's an easy one, what does this win mean to you?
It means a lot, especially since it's been a while since I've actually won an event.
I see you've written your own
write-up
about the tournament experience and your preparation for it. What made you want to share this with the Hearthstone and esports communities?
I think that the amount of preparation that goes into tournaments is massively underrated, especially in Hearthstone, so I think it is good to just make more people aware. I was chatting to some of the Energy Academy CS:GO players (quite a few of them play Hearthstone) and when I told them the kind of preparation that goes into Hearthstone events they were surprised.
You've been with Energy for three years now. How has that journey been, and how much does having the support of a big local MGO like Energy help you achieve your goals in Hearthstone?
It's been an interesting journey, being with Energy as allowed me to travel around the country for some Hearthstone events that would have been rather challenging to attend without their support. A big thank you to them and their sponsors for all their support of the years.
You were really up against it in the Grand Final. As you mentioned in your write-up, you faced many unfavourable matchups, and Simplez had the winners bracket advantage meaning that you needed to win two best-of-five series. How did you feel going into that final?
Honestly I went into the Grand Final with nothing to lose, I had already accepted that I was most likely going to end up 2nd. But after I won the first series 3-0 all of a sudden I started believing that I could win.
How did it feel winning in such unfavourable circumstances? Did it make the victory even sweeter?
It made everything so surreal, I couldn't believe it, and still can't believe how I won some of those games.
To put this into context, Pand3m0nia had three very unfavourable matchups with Odd Warrior, with the best of them only being around 40% expected win rate for him, the other two were closer to 20%!
Looking forward
As we look forward to next year for VSGC, what would you like to see improved or changed with the 2019 iteration of VS Gaming Hearthstone?
If possible it would be great if they could advertise the league more as well as announce prize pools a bit earlier so that more players might commit their time and effort.
When it comes to Hearthstone esports outside of VS, what do you think should happen to re-vitalise interest in the game and grow the community?
I think we, as a Hearthstone community, need to get some of the local 'influencers' and streamers interested in Hearthstone. Since I think it would have massive knock on effect if someone relatively well known shows a keen interest in Hearthstone.
We believe you are going to be presenting at the Ekasi esports event? Going there as VSGC champion must make it even more exciting? Give us a short summary of what you will be doing there, perhaps we can get you back later to discuss it in detail ;).
Yeah, it makes my 'About Me' section sound a lot better. I'm going to be presenting about Hearthstone as an esport in South Africa.
Congratulations again on your win, it's a fantastic achievement to win the title twice. Are there any last thoughts or words you'd like share with us?
Thanks, it's still feels surreal, like any moment I'm going to wake up.
WIf you missed the games and want to catch up you can see them on the VS Gaming YouTube channel. Let us know your thoughts on the game and Pand3m0nia's wise words.