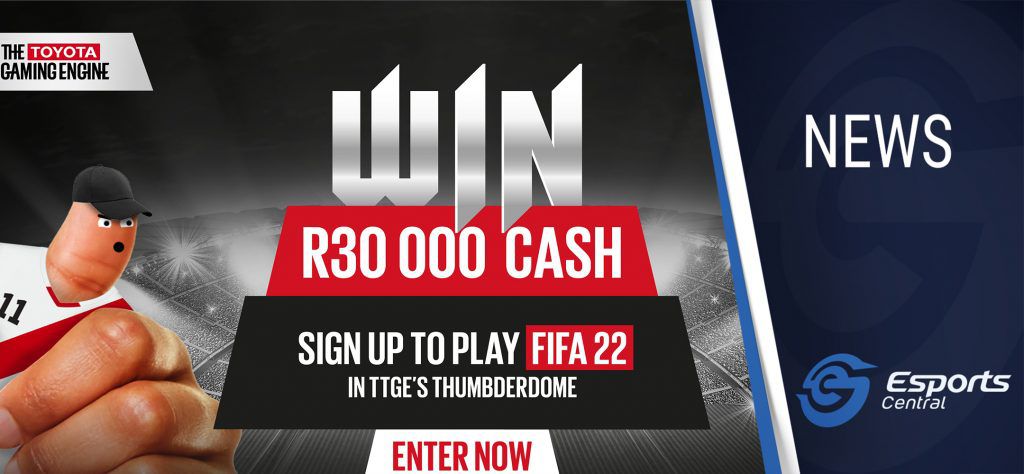 Thumbderdome FIFA 22 tournament features R60,000 prize pool
Back in 2021, Toyota South Africa and African Cyber Gaming League (ACGL) partner up to create The Toyota Gaming Engine (TTGE), a new esports platform that has provided local gamers with some massive, high-quality tournaments. This weekend, a FIFA 22 tournament's first qualifier gets underway.
It is aptly entitled "Thumbderdome: Battle of the Opposables", and as the latest edition of TTGE's FIFA tournaments, it truly is something special. Here's what you need to know.
Thumbderdome FIFA 22 details
This Saturday, 12 March 2022, the first qualifier for Thumbderdome takes place online, starting at 14:00. This will be followed by a second qualifier on 19 March. Each of the two qualifier rounds will feature 128 players battling it out in a series of elimination matches.
The top four players from each qualifier will move onto the finals, which will be held live from a venue in Johannesburg. Both qualifiers will be played online on PlayStation. There's a total prize pool of R60,000 to compete for, which should be enough incentive for any local FIFA 22 player to join in on the action and take their shot.
Players should note however that they will be required to make their own way to the venue in Johannesburg to compete in the final.
Prize pool distribution:
1st place – R30,000
2nd place – R20,000
3rd place – R10,000
If the prize pool isn't enough, well, then there's also a giveaway for a "Thumbderdome PS5 controller". All you need to do to enter the giveaway is to register and compete in the Thumbderdome: Battle of the Opposables tournament.
Qualifier schedule each Saturday:
14h00: Round 1 | Round of 128
14h45: Round 2 | Round of 64
15h30: Round 3 | Round of 32
16h15: Round 4 | Round of 16
17h00: Round 5 | Quarter Final
17h45: Round 6 | Semi Final
18h30: Final and 3rd-place Playoff
Don't forget to follow The Toyota Gaming Engine on Twitter, and follow ACGL as well while you are at it. If you plan on participating, then be sure to join the Discord server.
Header image via TTGE.