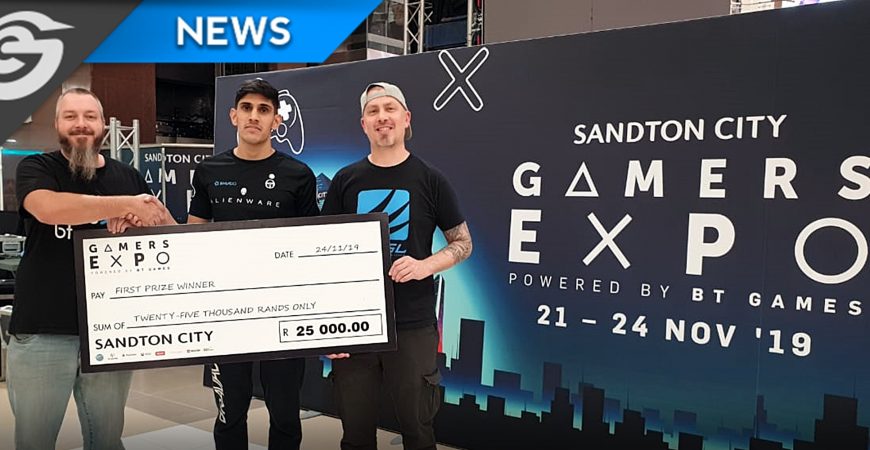 BvD's Masoom Fakie takes the Sandton City FIFA 20 title
In an event that saw over 500 players across four days, Bravado Gaming's Masoom Fakie secured the top spot at the Sandton City Gamers Expo FIFA 20 tournament.
Joining the action in the third heat of the event, he secured second spot against Pirates Esports player Abu. That was enough to ensure a grand final spot on Sunday of the event. However, by the time the finals rolled around on Sunday, each of the two platforms had 16 players ready for battle in a Swiss format, and it was once again anybody's title for the taking.
The Swiss format whittled the players down to the top eight per platform. With a home and away (a leg on each platform) playoffs looming, every match could be a player's last. It was also mentally and physically exhausting, as a tied game after two legs meant a third match was needed to decide the winner.
It took plenty of close-run matches, but the final two to face off for the lion's share of the cash were two Capetonians. Masoom Fakie from Bravado Gaming and Julio 'The Beast' Bianchi from Goliath Gaming went on to ensure the final was an entertaining one for the crowd gathered to watch. It took a third game to decide the result, and that needed a golden goal to separate the two players. At the final whistle, it was the Bravado Gaming player that walked away as the champion of the inaugural Sandton City event.
FINAL STANDINGS
Q&A WITH THE CHAMPION
We asked Masoom about the run up and battle at the event.
ESC: How confident and prepared were you heading into the heats?
M: I practised all week and got my team selection, tactics and game plan all sorted, so I was fully prepared and ready for anything that came my way.
ESC: Once you hit the finals, did you think you were in with a chance?
M: Yes I felt I practised hard enough to be able to go all the way.
ESC: Who was your biggest threat?
M: Julio was definitely the hardest opponent I came up against, he is a phenomenal player.
ESC: The final must have been intense and mentally draining. How did you keep yourself focused once the match needed the third game?
M: Knowing what was at stake kept me focused as well as my experience in previous tournaments.
ESC: Do you think the standard of FIFA players is improving locally?
M: Yes there is plenty of talented players in South Africa and each tournament just gets more competitive as the years go on.
ESC: Congratulations on the win. If there anything you would like to add before heading off?
M: I would like to thank Bravado Gaming for always supporting me and making it possible for me to participate in all these tournaments.